Twist of Fate season 3 full story:
After a seven year leap occurred in twist of fate season 2, the family dynamics  change; Pragya and Abhi are fully separated and now involved with other partners. They also have a daughter named Kiara. Eventually Kiara dies and The couple split again leading to a 20 years leap.
20 years later, Pragya and Abhi who have been apart for the past years have custody of one daughter from the twin Pragya birthed… Twist of fate season 3 therefore follows the twin who are different in temperament and how they navigate love and relationships as well as help to reconcile and reunite their fighting parents…
Twist of fate continues with season 3 on Wednesday 10th February 2021
20 years later:
it is shown that Abhi and Pragya have been separated and each have custody of a daughter; Pragya has the custody of Prachi and Abhi has the custody of Rhea. Pragya and abhi both blame each other for kiara's death. Pragya has settled in Hoshiarpur working as college lecturer.
Prachi has a friend, Shahana who lives with Pragya and Prachi and she affectionately calls Pragya as maasi. Abhi is settled in Delhi. He has a company which promotes the new young talents. Purab has married Aliya, but their married life is not a happy one. They also have a son named Aaryan.
Abhi is friends with Mr.Kohli who has a son named Ranbir, a spoilt rich brat. He also goes to the same college as Rhea. Prachi gets a scholarship to study in Delhi but Pragya is reluctant to send her there because of her past. But she eventually sends Prachi and Shahana to study in Delhi. The college they get admission into happens to be the same place where Pragya and Abhi's other twin daughter, Rhea, is studying. Prachi and Abhi meet when the former's luggage is stolen. They becomes friends.
As a result of attempting to rag Prachi, Rhea gets slapped by Prachi and is left humiliated in front of the entire college. At the same time Prachi dislikes Ranbir for his casanova ways. Prachi and Shahana start working part-time in an event management company where their first catering job is in Abhi's house.
To plan a revenge, Rhea makes it look like Prachi is a thief and gets her arrested. Hearing her arrest, Pragya returns to Delhi. However, Abhi believes Prachi is innocent and gets her released. Soon after it is revealed through the CCTV camera that Rhea was responsible for framing Prachi, for which she gets slapped by Abhi for the first time.
Rhea starts hating Prachi as she feels that Prachi is stealing Abhi from her. She attempts to run over Prachi on the road but accidentally hurts Pragya. Prachi gets Rhea arrested for this but Pragya intervenes and let's Rhea go. Rhea is impressed with Pragya's attitude and slowly starts to idolise her.
Rhea attempts to hurt Prachi many times like making it seem that Prachi killed her at camp, planting drugs in her bag to get her arrested (again!) but each attempt fails. For some reason Pragya does not understand that Rhea is indeed a spoilt and horrible brat while Prachi tries to justify why Rhea is bad. During all this time, Abhi and Prachi have become close as well.
Abhi and Pragya meets after 20 years but he gets injured soon after. Pragya leaves immediately after saving him and donating her daughter's blood for him. She feels that Abhi will take her daughter from her. Pragya misunderstands who Abhi is as everyone calls him Mr. Mehra. She thinks that Mr. Mehra is Mr. Kohli due to many incidents. Pragya,Prachi and Shahana lives with Saritaben who lovingly calls Pragya as Anuradha (her daughter's name).
This leads to a lot of confusion since everyone from Abhi's side calls Pragya as Anuradha (making Abhi also think that Prachi's mother's name is Anuradha). Rhea initially thinks that something is going on between Ranbir and Prachi but later understands that Ranbir likes her only. Rhea decides that she will accept Ranbir's proposal only if he makes Prachi fall in love with him and break her heart. Ranbir reluctantly accepts to do so.
Meanwhile, Shahana and Aaryan also come close. It is also shown that Purab is still in love with Disha and they separated because of misunderstandings of cheating created by Alia, where the media also gets involved. In order to save Alia's reputation, Purab marries her. When Alia realises that Purab still only loves Disha, she attempts suicide but is saved by Purab. The doctor recommends to Purab to keep Alia happy as she can do anything with her life, otherwise. In his rush to get Alia to the hospital, Purab hits Disha's car and injures her. He saves both of them but writes his relation to Disha as husband and his relation to Alia as friend in the hospital form. He also leaves his wedding ring at Disha's hospital room.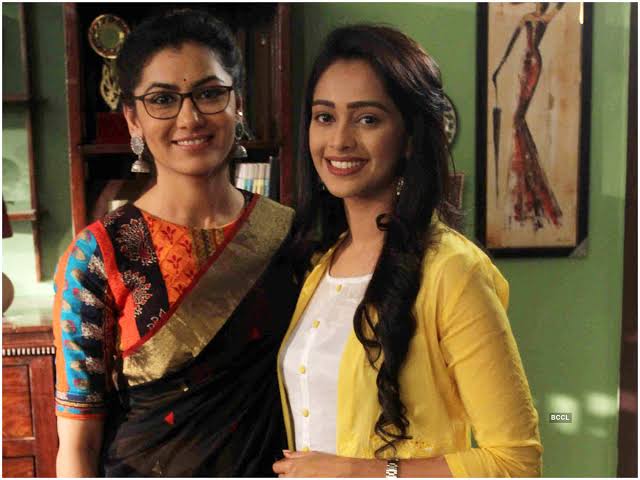 Alia becomes more and more insecure as she feels that Disha will take Purab away. She refuses to believe Disha, who is clearly not interested to get back with Purab. Abhi starts to message Pragya thinking she is Anuradha since both have heard great things about each other. They even plan to meet several times but something or the other comes up. Saritabehn wants Abhi and Pragya to marry each other but they are least interested.
Again incidents come where they meet like in the Ganesh Chaturthi event but before they can even go to each other, they are inturrpted by robbers who are trying to steal the jewels laid on the statue of Ganesh. However, in between prachi and ranbir are getting closer, ranbir is attracted with prachi's simplicity and different behaviour as he attract every girl in college but prachi is not even bothered by his presence.
In between this a new girl Priyanka is in the house whom are family friends of Mehra family. Priyanka is obsessed with a former boyfriend called Rishi, Saritabehn's grandson. They were in a relationship in college but they broke up because of Priyanka's dominating behaviour. Now she is not able to see Rishi getting closer to any other women, misunderstanding reaches its peak when she misjudge Shahana as Rishi's new girl friend. In an attempt to get rishi back in his life, she starts luring pragya and sarita behn, to which the latter fakes the news that rishi and shahana are already engaged.
Enraged with continuous disapproval from rishi and his family, she makes abhi slap rishi with a molestation case in an attempt to exact revenge. This leads to reunion of abhi and pragya in the police station but their happiness is short-lived as they both support their respective children. The story continues…
Twist of fate season one full story.
Pragya and Bulbul help their mother Sarla to run a marriage hall. The story begins with a short-lived love triangle between Pragya, Suresh and Bulbul leading to the cancellation of Pragya's engagement with Suresh. Meanwhile Rockstar Abhishek "Abhi" is in a relationship with supermodel Tanushree "Tanu". Purab Khanna is Abhishek's best friend and music handler and hires Bulbul at his advertising agency. He falls in love with Bulbul despite being engaged to Abhi's sister Aliya. Aliya misunderstands that Purab is seeing Pragya and manipulates the situation so that Abhi marries Pragya to keep her from ruining her relationship with Purab.
Post-marriage, Pragya realizes the truth and accepts the blame to protect Bulbul. On his wedding day, Purab abandons Aliya and comes clean to everyone about his love for Bulbul.
Various situations and circumstances bring Abhishek and Pragya closer. Abhi reconciles with Purab and Bulbul and gets them married. Desperate to get Abhi back, Tanu fakes a DNA report to imply that he is the father of her unborn child, which is actually the result of a one-night stand between her and Nikhil. Pragya realises the truth but suffers an accident and is declared dead, before she could reveal the truth to Abhi.
Some days later, Pragya returns to exact revenge on her wrongdoers by becoming the owner of Abhi's properties. Bulbul risks her life and dies while saving Pragya from Aliya. The season ends with Pragya exposing Tanu and winning back Abhi's trust. However, Abhishek gets into an accident and loses his memory. He forgets the last two-and-a-half years of his life, including Pragya who has to leave him for his own good.
2 months later
Abhi and Pragya came across each-other once again, the meeting results to their friendship where Abhi is still unaware of who she is. On his wedding day with Tanu, Abhi regains his memory but he soon loses Pragya for she is shot by some goons and falls into a dam. However, after several sequences with her look alike named Munni, Pragya finally recovers from coma and reconciles with Abhi.
On the other hand, Purab and Disha's love story begins to bloom. She proposes to him and he decides to move on from Bulbul and give their marriage a chance.
A girl named Simonika, joins Abhi's office as his secretary, she plans to take her revenge for he has killed her husband Dushyant. In a barter, Tanu asks Simonika to spare Abhi and kill Pragya instead. However, Simonika ends up murdering Dadi who reaches the factory before Pragya to save her life. Both Abhi and Aliya blame Pragya for Dadi's death. Abhi asks Pragya to leave, thus, a heart-broken and grief-stricken Pragya is shown attempting suicide by jumping off a cliff.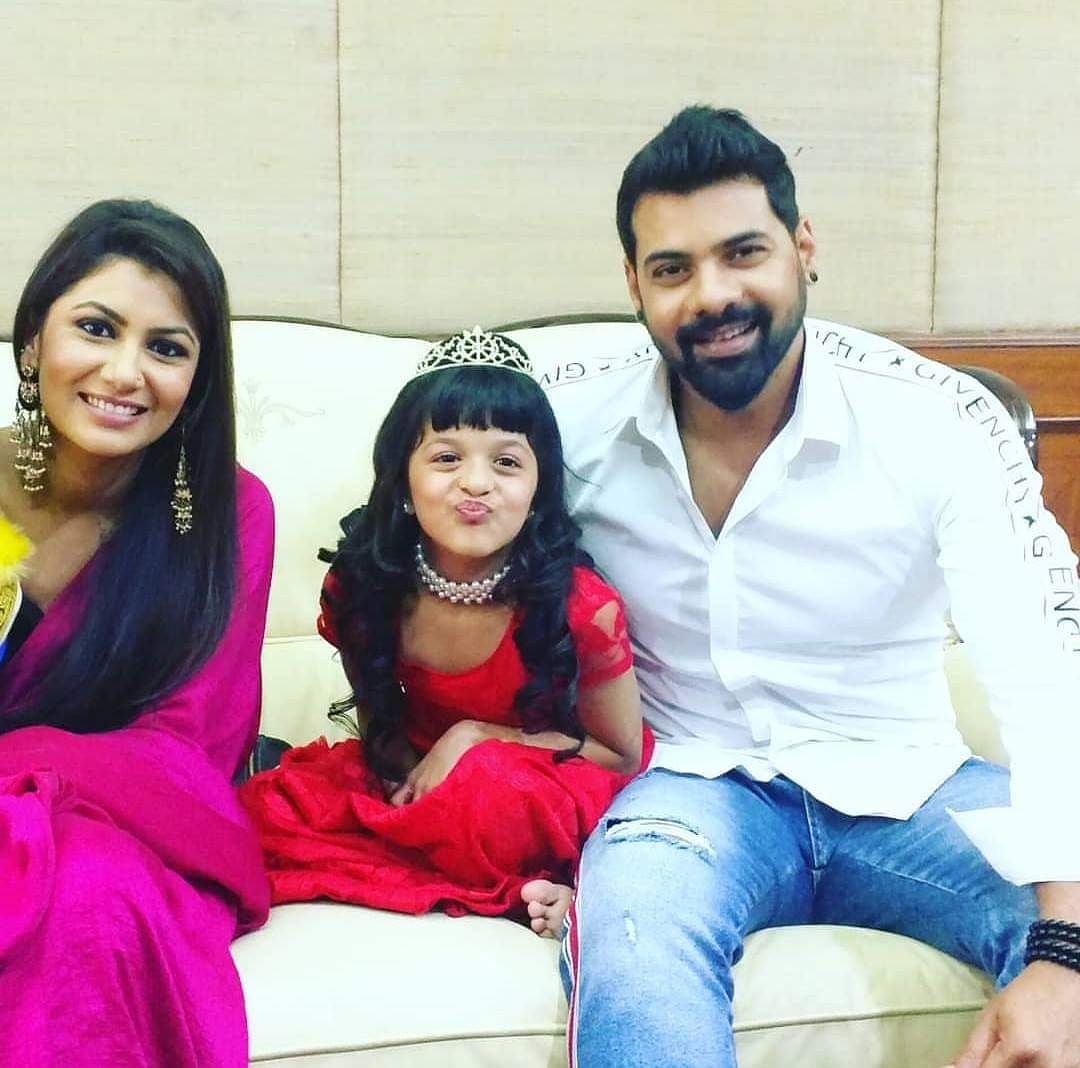 Twist of Fate season 2 full story:
The Mehra family now live in New Delhi, Pragya too has moved to the U.K and currently manages King Singh, a London based rapper. She also has a daughter named Kiara.
Abhi on his part has finally gotten married to Tanu, but their marriage is just a formality because they don't act like married couples, they sleep in separate room and each of them pursues their own agendas.
Abhi has turned his musical career into a business entity while Tanu is preparing to relaunch her modeling career by entering an upcoming Mrs. India beauty pageant.
Aliya now manages Abhi's career and business assets; she is however at loggerheads with Tanu, even refusing to acknowledge her as a sister in-law.
Abhi's friend Purab and his wife Disha have a son named Sunny. Altogether the family (with the exception of Tanu and Aliya) misses Pragya while Abhi on his part still nurtures resentment towards her for her role in the death of his grandmother (Dadi). Regardless, he struggles to suppress his love for her.
Kiara is Abhi biological father even though King has adopted and loves her like his own; all this while Abhi is ignorant of her existence.
Kiara, Pragya and King live together in UK, but they are not married and Pragya only claims to be in order to get King out of bad situations (like getting thrown in jail). It is unknown when King and Pragya met and under what circumstances, but they both show a mutual friendship towards one another.
While Pragya has taken Abhi's words to heart and still feels responsible for Dadi's death, King constantly tells her to let go of the "Mumbai-wala" guy and the injustices she suffered because of him.
*****
As fate would have it, Abhi in Delhi and King in London both receive a contract to work on a world music album from a Delhi-based organizer. King asks Pragya to accompany him to Delhi and bring Kiara with her. Pragya is reluctant at first but finally agrees never believing she could run into Abhi.
That same period, Abhi's other aunt, Swarni Dadi informs the Mehra family that she would be staying with them for a while and asks Abhi to come pick her up at the airport. Coincidentally it is on the same day King, Pragya, and Kiara arrive in Delhi.
At the airport, Abhi and Pragya feel each other's presence for the first time in seven years but do not come face-to-face. Abhi also has his first run-in with Kiara and feels an instant connection to her due to her personality similar to that of Pragya's, while Kiara thinks Abhi is very arrogant and full of himself.
********
After checking into their hotel, King and Pragya decide to get Kiara enrolled in an international school; coincidentally it is the same school that Sunny (Purab and Disha's son) attends.
The same day Pragya brings Kiara to get her admitted, Abhi is visiting to help a friend enroll her children in the current term. They again feel each other's presence but do not come face-to-face.
Kiara is initially denied enrollment for the current term because it is too late, however, a mix up with recommendation letter allows Kiara to gain admission along with Abhi's friend's children.
Later King and Pragya are confused on who could have helped them with Kiara's admission, while Abhi has no idea that he has indirectly helped his daughter. When Sunny and Kiara meet at the school, they soon develop a rivalry towards each another after an incidence.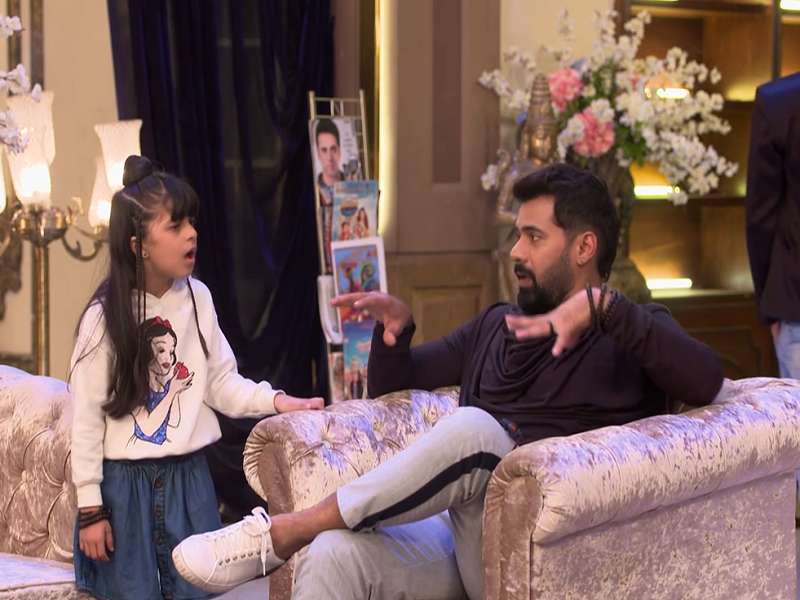 ********
Abhi and King run into each other twice on separate occasions due to Abhi nearly running his car into King's. Their egos clash and they get into heated arguments. However, they are unaware of each other's stardom and mutual connection through the contract and through Pragya.
Swarni Dadi also arrives at the Mehra mansion ignorant of the fact that Abhi and Pragya's marriage had ended seven years ago and that Tanu is now Abhi's wife. She is kept in the dark still as no one has the courage to tell her what had happened.
King and Pragya are visited by King's distant Chachi and cousin Tarun just as a press conference is organized for Abhi and King to meet one another and announce the album.
Pragya is however unable to accompany King because she has to drop off Kiara at her first day of school. She suggests King take Tarun instead so he can earn some work experience. She promised to meet them later at the conference. Abhi, on the other hand, takes Swarni Dadi and Mitali with him to the conference.
As Abhi and King prepare to make their entrance, Kiara is placed into Sunny's class, and Pragya and Disha narrowly miss each other after dropping off their kids for school.
After finding out King is being paid more than Abhi for the album, Aliya pays some of Abhi's fans to cheer more for Abhi so the album organizers are coaxed to putting Abhi on the cover only and omitting King completely.
Tarun overhears this ploy and conveys it to King who in turn determine to expose the irregularity in Abhi's camp and their resort to "cheap business tactics" for selfish reasons.
******
During the conference, Abhi and King come face-to-face and get into a heated argument about who is better than the other. Frustrated and annoyed with Abhi's ego, King, with the help of Tarun, exposes the fans who had been paid to help Abhi's stardom. This results in a fight between Abhi's and King's fans.
Abhi initially denies being responsible but later realizes that Aliya is capable of such stunts. He finds out from Purab that Aliya was behind the mishap and demands she cancel his contract so he will not have to work with King.
Pragya arrives at the conference while all hell has broken loose and runs into Swarni Dadi. Before she could say anything, an emotional and confused Pragya rushes out and runs into an angry King outside the hall.
King apologizes to Pragya for his behavior and accuses Abhi of being a businessman rather than a proper musician. He asks Pragya to cancel his contract, but later she convinces him to reconsider after reminding King that by canceling the contract he is not giving up his dream but also Pragya and Kiara's dream.
King agrees to do the album again but under the condition that Pragya does not get involved with his feud with Abhi. All this while, Pragya is clueless that Abhi is the singer King is referring to.
******
Back at the Mehra house, Swarni Dadi and Mitali inform Abhi and the rest of the family that they saw Pragya at the press conference. After a fight with Tanu, Abhi tells Swarni Dadi that his marriage with Pragya ended seven years ago because she broke his trust (he however leaves out the fact that he blamed Pragya for Dadi's death).
Abhi, who is now drunk goes back to the conference hall to inquire about Pragya mostly because Swarni Dadi asked him to. However, he gets into a minor accident with King's car. They get into an argument and are both arrested for drunk driving.
Pragya learns of this and goes to the police station to bail out King. It's the same time as Tanu is notified and she, along with Purab, goes to bail out Abhi. At the station, while Pragya is trying to convince the inspector release King, Abhi sees her for the first time in seven years.
But before he can approach her, he overhears Pragya mentioning that she and King have been married for the past seven years and backs off. He is however yet to realize that she and King have relations.
Purab convinces another inspector to let Abhi go, he is released but on their way home, Abhi abruptly stops the car to run back to the police station and demand an explanation from Pragya, but she was already driving away when he arrived. Once he arrives home, he again blames Pragya for not coming back home to mend their marriage and decides to forget her.
*******
On the other hand, Pragya asks King to change his angry behavior if not for her and Kiara, but for himself and his career; and King is confused and frustrated at Abhi's insecure, possessive, and oppressive behavior.
While waiting for a meeting to start at the same hotel King, Pragya, and Kiara are staying at, Abhi runs into Kiara again and they end up getting stuck in a dark elevator together.
While Pragya runs around to get the elevator working, Abhi and Kiara bond after she calms down Abhi who is afraid of the dark, and after she shows off her intelligence by unlocking his smartphone without him telling her his password.
Pragya manages to fix the elevator and reunite with Kiara just as Abhi leaves. Tanu also sees Pragya for the first time in seven years after meeting a friend there, but she distracts Abhi so that he does not come face-to-face with Pragya.
When Abhi attends his meeting for a potential ad deal, he finds out that King has also been offered the same deal. King calls out Abhi for being more concerned about his image than his passion and accuses him of being a fraud.
This nearly leads to a fist-fight, but Abhi walks out of the deal and blames Aliya for not checking who he was paired with. King also walks out of the deal declaring he has no desire to work with Abhi, and then asks him to stick to his word.
Mr. Wick, organizer of the worldwide music album, eventually calls Abhi and King back for another meeting at his label. He urges Abhi and King to treat this deal as a "business marriage" by putting their egos and differences aside and collaborate on the album, and by so doing they will gain more popularity and fans.
While King says he will think about it, Abhi receives a phone call from Sunny's school and abruptly leaves without telling anyone the reason. Upon reaching the principal's office, Abhi finds out that the girl who was bullying Sunny is none other than Kiara.
Kiara is upset with Abhi and asks him not to speak to her again. Abhi leaves the school upset but does not know why he feels this way.
*****
Terrorists break into Sunny and Kiara's school and take everyone hostage, Abhi rushes back to save Sunny and manages to sneak in through the back. Pragya also finds out about the attack on the news and sneaks in herself to save Kiara.
As Abhi and Pragya separately try to save everyone inside and narrowly missing each other, King finds out late about the attack and ditches his meeting to rush to the school.
When Sunny and Kiara plan a break-out attempt, they are separated and taken hostage in different rooms. Pragya manages to save Sunny after he tries to get away, oblivious to the fact that he is Purab and Disha's son. At the same time, Abhi manages to free Kiara and the rest of the students and staff while he stays behind to fight off the terrorists.
Pragya and Sunny are reunited with Kiara and the rest of the staff and students in the hallway just as the police show up. Kiara asks Pragya to save the man fighting the terrorists, and she reluctantly agrees.
Soon there is a stand-off with the police and terrorists, who are holding Abhi at gunpoint. Pragya sees this from a window but does not see Abhi's face clearly. She manages to throw a paperweight at one of the terrorists just as he shoots his gun, but the bullet hits the window Pragya is standing next to and she ducks down.
Later the police capture the terrorists; Abhi thinks that Pragya saved him but when he goes to check there is no one there, as she herself is escorted outside. While Abhi concludes that it was just his imagination, King arrives outside the school just as the situation is sorted and reunites with Kiara.
******
Abhi and King eventually decide to put their egos aside and collaborate on the worldwide music album. After signing their contracts, they both decide to challenge each other to prove who is better than the other through this album. King convinces Mr. Wick to let him organize the album announcement party at his newly purchased house, and also asks Abhi to invite his wife.
Abhi agrees, on the condition that King also bring his wife so they can both meet each other and see whose wife is better. While Abhi tells Tanu to come to the party on time, King shares with Pragya the news that he decided to work on the album and about their challenge.
King also asks Pragya to pose as his wife for the party because of the condition Abhi put forth, Pragya is initially annoyed but agrees so she can help King win the challenge. Abhi ends up attending the party alone after finding out Tanu is out drinking with her friends. Tanu initially decides to attend the party for Abhi's sake, but realizes she's had too much to drink and heads home instead.
******
After discussing the terrorist attack at their school, Sunny and Kiara apologize to each other and become friends. On the night of the party, Pragya sends Kiara to Sunny's house with their driver so they can work on a class project together, completely unaware about the relationship between Kiara and Sunny's family. At the house, Kiara bonds with all of the Mehra family except Tanu, who finds her rude and annoying.
At the party, King and Pragya are enjoying the party with each other while Abhi hangs out by himself. When King and Abhi are called on-stage to launch the album, King asks his wife to come on-stage and through this, Abhi and Pragya come face-to-face with each other. Finally!
Both are initially shocked and emotional upon seeing each other, but Abhi ends up storming off stage in anger and starts drinking at the bar. On the other hand, Pragya is unable to control her emotions because she is still deeply hurt from Abhi blaming her for Dadi's death.
While Abhi decides to question her about her decision to remarry, Pragya decides to tell him the truth about her relationship towards King thinking that destiny wants her to reunite with Abhi.
However, after the two share a dance (with King's permission), Pragya walks off upset after Abhi hurts her with his grip. Pragya realizes that their marriage is broken beyond repair and that it is too late for Abhi to ask for forgiveness because Abhi's hatred will always triumph over Pragya's love.
She concludes that instead of causing each other more pain by bringing up bad memories, it's better to just forget about what happened and move on and cherish the happy memories instead.
Meanwhile, King sensed that Pragya was feeling uncomfortable during her dance with Abhi and asks her to stay away from Abhi. He is unaware that Abhi is the man from Pragya's past.
*******
Eventually, Abhi and Pragya end up alone together in a guest room after Abhi injures his hand and Pragya bandages his wound out of good will. Before Pragya can leave, they get into a massive fight.
Abhi accuses Pragya of cheating on him by marrying King instead of coming back to save their marriage after what he claims to be a small fight that she took seriously. He also accuses Pragya of breaking all the promises she made to him.
Pragya realizes Abhi hasn't changed at all, he still holds her responsible for his mistakes and will continue to blame her. Pragya calls him out for questioning her decisions when he himself threw her out his life, married someone else, and for not truly understanding the kind of person she is.
When Abhi does not accept his mistake and insults King instead, Pragya is clearly offended and demands Abhi does not talk about
King that way because he (King) stood by her and understood her feelings and situation when Abhi wasn't there. Abhi is unable to bear this reality but before he can say anything else, Pragya walks away from him.
******
Abhi is drunk and goes home, Kiara is still there working on her project with Sunny. While leaving, Kiara sees an upset Abhi and tries to cheer him up. She also learns that Abhi had a wife prior to Tanu. Abhi thinks that if he were to have a daughter, she would be just like Kiara.
*****
The next day, Abhi decides to quit the album due to Pragya's involvement, but this comes with a consequence that involves 3 years music probation for him as well as paying King the same amount of money he was to get.
Pragya knowing this, and not wanting Abhi to incur any losses, goes to Abhi's house and plays a trick on him by thanking him for backing out of the album and realizing that King is much better than him. To prove himself, Abhi challenges Pragya that he will do much better than King.
A few days later, while going to bank for some business, Abhi and Pragya see each other. They get into a small argument once again, but in the meantime some robbers come into the bank and hold the people inside as hostage.
King and Tanu hear the news of the bank robbery and get really worried. Inside, Abhi and Pragya work together to capture the thieves, the police come in and arrest them. In the ensuing battle, Abhi gets small injuries.
A worried King and Kiara come to Pragya's aid and do not let her out of their sights, even though she wishes to say thank you to Abhi. Kiara learns that it was Abhi only who saved her mother during the robbery. When Kiara tells Pragya that Sunny's uncle had saved her, she assumes he is one of the police officers.
*****
When Abhi goes home, soon he faints and is rushed to the hospital. Tanu and Aliya try very hard to get him back, but to no avail. Pragya hears of Abhi's accident through King and tries to meet him.
She calls Aliya to ask about his health, but Aliya only yells at her saying she took her Dadi away from her and now she will take her brother. Pragya decides to meet him secretly. When she gets to the hospital, she dresses as a nurse and puts on a mask. She goes to Abhi's room and tries to get him to wake up.
Abhi wakes up after Pragya leaves. Aliya and Tanu believe they are the reason behind Abhi's improving health. Abhi gets sad that Pragya did not come to visit him in the hospital and only sent King. He is soon sent home.
********
Kiara decides to visit Abhi and goes to his house. When she is about to see Abhi, he is talking to a picture of Pragya. Kiara asks Abhi to show the picture, to see if Tanu is prettier, or the girlfriend. Abhi says no, so she decides to spend time with Sunny.
When she's about to go downstairs, Tanu decides to pour oil on the stairs to make Kiara fall and teach her a lesson. She sends Sunny to get some book, while Kiara falls down the stairs. Tanu immediately cleans up the oil, to remove all evidence. Kiara starts to cry and Abhi runs to her aid.
Kiara, in the meantime, calls Pragya to come to Sunny's house. Abhi kisses and hugs Kiara and takes her to his guitar room. He effectively diverts Kiara's attention from her pain to the cool instruments.
Kiara is worried because if her mom comes here she'll scold Abhi for not taking care of her daughter well. Abhi says he'll handle her, but Kiara says, "No, I don't want you in trouble because I love you so much and I wanna come to this home again and again. If my mom comes here, she will stop me from coming again.
Knowing this, Disha decides to take Kiara home before Pragya arrives. While on their way, Kiara calls her mom and tells her to return because she is already on her way.
While on the way, Pragya car breaks down and it gets repaired in front of Abhi's home. Abhi helps her with the task and while there, they look at each other and smile like people who are still in love. Abhi eventually gets upset after she leaves.
He starts to feel Pragya and Kiara could be related in some way because they behave alike. While in Kiara's home Disha learns the truth about Kiara's mom and rushes home to inform Abhi. She was however able to inform her husband Purab but he doesn't believe, thinking that since Pragya is married to King, then Kiara is his daughter.
*****
Later, Purab and Disha are able to meet Pragya in a jewelery store. They get emotional after seeing eachother for the first time in the past 7 years.
Soon, Tanu plans Purab and Disha's surprise anniversary party just so that Disha doesn't tell Abhi that she was the one who made Kiara fall down from the stairs. She invites King & Pragya to the party also with her own motives in mind.
At the party, Abhi and Pragya are heartbroken seeing each other with their partners; While King plans to reveal his true feelings of love for Pragya.
*****
Abhi would find out later that Kiara is his daughter when he donates blood to her after an accident and discovers that they share the same blood group.
Meanwhile, DNA test is done and reports come positive that he (Abhi) is father of Kiara, reports are received by Abhi sent by doctor Abhi is shown happy knowing that he is her biological father, thus Abhi decides to confront Pragya that kiara is his daughter, meanwhile in King house King seems to be in full love with Pragya decides to marry her before anything.
Abhi comes to King's place to talk to Pragya where King gets angry and confronts Abhi thinking that he is behind his wife and he informs Abhi that he will marry Pragya as soon as possible, warning Abhi not to come to his house again and not to see Pragya. He throws Abhishek out of his house. An angry and furious Abhi thus comes to his mansion full drunken, explaining his love for Pragya to Disha.
Abhi first thinks about the idea but later he seems to accept Disha's idea of getting married to Pragya without her knowledge to get her back and their daughter back and her in his life. Pragya then drinks the alchohol and starts behaving childish. She goes to Abhi and asks him to marry her again.
Later Tanu takes Pragya into her room and tells her that Abhi is making use of her love and wants to get married to her for the sake of getting back Kiara. Pragya then in her senses gets angry on Abhi and goes out to the mall with Kiara. Meanwhile Abhi goes in search of Pragya as he wants to talk to her and clear the differences between them.
Abhi comes to know that A group of terrorists had escaped from prison and have captured the mall in which Pragya went to. Abhi goes to save Pragya. On the other hand King comes to know about this news and rushes to the same mall. On the mission of rescuing Pragya, Abhi reveals the truth of him not married with Tanu.
After revealing truth Pragya accepts him and gets ready to marry Abhi. King and Chachi on the other hand come to know the truth about Abhi and Pragya's past relationship, Chachi feels sad that she had mistook Pragya for what she was whereas King starts hating Pragya and blames her for cheating him and not revealing the truth about Abhi, But he does not express it to Pragya. Eventually when King Singh realizes that Pragya would never love him because she would always love Abhi, he would become a villain and try to separate them.
Abhi and pragya decides to inform about their relationship to King before their marriage. Pragya goes to meet king and in the mean time Abhi explains their past to their daughter Kiara and she happily accepts him as her father. Pragya reveals king about Abhi being her husband. Chachi warns king not to hurt Pragya anymore. And after all drama Abhi and Pragya gets married once again and the family was happy.
After two months Pragya gets pregnant. On the happy note Abhi wants to throw a party. Tanu who been unhappy with the closeness of husband and wife and news of Pragya's pregnancy make her to feel jealous and she tries to kill the baby. But in the party family comes to know about Tanu's plans to kill the unborn baby, Abhi throws her out of the house.
However, King who is blinded by rage and jealousy connives with Nikhil to take away Kiara from Abhi and Pragya lives. They send Goons who capture Kiara and a ransom is demanded for her release. Abhi and pragya rally around and brainstorm on how to free their daughter but eventually, through a gun tussle at the location where Kiara had been kidnapped, she is shot and falls off a cliff. Kiara is presumed dead and the shock of it sends Pragya into a forced labour.
She gives birth to twin girls but irreconcilable difference causes the couple to split again, each going away with a daughter….
Twist of fate then takes another 20 years leap which which follow the lives of Abhi and Pragya twin daughters.