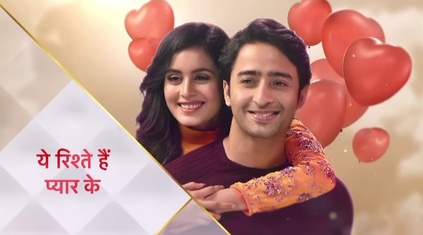 As Brave and Beautiful takes a backseat on Star life this February 2021, A new and exciting series which actually is a spin-off of Not without My family takes centerstage. Sacred Relationship on starlife follows two individuals who question the morale behind arranged marriages and family interventions and dare to make their own choice with matters that concerns their heart. Get ready for an interesting journey with Mishti and Abir…
Sacred Relationships starlife full story:
The series takes place in Rajkot, and follows the journey of Mishti Aggarwal and Abir Rajvansh as they question age-old concepts of arranged marriages and relationships. Mishti is a kind and down-to-earth girl who believes in independence and compatibility in a relationship. Estranged from her parents, Naman and Karishma, she was raised by the Maheshwari family. Abir is a cheerful and positive boy who expresses his emotions through his art and poetry.
Kuhu falls in love with Kunal the first time she sees him. When the Rajvansh family send a marriage proposal to the Maheshwari family for Kunal, Kuhu becomes happy and excited. However, due to a misunderstanding, Meenakshi chooses Mishti instead, leaving Kuhu heartbroken. Before agreeing to the marriage, Mishti asks for premarital courtship, Meenakshi gets angry and asks Mishti to help in Abir's NGO, hoping to create differences between Mishti and Kunal. When Kunal learns that Mishti is working, he is angered but later learns that she is working in Abir's NGO, so he apologizes to Mishti. As Mishti and Abir work together, Abir falls in love with Mishti, but is hesitant to express his feelings. Mishti ends her alliance with Kunal owing to his behaviour.
To revenge this, Meenakshi tells Kunal to do a drama of marrying Kuhu. Mishti realises her feelings for Abir and confesses her love to him. But, Meenakshi learns about Abir and Mishti's feelings for each other, and stops Mishti. She blackmails Mishti that if she does not insult Kuhu and reveal her truth of being illegitimate, Kunal will not marry Kuhu. Mishti does so and is told to leave the house by Meenakshi until Kuhu-Kunals wedding. Mishti reaches the airport but is stopped by Abir at the last moment and they confess their love for each other. On their first night after wedding, Kunal reveals his intentions to Kuhu and she is left heartbroken. Mishti returns to the Maheshwaris' house. Mishti gets to know about Abir's father; Mehul.
She finds Mehul and makes him return to his family. Meanwhile, Abir and Mishti's love is revealed to the Maheshwaris. Abir and Mishti's alliance resumes after the Maheshwaris accept their relation. Abir decides to move into a separate house with Mehul after marrying Mishti. Mishti finds out the truth about Mehul along with Kunal's real mother Parul. It is revealed that Mehul only wants the Rajvansh property from Meenakshi. On her engagement Mishti exposes Mehul and Abir is left heartbroken.
In order to separate Abir and Mishti, Meenakshi blackmails Abir to leave Mishti or she will disown Kunal and Parul and reveals the truth about Kunal's biological mother, Parul, to Abir. She also asks Abir to choose either Kunal or Mishti. Helpless, Abir chooses Kunal over Mishti and ends his relationship with Mishti. Heartbroken himself, he hopes Mishti will forget him and move on. Meanwhile, Mishti, heartbroken, goes to London and stays with Jasmeet's son, Nishant.
Two months later
Mishti and Nishant execute their plan to make Abir confess his true feelings, while Meenakshi tries to turn Abir against her. On Mishti's birthday Kunal spikes Nishant's drink without knowing that he was once a drug addict. Furious Mishti tells Kunal that he is Parul's son not Meenakshi's. Abir and Mishti have a confrontation and Abir mistakes Nishant as Mishti's boyfriend. In the process, Nishant falls in love with Mishti and tries to keep Mishti and Abir apart, hoping to marry her. The Maheshwari's fix Mishti and Nishant's alliance. On learning about Meenakshi's deeds, Kunal and Abir join to convince Mishti and the Maheshwari's along with Kuhu's help.
Eventually, Abir and Mishti reconcile and Mishti forgives Abir. Abir tries to talk to the Maheshwari's but they did not agree to forgive Abir for breaking Mishti's heart. On her wedding day, Mishti feels that Abir is in trouble. So, she runs away from the wedding in a bid to save him. Eventually, seeing their love for each other, Nishant backs off and the families accept their love. Mishti and Abir decide to marry. At their haldi Kuhu and Kunal's relationship truth is exposed to the family. They reconcile and remarry on Abir and Mishti's mandap, while Mishti and Abir are also finally together and married.
Mishti and Kuhu share a bitter relationship which creates a problem for Abir and Kunal. They try their best to make them reconcile but all in vain. They go for their honeymoon and Kuhu and Mishti fight as Meenakshi calls back Kunal. Abir decides to leave Mishti at the hotel and return to the Rajvansh house.
Later, Mishti faces molestation and in a bid to defend herself, she hits the guy with a stone. Karan dies and Mishti suffers from PTSD. Meanwhile, Karan's brother Varun and his mother fix the former's alliance with Ketki so as to make Mishti admit to having killed Karan. Eventually, it is revealed that it was Varun who killed his brother to inherit his property when Mishti fell unconscious and he is arrested.
Mishti and Abir are heartbroken on learning that Mishti cannot become a mother. While they plan for adoption, Meenakshi disagrees and convinces Kuhu to become a surrogate for Mishti. Kuhu agrees in exchange for the entire share of Rajvansh business and property. When the family learns the truth about the deal, Kuhu and Kunal apologize. Kuhu delivers Mishti and Abir's son and is named Amish. Meenakshi seeks forgiveness and the family rejoice with a family photo and the series ends on a happy note.
More information on the series
Sacred Relationships Starlife casts.
Special appearances by: