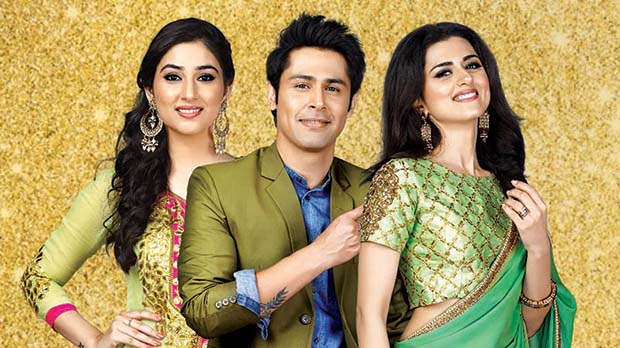 The first written update on New ZeeWorld series Kindred Hearts 
****
There is a wedding going on. Aditya welcomes them. A woman says who is making pooja thali? She says Nisha is making it. The woman says these girls of today don't know all this. The woman says my Nisha doesn't do these mistakes. She makes the best thali. Nisha comes in with thali. She says kaaki ma check it once. She says show it to seema. Seema says there is no roli in it. I told you. Nish but this is for welcome. Pandit ji will bind them roli afterwards.
Read also:
They all go towards the gate to welcome the newly weds. A man says stop. Aditya says to kaki ma and Kaku will both welcome you. Kaku says you and Nisha will welcome this new couple. Nish says not us. Adi says this is your right. Kaku says we have been doing that for years. You are our new generation. You are our shiv and Parvati. Nisha and Adi welcome the couple. The groom Raj gives Nisha sweet. SHe says I am Kaki ma are on fast. Neha hit the bowl and enter the house. A woman says she hit it with left foot. The very first mistake. Adi says people walk without noticing all that nothing happens.
The grains are scattered perfectly that shows she will expand the food in the this house. Raj will get fat. Nisha says welcome to the house.
Kaka says first of all take blessings of bhai sahab. Where is he? Adi asks Nisha where is baba? She says he was in car with me but I went towards the barat. He comes out and sees he is not there. Adi says how can you do this. She says I got busy. He says you know his condition how can you do this? He says I am going to look for him.
Baba is surrounded by dogs. Kaku and Adi are looking for him in different cars. Adi says where are you baba? A girl is walking on the road. She scares away the dogs. But they don't go. She says should I go near? It might eat me. She sees baba. The girl scares the dogs.
Kaku calls adi and asks did he find him? Adi says no. I am looking for him. I will let you know as soon as I find them. Adi comes out of his car and runs on the roads. He shows people picture and asks them. The girl is trying to fight the dogs but they are barking at her too. The dogs finally run away. Baba is hidden behind the garbage tank. She says I thought it would eat me today. She says uncle don't worry they went away. Come out.
Raj and Adi are looking for him. Adi says it is all my mistake. I should never have trusted that Nisha. I hope you are safe baba.
The girl gives baba her hand. He stands up. Adi drives past them but couldn't see.
The girl says hi I am Jhanvi and you? He is quite. Are you coming from a function? Why are you alone here? He can't recall. She says should I drop you somewhere? Any address? He starts crying. Jhanvi says don't cry. Don't worry that's fine. Jhanvi says its okay.
Jhanvi sees card in his pocket. She calls the landline. Nisha picks it up. She says I am near Shivaji park. Your family member chandresh ji is with me. He is really worried can you send someone to pick him up? Nisha says sorry wrong number and hands up. Nish says to kaki how can I do this? Kaki says its not your mistake. His condition is that way. Nisha says I hope we find papa. Kaki says don't worry we will.
Adi calls Raj, to get baba's pictures posted on media and social media.
Nisha says I am really worried. Where would he be? I am going out to look for him. I am taking kids with me. Nisha says lets go. Chini says where are we going? nisha says we are going for chinese. Lets go.
Nisha's mom calls her and says where are you? She says I am stuck in my way. I will come. Nisha says what should I do?
Nisha comes to restaurant with the kids and says I know you both love chinese so mama brought you here. Lets enjoy but don't tell anyone home. Otherwise what would happen? The kids say you will beat us. They enjoy the Chinese.
Jhanvi gives baba biscuit and says would you eat it? He says no. She says its very tasty. If I eat it you won't get anything. This is yummy. He looks at her bracelet.
Nisha sees on news about missing of Chandresh. Jhanvi gives Chandresh her bracelet so he plays with it and she gives him biscuit.
Jhanvi finds Chandresh's address and takes him home. Nisha comes after him. She sees them going in. Nisha says oh God baba I am so glad we were so worried. SHe says to Jhanvi thank you so much. Jhanvi says I can understand you people were worried. I called your place but someone said wrong number. He is very sweet.
Nisha says we have wedding here. Some guest might have called. Nisha says he is very sweet. I got a chance to be a kid with him. You are very lucky to have him. Nisha says in heart why don't you take him your place then? Adi comes in and nisha leaves.
Nisha says come in baba sa. Jhanvi leaves. Adi comes home. He sees her leaving. He goes after her but she sits her car and leaves.
Kaka gives Chandresh water. Adi hugs him. Nisha says I looked everywhere. When I reached chopati he was going towards water and I saved him otherwise I don't know what would have happened. I am sorry. Kaki says its not your fault. Adi looks angrily at her.
Jhanvi comes home her mom is crying and everything is messed up. Jhanvi says what happened? She says some thugs came and took Survi with them. Jhavni says did you call police? Her mom says no. Jhanvi says let me. she picks her phone. Her mom says don't call police. They were just thugs. Her mom says where are you going? She says I am going to police station.
Her mom says survi come out. Survi says di has ran towards police station. Lets top her. Her mom says it was your plan. Survi says it was your plan to scare her. Jhanvi comes whistling. She says mama this melo drama? Stop watching movies. You were doing so much overacting. I was seeing your feet behind curtains.
Adi sees Jhanvi's bracelet in Chandresh's hand. He says God bless you. Jhanvi says to Survi God bless him he was very sweet. There was a chit in his pocket. Some lady picked and said wrong number. When I dropped him back, a lady received him. She was very happy to see him.
Adi comes to room and says kaki told me that you didn't eat anything? Jhanvi says yes because baba was lost. He says or because you ate Chinese already? She says who told you? he says my credit card. You were partying there? And you took kids too? what are you making them?
She says so what? You insulted me in front of everyone and then you expected me to take care of your dad? He says he was your responsibility. She says I am not your watchman. He says have some humanity. She says I am a devil. Go tell your kaki and kaku. Tell them how I am. He says you know I can't. They would be so broken when they know your reality. For last 8 years because of my family and kids I had been tolerating you. Stay in your limit I am warning you. she says limit my foot. Chini overhears all this. Adi comes out to hug her. Kaki says what happened she looks worried? Adi says she saw a nightmare. Kaki says would you sleep with me chini? Chini says no I would sleep it with my dad. Kaki says okay okay.
Survi asks Jahnvi why are you taking pics of half moon? SHe says our lives are incomplete like this moon. There is a soulmate for all of us. And unless we find him we are incomplete.
Chini says papa why was mama fighting you? He says I was teasing her. She says why did mama take us out when Kaku was lost? He says because she was trying to cheer you up. You were upset. He says there is something in your pocket. He takes our bracelet. She says why us the moon not full? Why is it half.
Jhanvi says to survi this moon tries to be complete but it stays happy and bright even when its half. Adi calls his office and says I am coming there.
Adi tells everything to his friend. He says I can't even call her bahbhi. How long will you tolerate all this? How can she be so selfish and want to break your family just for freedom and power? Adi says they like nisha too much. I can't break their hearts. I don't want kids to hate their mom. He says like last 8 years you will live in same suffocation?
Next morning, alarm blares. Adi is sleeping on couch while Nisha on bed. Nisha comes to kitchen and touches kaki's feet. She says good morning. Kaki says after so many years you come to see my face in the morning. Even I didn't spoil my mother in law like this. Nisha says my mother in law is so caring. Your face is so important for me. You are my lucky charm. Our day goes like the person we see in the morning. Adi comes. Nisha says good morning. She comes to room.
Nisha says kaki thinks I am spoiling her. I am taking her to himalya and shoving her from there. My silent husband say something. He says don't you have anything else? they really love. People die for these things? Kaki ma does everything for us. Nisha says what does she get? Awards? She is a nanny, cook and caretaker. I can't do all this. I want to live like a princess. We get one life we gotta enjoy it. He says I can't see this face of a woman. He says you better not try to know me you will be more confused. He says they would shatter when they know your reality? Nisha says that is what I am waiting for. And btw way today is munh dikhai. Its gonna be a fun day.
Kaki brings Neha downstairs. She touches everyone's feet. Adi says not mine, my blessings will always be with you to. Adi says baba give her blessings in your style. He gives her a coin as blessing.
He gives to kids as well. Nisha says Neha our rituals are very important. Take care of all that. She says kaki ma we should make her wear our family necklace today. Kaki says sure. Nisha says give me keys of locker and I will bring it. Kaki says you prepare of pooja, and I will bring that.
Jhanvi is leaving for office. Its her new office. Her mom says do the pooja. She says we can just pray for two minutes with pure heart and God will understand. She says now you give me blessings its my new job. Her says mom says I hope you get married soon. Survi says maybe he is waiting for you at the office. She says I am getting late and leaves.
Adi sees the girls off at school. He says we enjoyed at the weekend. Now we study. They both kiss him and go to school. Adi sits in his car a dog runs towards road. Adi runs after it. It comes in front of cars, Nisha stops her scooty and saves the dog. Adi looks at her he is dazed. Nisha caresses the dog.