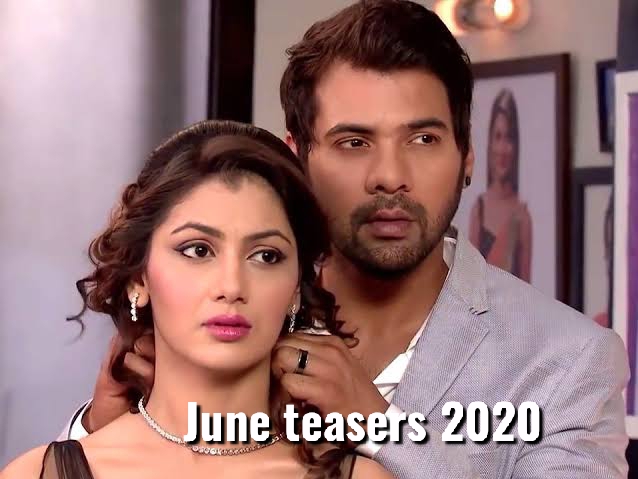 Twist of fate June teasers 2020: Tanu continues being a nuisance in Pragya's life. Will Pragya ever receive the credit she deserves?
---
Zee world twist of fate June teasers 2020.
Monday 1 June 2020
Episode 62
Tanu is happy to finally have Abhi to herself. However, their affair is short-lived. They receive an unexpected visitor that gets in the way of all their plans.
Twist of fate Tuesday 2 June 2020
Episode 63
Tanu realises that her efforts to break Abhi and Pragya apart seems to be bringing the two together
Twist of fate Wednesday 3 June 2020
Episode 64
Pragya finds out that her family might lose the wedding hall. What will she do to help?
Twist of fate Thursday 4 June 2020
Episode 65
Pragya requests Abhi's help with the wedding hall – his response is not as she expects. Abhi's grandmother goes on vacation, Abhi takes this as the opportunity to torture Pragya.
Twist of fate Friday 5 June 2020
Episode 66
Abhi finds out that Pragya was supposed to be married before marrying him. Pragya's family gets a threat to evacuate their wedding hall.
Twist of fate Saturday 6 June 2020
Episode 67
Abhi finally comes to the rescue. Helping Pragya's family keep the wedding hall leads to him getting arrested.
Twist of fate Sunday 7 June 2020
Episode 68
Pragya testifies against Abhi in jail, Abhi is shocked by Pragya's reaction. How will she help him get released now?
Twist of fate Monday 8 June 2020
Episode 69
Tanu finds out that Pragya has a plan to get Abhi released. She then steals the evidence Pragya has put together and uses it to get Abhi released from jail.
Twist of fate Tuesday 9 June 2020
Episode 70
Tanu continues being a nuisance in Pragya's life. Will Pragya ever receive the credit she deserves?
Twist of fate Wednesday 10 June 2020
Episode 71
Once again, Tanu shows her true colours… will Abhi see her for who she is? Tanu's efforts to break the couple apart fails.
Thursday 11 June 2020
Episode 72
Tanu loses her modelling contract and is replaced by Pragya. Tanu asks Abhi to marry her. Pragya confesses her love for Abhi to her mother.
Friday 12 June 2020
Episode 73
Abhi's grandmother gives Pragya the house keys and responsibility over the household.
Saturday 13 June 2020
Episode 74
The police unexpectedly raid Abhi's house. Raj gets arrested for illegal dealing. Once again, Pragya is being blamed for someone else's mistake.
Sunday 14 June 2020
Episode 75
Tanu goes to the extreme in order to stop Pragya from attending Abhi's concert. Tanu and Aliya set a trap for Pragya and Suresh. Will their plan to tarnish Pragya's reputation succeed?
Monday 15 June 2020
Episode 76
Abhi is left flabbergasted after seeing a video of Pragya and Suresh in what looks like a compromising position. How will Abhi react to this?
Tuesday 16 June 2020
Episode 77
Abhi decides to throw Pragya out of the house. He later stops her. Could Abhi give their relationship another chance?
Wednesday 17 June 2020
Episode 78
Tanu sends the video of Pragya and Suresh to Abhi's grandmother. It affects her to the point where she loses consciousness.
Thursday 18 June 2020
Episode 79
Pragya finds out that Mitalli is the one behind Raj's arrest. After agreeing to help Pragya, Mitalli turns her back on her.
Friday 19 June 2020
Episode 80
Sarla finds out about Pragya being in trouble. Pragya finds CCTV footage of the night she was alone with Suresh. How will the family react to the evidence?
Saturday 20 June 2020
Episode 81
Pragya loses the only evidence she has to prove her innocence. How will she prove her innocence now?
Sunday 21 June 2020
Episode 82
Abhi thinks the video of Suresh and Pragya has leaked onto the internet. He lashes out his anger and threatens to leave the music industry before he becomes yesterday's news.
Monday 22 June 2020
Episode 83
Pragya asks Abhi to divorce her in order to get rid of the scandal around the video. Although Abhi is happy, Indu is worried that the family is breaking apart.
Tuesday 23 June 2020
Episode 84
Sarla comes to know that her daughter, Pragya, has asked Abhi for a divorce and that the two are going ahead with it.
Wednesday 24 June 2020
Episode 85
Both Pragya and Abhi sign their divorce papers. Abhi later stops Pragya and tells her that she will only leave the house after getting married again.
Thursday 25 June 2020
Episode 86
Pragya agrees to Abhi's condition even though it could mean the two of them being separated forever. Abhi manages to manipulate Suresh into agreeing to marry Pragya.
Friday 26 June 2020
Episode 87
Pragya confronts Suresh about agreeing to the wedding. Mitali urges Aliya to get Raj released. Aliya and Tanu look forward to Pragya's exit from the house.
Saturday 27 June 2020
Episode 88
Aliya tells Tanu that after Pragya has left the house, Bulbul will be her next target. Abhi helps Pragya get ready for her wedding. Suresh warns Bulbul that only he and Pragya know the truth. Pragya goes missing just before the wedding.
Sunday 28 June 2020
Episode 89
Abhi finds Pragya and brings her back home. She agrees to get married when Abhi blackmails her about the video. Abhi burns his hand and Pragya ends up leaving her wedding to help him. Pragya dreams of Abhi stopping the wedding.
Monday 29 June 2020
Episode 90
Aliya, Tanu and Mitali stress over the sender of the sms. An envelope arrives for Abhi and the three suspect it has proof against them. Abhi learns of Pragya's innocence and exposes the person behind the scheming.
Tuesday 30 June 2020
Episode 91
Abhi warns Aliya to leave the sisters alone. Aliya is shocked to see this side of her brother, but agrees to do as he says, but she has a condition. Pragya is over the moon that the wedding has been called off.
Read: Next month twist of fate