Deception Zee World full story: focuses on Naren and Pooja. Naren does not like to socialize and keeps himself away from the world. He has his own ideals and mindset, by which he restricts himself from getting involved in any matter. Pooja likes to give advices, help others, achieve something and make a mark for herself. Naren has nothing to do with the world, while Pooja aims to bring out her talents to shone in the world.
Naren's parents does not know why Naren has bounded himself. Pooja comes as an answer to them. Naren's dad sees a bright spark in Pooja and hires her to break Naren's over-spirituality. Pooja gets the job to make Naren see the realities and practicalities of the world. Pooja is the only one destined for Naren. The show deals with Pooja's struggles to bring a change in Naren.
Naren is on a path of spirituality, living as a recluse and cut off from worldly activities. Lost in his own world of meditation, his only concern is for his mother Supriya Vyas and father Harish Vyas who belong to the affluent Vyas family. Pooja on the other hand, is warm, confident and a complete people's person who can take care of herself and is deeply rooted in family values.
Naren's parents want Pooja to be Naren's wife. Initially thinking Naren to be another rich boy, Pooja finally starts appreciating his genuine selfless nature. Naren and Pooja become best friends and Pooja falls in love with him after he saves her from being raped by his cousin, Rahul. Naren's wedding is fixed with Surbhi Singhania, the daughter of Harish's friend Yash Singhania while Pooja agrees to get married to Dr. Anand.
Naren's cousin, Mayank falls in love with Pooja. His love for Pooja turns into an obsession and he kills Anand on Pooja's wedding day. To save Pooja from humiliation, Naren steps in and marries her while Surbhi ends up getting married to Rahul.
Soon, Naren realizes that he also loves Pooja. Pooja finds out that her horoscope has some problems and feign insulting Naren and his family so they can separate. Supriya meets with an accident trying to stop Pooja and becomes mentally unstable.
1 Year Later
Pooja returns to Naren's life as Mrs. Kapoor. Naren, who was a simple and sober man, has become a ruthless womanizer. Pooja's friend, Ashish Kapoor, tries to solve Pooja and Naren's misunderstanding but Rahul misleads Ashish into believing that Pooja has fallen in love with him. Ashish joins hands with Rahul and Surbhi. Naren falls in their trap and proposes marriage to Surbhi. Pooja records Ashish's confession and stops Surbhi and Naren's wedding. A guilt-stricken Naren apologies to Pooja but Ashish comes between and tries to kill Naren. Pooja shoots Ashish and Naren takes the blame. However, Kapoor reaches the court on time and saves Pooja.
Pooja and Naren's wedding preparations begin but Pooja meets with an accident while praying for Supriya's recovery. Supriya recovers and is able to stop Mayank's father Rakesh from attacking Pooja. After her accident, Pooja starts behaving like a child. Her uncle, Satish Gupta takes Pooja with him to their hometown Dehradun. To stop her from being sent to a mental asylum, Naren marries her and starts taking care of her.
It is revealed that Pooja has been feigning her illness to save Naren's grandfather from Kapoor who has been threatening to expose that Naren is not the biological son of Supriya and Harish. Kapoor kidnaps Pooja who finally kills him to protect Kashinath. Planning on ending her act, Pooja's half sister Naina Goel reveals Pooja's secret to Naren instead causing him to become furious with Pooja. Naina sets her eyes on Naren wanting to take revenge on Pooja who she thinks was always preferred by their father.
Naren's health deteriorates as a result of his excessive drinking. Pooja finds out Naren's real mother, Chandrika who is a prostitute. To hide this truth from the Vyas family, Satish and Pooja lie that Pooja is Chandrika's illegitimate daughter while Naina is Satish's legitimate niece. The Vyas family, except for Kashinath, start hating Pooja. Chandrika is allowed to stay with the family in the Vyas Mansion but is blamed for an attack on Supriya. The misunderstanding leads to Pooja and Chandrika leaving the house.
6 Months Later
Mayank is dead. Pooja lives in Krishnapuri, a red-light area with Chandrika. Naren is standing for elections and visits Pooja everyday at Krishnapuri. Everyone thinks that Naren does this because he loves Pooja but only Chandrika, the Vyas family & Naren's assistant Danish know that Naren in fact hates Pooja. Pooja continues to fulfil her duty of a wife.
Naren hires a shooter to kill Pooja. On a trip to Dehradun, Naren realises Pooja's trust in him and calls the sharpshooter to call off the attack. Naren and Pooja consummate their marriage. At Naren's election rally, Pooja is shot at and Naren discovers that a woman called the sharpshooter to carry put the attack. He realises Pooja was aware of his initial plan and apologises but Pooja loses all trust in him. However, they team up to expose Naina as the culprit behind causing Supriya's attack and resulting paralysis, framing Chandrika for the attack, killing Mayank, abducting a heavily pregnant Surbhi and planning to kill Rahul and marry Naren.
Kashinath reveals that Naren is Chandrika's son. A heart-broken Naren leaves the Vyas Mansion. At an ashram, Naren and Pooja renew their marital vows. They meet Bela and Praveen, another newly-wed couple. Bela is an introvert while Praveen is an extrovert who often acts silly. Instigated by Rahul, Harish decides to kill Naren but Harsha, Naren's aunt, warns Pooja and Naren. Naren and Praveen meet with an accident and Praveen dies while Naren, needing a heart-transplant, receives Praveen's heart. A strange change appears in Naren's behaviour as he starts behaving like Praveen. It is revealed that Bela is planning to take revenge from Praveen's parents as they insulted her parents for dowry resulting in Bela's mother's death and her father's blindness. Under Bela's spell, Naren abducts Praveen's parents and Bela kills them but spares Naren for saving her father. Bela, then, surrenders to the police.
Naren's adoptive sister Meghna (Sangeita Chauhan) is blind and is about to marry Kunal Goenka, the man she loves. On their wedding day, Meghna is raped and suspicion falls on Naren as he was absent from the venue. Pooja saves Naren from the accusations. The next suspicion falls on Pooja's cousin Anuj Gupta, Danish, Rahul and Kunal. The real culprit tries to kill Surbhi and Pooja as they discover his real identity. Surbhi loses her child. It is revealed that Rahul's father, Hardik Vyas is the real culprit. Hardik is arrested and Meghna and Kunal are married.
Angraj (Sahil Uppal), Harish and Supriya's biological son, enters the Vyas Mansion. Angraj sets his eyes on Pooja, who he had used to evetease and harass before her marriage, and starts plotting to kill Naren. On the day of Pooja's birthday, Anuj shoots Angraj trying to save Pooja but Naren shoots Anuj to defend his half brother resulting in both Angraj and Anuj dying causing tension between Naren and Pooja's families.
Angraj is revealed to be alive and gets a plastic surgery and returns with Naren's face and kidnaps the real Naren. Angraj (as Naren) takes Naren's place at home. After an interesting twist in the plot, Supriya herself kills Angraj.
The story ends with Supriya managing Angraj's foundation, Rahul and Surbhi having a baby boy, Anuj's wife Rachel (Sandhya Mehta) gets married to Rahul's half brother Arjun Vyas (Khushwant Walia), and Pooja gets pregnant with Naren's child.
More Information on the series. 
Name: Deception
Start date: 6th january 2020
Episodes: 383
Seasons: 1
Network: Zee World Africa
Indian Title: Piya Abela
Review:
The show is from Rajshri Productions. It has all the lovey dovey relations with bits of scheming materialistic people. Pooja's caring uncle and nagging aunt make a good combo to create drama. Naren's family has more members. The joint family has many suppressed problems when it comes to business and property. All the characters look well detailed and realistic. One can expect them to react such way as they do. The story of Vishwamitra and Menaka is retold in this show.
Pooja is hired to bring out Naren from his detached world. Naren's nature and his interest in spirituality creates suspense. Viewers will be knowing why Naren is such a celibate. Pooja holds a strong and sweet personality. Naren and Pooja's love story looks engrossing. It is a different concept. The story is well paced and rightly sketched. The lead actors are fairly good. Newcomer Sheen Dass who plays Pooja is convincing, while there is more to see of Akshay Mhatre, who plays Naren. Supporting actors are okay in their roles. It will be interesting to see how Pooja gets Naren out of spiritual world – Tellyupdates.com
---
Deception Zee World full casts
Akshay Mhatre as Naren Vyas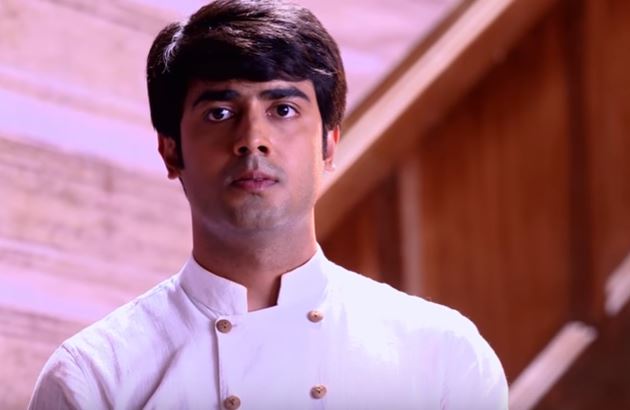 Naren is a young, rich, erratic and anti social guy. He loves humanity. He is very helpful. He assumes his birth is for mankind and wants to live every moment by walking on the spiritual path. He has much interest in nature, spirituality and simple living. He does not socialize much. Naren has an unusual appearance and likes to keep himself away from everyone. He confines himself. He is studying psychology all by himself. He is lost in his own world of meditation. He rebels his parents who wants to get him out of spirituality.
Pooja is a simple, dynamic, cheerful and bold girl. She has much talent. She is brave enough to beat up the goons. She has great dancing and karate skills. She runs her own dance school. Her talents make her extraordinary. Pooja has much of patience. She believes in living life to the fullest. She is loving, caring and a confident person. She did not learn to fail in life. She spread happiness around. Pooja is a social bird and likes to meet people. She determines to do a good paying job. She gets the task of winning Naren's heart and bring him out of the spirituality world.
Sahil Uppal as Angraj Vyas (before plastic surgery), Naren's half-brother

Akshay Mhatre as Angraj (after plastic surgery)
Kanwarjit Paintal as Kashinath Vyas, patriarch of the Vyas family, Hardik and Harish's father
Avinash Wadhawan as Harish Vyas, Kahinath's elder son, Naren and Angraj's father
Jyoti Gauba as Supriya Vyas, Harish's wife, Naren's adoptive mother, Angraj's biological mother
Jaya Binju Tyagi as Chandrika, Naren's biological mother
Vijay Kalvani as Hardik Vyas, Kashinath's younger son, Harish's brother
Parul Chaudhary as Neelima Vyas, Hardik's wife
Ankit Vyas as Rahul Vyas, Hardik and Neelima's son
Ritu Chauhan as Surbhi Vyas, Rahul's wife
Khushwant Walia as Arjun Vyas, Hardik's illegitimate son, Ritu's second husband
Chaitrali Gupte as Harsha Kaushal, Kashinath's daughter
Farukh Saeed as Rakesh Kaushal, Harsha's husband
Tushar Khanna as Mayank Kaushal, Harsha and Rakesh's son
Gulki Joshi as Naina, Pooja's half sister and Mayank's wife
Danish Kapai as Danish, Naren's personal assistant
Khalid Siddiqui as Ashish Kapoor, Pooja's obsessive lover
Saptrishi Ghosh as Yash Singhania, Surbhi's father
Mamta Verma as Shilpa Singhania, Surbhi's mother
Sangeita Chauhan as Meghna Goenka, Naren's blind adoptive sister
Rakesh Kukreti as Mr. Goenka, Meghna's father-in-law
Kuldeep Mallik as Satish Gupta, Pooja's maternal uncle
Chitrapama Banerjee as Kusum Gupta, Pooja's maternal aunt
Rohan Rai as Anuj Gupta, Pooja's cousin, Kusum and Satish's son
Sandhya Mehta as Rachel / Ritu, Anuj's widow, later Arjun's wife
Ashmita Jaggy as Inspector Shivani Gupta
Rishabh Shukla as Babaji/Guruji
Suhani Dhanki as Chandni, a harlot
Arti Gupta as Dr. Kiran, Danish's wife
Suraj Kakkar as Dr. Anand, Pooja's ex-fiancé
Neha Marda as Bela
Pawan Mahendroo as Bela's father
Krishanu Rathore as Praveen, Bela's husband
---
👉 👉 Deception January teasers 2020
---