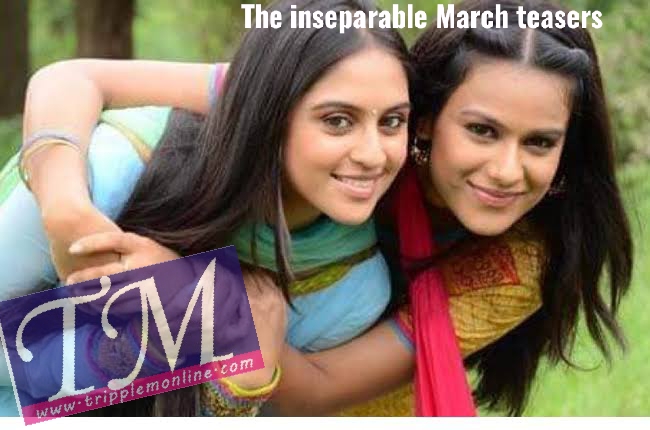 The inseparables March teasers: Jeevika and Manvi battle the new enemies of the Vadhera house, how soon will peace return to their lives?
---
Starlife: The inseperables March teasers 2020
Monday 2 March 2020
Viren learns that Smabhav wife tried to kill herself Jeevika asks him to tell Sambhav  about Riya's suicide attempt.
Sambhav shares his sorrow with Viren. Meanwhile, Beeji is upset when Sweety hires a maid. But Daboo criticises Beeji for hurting Sweety's feelings. Maanvi sees Viren with Riya at the restaurant and becomes suspicious.
Tuesday 3 March 2020
Riya meets Viren late night outside his house and apologises to him for her past behaviour. Maanvi sees them together and gets suspicious and shares her concern with Viraat.
Viren manages to stop Sambhav from admitting Riya in a mental hospital. He offers to help and take Riya out. He decides against telling Jeevika about it. Viraat sees them together and misunderstands.
Wednesday 4 March 2020
Riya invites Viren for lunch, which he accepts. The two get stuck in the hotel storeroom. Beeji gets angry with Sweety for giving her dress to Lakshmi. Meanwhile, Maanvi and Viraat suggest Jeevika to have lunch with Viren in the office.
Viraat and Maanvi become suspicious on finding a lipstick in Viren's car. Later, Maanvi catches the two in a flower shop but when she asks Viren about it he lies to them. They plan to find out about Riya's true intentions, and invite Sambhav and Riya home for lunch.
Thursday 5 March 2020
Viren gives Riya sleeping pills and carries her to the bedroom. Viraat and Maanvi believe that Riya and Sambhav are manipulating Viren. They try to warm Jeevika who does not listen to them.
Viren pursues Riya in his car. Viraat, Maanvi and Jeevika find Viren's car and follow him. Sambhav comes home and does not find Riya. He later goes to Viren's house with the police to arrest him. What happens to Riya?
Friday 6 March 2020
The Chaudhary family hears about Viren's arrest on the news. The Vadhera family goes to the police station and request the inspector to release him. But he refuses as Viren confesses to his crime, leaving everyone shocked.
Dadaji insists that no one should help Viren, if he is found guilty. Jeevika refuses to forgive Maanvi for suspecting Viren. Sweety suggests that they all go to Chandigarh to support Viren but Beeji is against it.
---
Monday 9 March 2020
Jeevika convinces Sambhav to attend the trial. Viren informs the judge that the person in the photo presented by the prosecutor is not Riya. But Sambhav confirms that the woman is indeed Riya.
Jeevika vows to prove Viren's innocence and requests him to retract his confession. She approaches Sambhav for help. Amid all this, Sweety calls for a press conference.
Tuesday 10 March 2020
Despite Jeevika and Sambhav advising against it, Viren gives a signed confession to the police. Sambhav forgets his house key at the station. Jeevika goes to his house to return it but is surprised when she sees a man asking for Sheetal.
The entire Vadhera family goes to meet Viren and asks him to withdraw his confession. He is shocked seeing Riya's obituary in the newspaper. Meanwhile, Maanvi and Viraat becomes suspicious when Sambhav does not attend the trial.
Wednesday 11 March 2020
Jeevika confronts Maanvi regarding her testimony, which is broadcast on television. This causes further disharmony in the Vadhera house. Jeevika refuses to forgive Maanvi. Will the sisters come together to save Viren?
Thursday 12 March 2020
The court calls Viraat, Jeevika and Maanvi to the witness stand. Jeevika tells the court what she witnessed, but Maanvi's statement implies that Viren pushed Riya off the cliff.
Sambhav accuses Viren of molesting Riya and later killing her to hide the truth. No one believes Viren's version. The Vadhera family is distressed seeing the footage.
Friday 13 March 2020
Viren informs Viraat and Maanvi about Jeevika's plans. Meanwhile, Jeevika looks for clues inside Sambhav's house and her suspicion is validated when she finds something in the bedroom.
Maanvi and Viraat join Jeevika's effort in spying on Sambhav. They catch him paying a man and follow him to find more clues. They find a photo of a woman in his house and believe Viren can help identify her.
---
Monday 16 March 2020
Viraat apologises to Viren for not believing him. They plan to find out the relationship between Sambhav and the real Riya. Viraat and Maanvi go to Mumbai to find out about the woman who posed as Riya, and Jeevika finds the stranger again and follows him.
The mystery starts to unravel when Jeevika finds out about the woman who was introduced to Viren as Riya. Viraat and Maanvi uncover more information about that woman.
Tuesday 17 March 2020
Jeevika gets caught while snooping around and is held hostage by the thugs. Family members get worried with her disappearance. Jeevika strikes a deal with Sheetal's brother and asks him to let her go.
Jeevika hides the deal from Inder and apologises to family members for making everyone anxious. Maanvi and Viraat go to Riya's house to find it locked. Meanwhile, Teja confesses to the police.
Wednesday 18 March 2020
Sheetal discredits Teja's confession and says Jeevika forced him into giving a false statement. Sheetal tells the police about Teja kidnapping her the previous night but is unable to prove it.
Viraat and Maanvi tell Jeevika their discovery about Riya's marriage and that she was unhappy in that relationship. Jeevika arranges a meeting between Sambhav and Sheetal to find out about their motive.
Thursday 19 March 2020
Teja tells Sheetal that Sambhav is threatening him and he does not plan to marry her. Sheetal plans to confront Sambhav and calls him to a hotel, where Jeevika has already laid a trap for them.
Sambhav convinces Sheetal about his commitment towards her and asks her to keep their relationship a secret. He tells her that even Jeevika now believes that Viren is guilty. But Jeevika has other plans altogether?
Friday 20 March 2020
Jeevika plays her last move to trap Sambhav and Sheetal. She tells Sambhav that she is going to commit suicide at the temple. Meanwhile, Viraat asks Sheetal to come to the temple and get proof of Sambhav's reality.
Sambhav is furious to know that it was Jeevika who turned Sheetal against him and threatens to kill her. Meanwhile, Maanvi records the entire conversation between Sheetal and Sambhav and goes to the police station.
---
Monday 23 March 2020
Peace returns to the Vadhera house and the family members plans for a movie outing. Viren and Viraat insist on staying home to watch a match. While in reality the two are planning a surprise for the respective wives.
An argument breaks out between Beeji, Pinky and Sweety over the old air-conditioner and gets out of hand when Sweety insults Pinky. Jeevika overhears during her call with Madan and plans to leave for Rishikesh to solve the problem, along with Maanvi.
Tuesday 24 March 2020
Sweety pretends to have changed, but the family is shocked to know that she has pawned her jewellery. Meanwhile, Daboo asks Beeji to write off the Chaudhary house to Sweety. Jeevika and Maanvi arrive home.
Maanvi overhears Sweety talk to her mother about property papers and later finds them in her cupboard. She, along with Jeevika, plan to get to the root of it and bring out the truth. They chalk out a plan.
Wednesday 25 March 2020
Jeevika and Maanvi go to Sweety's house dressed as priests looking for a plot to build an ashram. Sweety's mother informs them that the Chaudhary house is available for sale. The two sisters decide to teach her a lesson.
Daboo pretends to have forgotten Sweety's birthday. In reality, the family is planning a surprise for her. Sweety gets excited seeing the expensive gifts given by Jeevika and Maanvi and dejected seeing Daboo's gift.
Thursday 26 March 2020
Sweety agrees to do all the puja arrangements, but she goofs up on many ends. It is Jeevika who then fixes up everything and gets Beeji to conduct the puja. Viren and Viraat take Daboo out and convince him to ignore Sweety.
Daboo brings sweets for Sweety which she doesn't accept. To make Sweety feel jealous, Maanvi decides to bring Sumi and Daboo closer. She prepared a skit based on Laila and Majnu for them.
Friday 27 March 2020
Viraat and Jeevika assure Sweety that Daboo will never cheat on her. Maanvi asks Sumi to continue to the drama. Sweety hears Daboo have romantic conversations with Sumi over the phone.
The Chaudhary family decides to leave the house and hand over the property to Sweety. Beeji requests Sweety to take care of Daboo. Sweety realises her mistake and seeks forgiveness.
---
Monday 30 March 2020
Jeevika and Maanvi come back to Chandigarh. It is Jeevika and Viren's wedding anniversary the next day. Jeevika thinks Viren has forgetten about it and Viren feels vice versa. Is there a surprise in store?
The Vadhera family plans for a surpise party for Jeevika and Viren. Everyone enjoys the party. Viraat introduces his family to his friend, Vikram. Viraat's friend has a problem and requests the Vadheras to help.
Tuesday 31 March 2020
The entire family is gearing to play the role of a South Indian family. Dadaji assigns each person a role and tells them to research on Shree's family. Shree is in for a surprise.
Maanvi introduces her family to Shree's family and tells them about Vikram and her love. It looks like everything will go well as Swamini too joins their plan. The two families have breakfast together.
Read Next month on the Inseperabe (April)