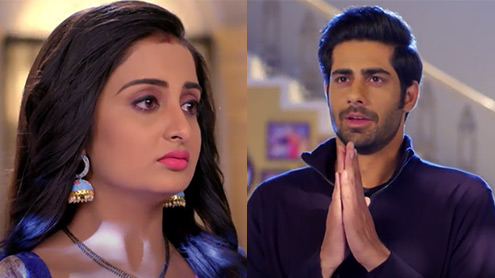 The Good Son June teasers 2021: Vedant's only wish is to be loved and accepted by his adoptive family, however this is not the case but Vedant doesn't stop supporting them…The Good son replaces the timeslot of Ring of fire on Zee World and runs Monday to Friday by 6pm. catch June teasers below:
Thursday 3 June 2021
Episode 1
Urmila Tripathi, the matriarch of the Tripathi family (who've adopted Vedant), goes to meet her childhood friend Shanti after a long time. She meets Shanti's two granddaughters- the ambitious yet idealistic Pankhuri and the independent and ever practical Purva.
Friday 4 June 2021
Episode 2
Vedant convinces Bablu to let him go out for a few hours. Here, Purva feels restless as she has always been independent and now has to depend on Vedant for small things. Rahul visits her and calms her down.
---
Monday 7 June 2021
Episode 3
Thinking that no-one will marry Purva, Shanti takes her to the storeroom and tries to immolate them both.
Tuesday 8 June 2021
Episode 4
Vedant reveals he has transferred the deeds of their home and hospital into Ramesh's name and has  promised Ramesh that he won't have kids of his own.
Wednesday 9 June 2021
Episode 5
Next day, Purva and Vedant try to search for Rahul, unaware that someone is keeping an eye on them. At night a man named Sumit approaches Purva, claiming he is Rahul's friend.
Thursday 10 June 2021
Episode 6
Vedant gets hold of the man who has been keeping an eye on them. The informant reveals that he was paid to find out information about Purva and Rahul, and that Purva is being taken out of the country the next morning.
Friday 11 June 2021
Episode 7
The next morning, Ramesh has a massive issue as Purva is not doing any of the duties expected of a new daughter-in-law.
---
Monday 14 June 2021
Episode 8
After sorting out the matter, Vedant returns to his room and argues with Purva.
Tuesday 15 June 2021
Episode 9
Urmila makes Vedant put rings on Purva's toes. Purva feels grateful to Vedant and thanks him.
Wednesday 16 June 2021
Episode 10
The next day Sumat and Narendra execute the plan. And as they had hoped, the blame falls on Purva.
Thursday 17 June 2021
Episode 11
Vedant registers Purva's food delivery company so that she can bake from home. Afterwards, Urmila, Vedant and Purva inaugurate Purva's new baking items.
Friday 18 June 2021
Episode 12
When Vedant returns, he senses that something is wrong in the house. Purva tells him the truth, and a furious Vedant confronts Ramesh.
---
Monday 21 June 2021
Episode 13
Next day, Sumati, Radhika and Narendra scare Gomti to the point that she daydreams that Vedant is having her arrested. At the table, Vedant informs everyone about the forensic test on the jars. He reveals the test will prove who did the switch and tried to frame Purva.
Tuesday 22 June 2021
Episode 14
Later, Vedant shocks everyone by bringing Purva home. He reveals how he convinced the parents of the kids to withdraw the case against Purva.
Wednesday 23 June 2021
Episode 15
The members of the Tripathi family visit an orphanage, but Urmila stops Pankhuri from accompanying them.
Thusday 24 June 2021
Episode 16
Purva gets a job offer from an event management company. Her appointment letter and uniforms arrive thorough the courier.
Friday 25 June 2021
Episode 17
Vedant gives in but Purva refuses to leave the house, so he decides to come up with an alternative solution.
---
Monday 28 June 2021
Episode 18
Purva remains two steps ahead and plays the video of the scene in front of her.
Tuesday 29 June 2021
Episode 19
As a result, Vedant tells everyone the truth about Pritam and reveals Ramesh's part in it.
Wednesday 30 June 2021
Episode 20
Ramesh spends the whole night outside Gomti's room and manages to mollify her in the morning. Sanju gets upset with Ramesh's attitude, especially towards Manjula and decides to skip his exam.