The Telemundo spotlight for this post will be falling on a power couple who are casts playing antagonist roles in two telemundo series currently airing, Yay! .
Now who am I talking about ?
None other than Antonia Guerra (Christian Bach) from The Boss and El Centauro (Humberto Zurita) from Prisoners of love (Season 1and 2).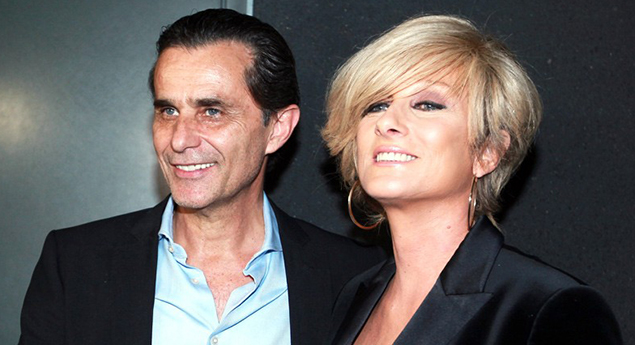 First and foremost, did you know they are actually real life couples, married since 1986 and have two children: Serbastain and Emiliano Zurita? One of their kids, Sebastian is also an actor just like his parents, Can't say for the other though.
Both actors met while on set of De pura Sangre (1986) and got married that same year. With that settled, let's take a dive into the their personal and professional lives.
Humberto Zurita
Humberto is a Mexican actor, director and producer born in September 2, 1954. He made his first stage appearances in amateur performances of musicals including Tommy and Jesus Christ Superstar.
He is a graduate of  CUT (University Theatrical Centre) of UNAM (National Autonomous University of Mexico). This institution is famous as an educational institute of training for the performing acts in Mexico just like the New York Film Academy.
While he has featured in stage plays, His television career started since the 70′ with Televisa and he featured in his first film as Alberto Limonta in the 1981 production of El derecho de nacer.
Since 2003, he has worked for Argos Television, an independent media company that has produced telenovelas for TV Azteca and Telemundo Network associated company.
Together with his wife Christian, and his brother Gerardo they formed their own production company called ZUBA (Zurita-Bach) in 1981.
Well, don't just take my word for it, you can quickly visit his Wikipedia page to further feed your obsession. ☺ Then tweet him at @Humbertozuritam or better still get his filmograpghy at his Imdb page if you think my stalking
job was tacky.
Now let's move on to his wife
2. Christian Bach.
Right now we are opportuned to see her in action as The no-nonsense boss in La Patrona. She is Alejandro's mother, ever ready to destroy those who cross her path. But hey! that is just the character she's playing, in real life she is a lovely wife and mother to two kids and a graduate of Law.
Her real name is Adela Christian Bach Bottino and she was born May 9, 1959. She is an Argentine-Mexican, born in Argentina and a graduate of Law. But as fate would have it, she developed passion for acting and so moved to Mexico to begin her acting career and consequently meet her future partner. 🤗
After she arrived, she started working in plays and films, where her voice was often dubbed to conceal her Argentine accent (Aww). She obtained a small role in the worldwide hit telenovela Los ricos también lloran in 1979 and four years later a starring role in the successful Bodas de odio. Her career took off from there.🚀
Sometime later she dabbled into music, but it wasn't successful as it failed to garner much audience reception. Too bad right? But She's great as an actress nonetheless.
---
Okay! If you still think I did another tacky job here then check her out for yourself on her Wikipedia page, her Imdb page or just plain follow her on instagram at @christianbachtv 🙂
---
And you may also be interested in reading about the series they presently star in: