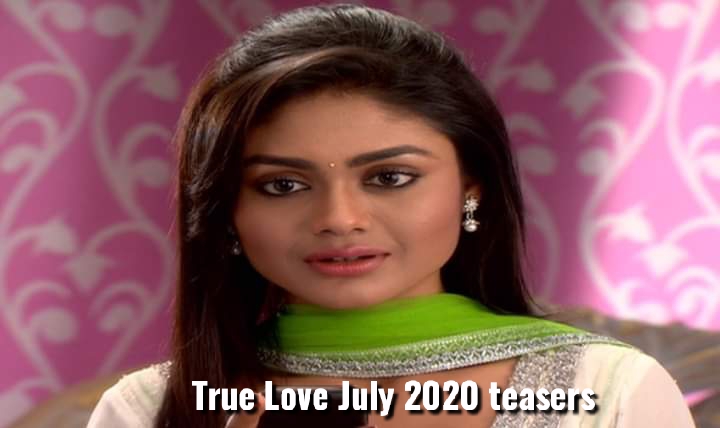 True Love July teasers 2020: A heartbroken Mukta breaks her relationship with Meethi. Meethi questions Sumitra regarding her lies.
Wednesday 1 July 2020
Mukta and Meethi get trapped in a fire! Who do you think will come to their rescue? Vishnu finally realizes that it is time to end his relationship with Meethi, and be with Mukta. Do you think Mukta will forgive him?
Thursday 2 July 2020
Damini gives her blessing for Vishnu and Mukta's relationship. Damini refuses to give her blessings to Meethi and Aakash, and thus Meethi decides to respect Damini and stay away from Aakash..
Friday 3 July 2020
Meethi and Vishnu sign the divorce papers.
Rathore arranges a grand engagement party for Mukta and Vishnu.
---
Monday 6 July 2020
Aghat arrives at the Thakur mansion to kill Aakash.Damini holds Aakash responsible for Meethi's condition.
Tuesday 7 July 2020
The doctor tells everyone that the next 24 hours are critical for Meethi.
Aakash begs God to save Meethi's life.
Wednesday 8 July 2020
Granny provokes Ekadish against Meethi.
The doctor checks on Meethi and sees that her legs are not moving.
Thursday 9 July 2020
Damini is angry and devastated to hear that Meethi will not walk again.
ACP Chauhan comes to the Bundela Mansion to finalize his daughter's engagement to Aakash, as promised by Ekadish.
Friday 10 July 2020
Ekadish along with Chauhan, shows Aakash the photo of Ambika. Do you think Aakash will agree to marry Ambika?
Damini goes to meet Aakash and asks him for forgiveness.
---
Monday 13 July 2020
Mukta goes to meet Aakash in order to convince him not to get married, but Ekadish stops her.
Rathore and Meethi see the invitation to Aakash's engagement. How do you think Meethi will handle the situation?
Tuesday 14 July 2020
 (1.5 hour episode)
Aakash and Ambika's engagement takes place, while Mukta and Vishnu complete their engagement rituals.
Wednesday 15 July 2020
 (1.5 hour episode)
After taking Ambika shopping, Aakash goes to meet Damini, Rathore and Meethi.
Aakash is heartbroken after seeing Meethi in a wheelchair.
Thursday 16 July 2020
Even though Meethi took a bullet for her son, Ekadish still hates her and is thrilled to hear that Damini and Meethi are leaving the city for good.
Aakash tells Ambika that he cannot marry her.
Friday 17 July 2020
Aakash follows Meethi and Damini and tries to stop them from leaving.
Meethi asks Aakash whether he is ready to take on the burden of looking after a handicapped person for the rest of his life and Aakash happily agrees.
---
Monday 20 July 2020
Ekadish comes to the Thakur mansion and asks forgiveness from Damini. Do you think she has really changed?
Aakash and Meethi get married!
Tuesday 21 July 2020
Ambika deliberately faints while taking Aakash's blessings!
Ambika is upset upon seeing Meethi and Aakash happy together.
Wednesday 22 July 2020
After refusing to take a house from Rathore, Mukta and Vishnu live in a poor area, as that is what Vishnu can afford. Mukta is happy but granny is very upset upon seeing Mukta's living conditions. Do you think that granny has a right to interfere?Mukta tells Vishnu that she will get a job in order to help him with the household expenses.
Thursday 23 July 2020
Ambika sees Aakash in the study and decides to take coffee to the study for him.
Mukta goes for her job interview.
Friday 24 July 2020
Ambika tries to kill Meethi!
Aakash plans a surprise for Meethi. Do you think Ambika will ruin it?
---
Monday 27 July 2020
Vishnu gifts Mukta with a pen and laptop in celebration of  her new job.
Aakash helps Meethi to practice walking.
Tuesday 28 July 2020
Pavitra goes into Meethi's room and steals her jewellery.Meethi and the rest of the family enjoy a day outside playing cricket.
Wednesday 29 July 2020
Aakash dresses up as Santa Claus and gives Meethi a watch as gift.
Yuvraaj sneaks into Mukta's house and leaves a gift under the tree for Mukta.
Thursday 30 July 2020
Yuvraaj watches Mukta through the CCTV camera. Aakash, Meethi, Sankrant and Ambika arrive at the hotel for their honeymoon.
Friday 31 July 2020
Yuvraaj overloads Mukta with work so that she misses her bus home.
Ambika purchases a poisonous snake and puts it in Meethi's basket.