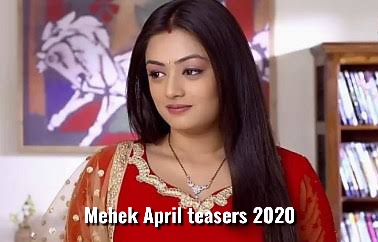 Mehek April teasers 2020: Mehek is a simple cook whose life changes forever when her path crosses with Shaurya, an arrogant rich man. The Gabellas are an African family in India learning and adapting to their new environment.
---
Zee world Mehek April teasers 2020.
Wednesday 1 April 2020
Episode 1
Mehek navigates love and life with the help of her aunt, Kanta, who raised her since childhood. Norah and her family navigate life in India away from their home in Africa.
Thursday 2 April 2020
Episode 2
Kanta tries to get Mehek married off to Ajay, whose scheming mother is making things difficult for Mehek's family. Things look up for Norah as she starts making friends.
Friday 3 April 2020
Episode 3
Mehek happily chats to KK on social media, unaware of his real identity. Norah's resentment of Dennis is becoming more evident as her love life starts to suffer.
---
Monday 6 April 2020
Episode 4
Meet Shaurya Khanna, an arrogant restaurateur who meets Mehek for the first time. Meanwhile, Dennis contemplates moving back to Africa to save his family and Norah's relationship with Julius is compromised.
Tuesday 7 April 2020
Episode 5
Despite the cheating scandal, Rajeev searches for Mehek to get her to enter an upcoming contest. Norah relies of her newly formed friendships to deal with the loss of her relationship with Julius.
Wednesday 8 April 2020
Episode 6
Rajeev visits Mehek's house to convince her to enter India's Super Cook competition. Sonal has ideas on how to help Norah mend her broken heart.
Thursday 9 April 2020
Episode 7
Norah is devastated to find that Julius has moved on after their breakup. Mehek's cooking saves the day.
Friday 10 April 2020
Episode 8
Shaurya schemes against Mehek on the first day of the cooking contest. Norah's online relationship with Karan is a troubling her as she realises, he is under the impression she was someone else.
---
Monday 13 April 2020
Episode 9
Mehek saves Shaurya from mob justice. Shaurya shows his lack of appreciation and insults Mehek. Eddie discovers concerning details about Dennis's new employer.
 Tuesday 14 April 2020
Episode 10
Norah and Sonal contemplate telling Karan the truth about who he has been chatting with. Shaurya is obsessing about his dislike for Mehek and wants to prove her to be a liar.
Wednesday 15 April 2020
Episode 11
Having failed to throw Mehek out of his show, Shaurya now plans to make her suffer humiliation on national television. Norah and Karan's relationship becomes even more complicated as they fall for each other on line.
Thursday 16 April 2020
Episode 12
Shaurya and Mehek are locked up in an empty apartment building, their dislike for each other makes this all the more so challenging. Karan and Norah's meeting reveals a whole lot more than expected.
Friday 17  April 2020
Episode 13
Shaurya challenges Mehek by making her cook chicken despite her being pure vegetarian. Is it being naïve or criminal tendencies that get Dennis in trouble with the law in India?
---
Monday 20 April 2020
Episode 14
Norah works on trying to prove her brother's innocence. Shaurya finds the flyer that Mehek's uncles made to advertise their shop using the India's Supercook name and plots their arrest. Jeevan and Ravi are arrested.
Tuesday 21 April 2020
Episode 15
Mehek gate-crashes Shaurya's party to beg him to release her uncles. Norah's secret is about to be revealed as the pair continues to fall for each other.
Wednesday 22 April 2020
Episode 16
There is tension in the rich Khanna household as Mehek challenges Shaurya. Norah struggles with her secret as she spends even more time with Karan.
Thursday 23 April 2020
Episode 17
Shaurya tries to beg Mehek's family to let her come back to the competition. Karan breaks up with Sonal.
Friday 24 April 2020
Episode 18
Shaurya spikes Mehek's drink but does not know what surprise awaits him. Norah's confused love life is becoming problematic.
---
Monday 27 April 2020
Episode 19
Mehek is unaware of the storm that is brewing back home because of a photo of her and Shaurya at the pool. Karan confronts Norah about the secret she has been keeping from him.
Tuesday 28 April 2020
Episode 20
Mehek finally breaks down in front of Shaurya but surprises him and everyone else. Karan is in an accident and Norah is by his side.
Wednesday 29 April 2020
Episode 21
Shaurya's background is revealed by Karuna. He asks Mehek's family to attend a party, despite the enmity. Ajay proposes to Mehek.
Thursday 30 April 2020
Episode 22
Mehek agrees to marry the horrible Ajay. Shaurya shows up at Mehek's home and is shocked that Mehek is getting married. Karan is discharged from hospital and has no family to look after him.