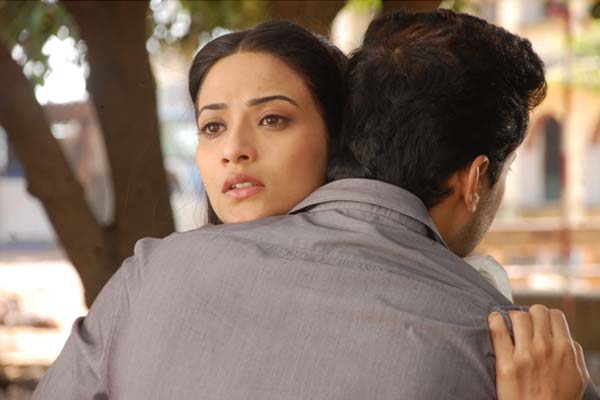 Srivastava comes there. Who are you? You are instigating my own daughter against me. He recognizes Ganga. It can be no one else but you who can talk like this! This is what you have done since childhood.
Your face changed over the years but not your arrogant! I can recognize you in crowd. You sent me to jail. How can I forget you? Ganga wonders what to do now. He wants to know why she has come here. Saloni tries to speak but he does not let her talk.
He asks her to leave. Saloni reluctantly leaves from there. Ganga tells Srivastava he cannot force Saloni to marry someone against her wish. She loves Pulkit Bhaiya and vice versa. He tells her to come to her senses. Be in your limits.
He calls security guards inside. They hold Ganga. She tries her best to free her hands from their clutches. She slaps one of the guys. Srivastava gets angry. He asks the guards to take her to one room and lock her there. Ganga slaps one of the guards. Srivastava gets angry. Tie her in a room!
Sagar, Sahil and Janvi play truth and dare in the train. One guy reprimands his wife for wasting too much time on getting ready. He keeps scolding her for no reason. He has three girls. He even rebukes his girls. Janvi says one should teach a lesson to such people. How can someone speak to his wife like that? Sagar gives her a dare. She refuses.
He speaks about Ganga. She would have given this man a good hearing if it was her. this is the difference between Ganga and Janvi. She never gets afraid of anyone. It doesn't matter how many people are before her.
Ganga gets free from the clutches of the security guards. They chase her.
Janvi approaches that lady as she leaves for washroom. She says something to
her. Janvi collides with that man while coming back. She asks him why he collided with her. He declines.
Sagar wishes Janvi takes a stand for herself. Ganga has never supported wrong in her life. She is strong enough to fight for what is right!
Ganga and JP run away to home.
The guy asks his wife if she saw him touching this girl. His wife and girls deny seeing anything. He speaks about trust. Janvi tries to explain him but he almost raises his hand on her. Sagar intervenes. The guy scolds him for supporting a girl who isn't worried about wearing such girl.
Sagar takes his photo. He next calls police and explain the complete scenario. The guy looks scared. He says sorry to them. They advise him to say it to his family. Janvi thanks the lady for supporting her. She instead thanks Janvi. Now I and my daughters wont be scared of my husband.
We too have a right to live freely. Sagar gives her his card for future reference. Everyone claps for them. Janvi says you all have to also try to change the thinking of society without getting afraid, just like Ganga. Sagar gives her a side hug. I would have said the same to Ganga if it was her.
Ganga says well done to JP. You scared them well. Let us go inside now. Madhvi is waiting for Niru. Srivastava enters just then. She asks him to come later. Srivastava asks for Ganga. She came to my house to instigate my daughter not to marry. They all look at Ganga.
Amma ji calls it rubbish but he tells them to ask Ganga only. Ask her why she came to my house! You call yourself decent people. Look at what you have done all along. You sent me to jail and now this girl is trying to stop my daughter from marrying. Madhvi tells him to talk nicely. Pulkit comes downstairs. Srivastava holds him by his collar.
Pulkit is shocked to know about Saloni's wedding. Srivastava warns him to stay out of his way. He advises everyone to keep Pulkit and Ganga in control. I will not spare you otherwise. He warns Pulkit not to even think of Saloni in his dreams! He leaves. Everyone looks at Ganga.
Ganga explains she only went to talk to Saloni Didi. Madhvi angrily asks her whose permission she took before going. Did I ask you to go? Or did Babu or Amma ji said it? Only the elders of the house can do it. Who did you ask? What do you think of yourself? She turns to Pulkit. Did you ask Ganga to go and talk to Saloni? Did you know? Ganga tries to say but Madhvi tells her to be quiet. I am talking to my son.
Dint you think about your father's respect once? That man is so cheap. I have always supported you, even before your father, but not today! Why are you after that girl? Dint you think about our respect? Ganga says he knew nothing. I went to Saloni Didi's house on my own. He loves her a lot so I thought. Madhvi angrily takes her name.
She later scolds Pulkit for creating such a situation. You aren't doing it right. Forget Saloni! You know your father's anger. He will never agree for this alliance. Everyone knows the truth of that MLA. His daughter will not be accepted in this house.
Forget her. Don't do anything that will harm the respect of this house. Your father has worked really hard to reach this position. Don't do anything that can harm his name. Pulkit quietly leaves from there.
Ganga reasons the criminal is MLA, not Saloni Didi. Why punish her for her father's sin? She is being forced to marry. She will not be happy ever. I am only trying to unite two lovers. What wrong did I do? Amma ji asks Ganga if she thinks her excuses will make up for her mistake.
Will you be forgiven? Ganga reasons that she dint do any mistake in the first place. Why apologise then? I stood against what I felt is wrong. It isn't right to stop two lovers from meeting. They should be allowed to meet. Sagar too would have said the same thing if he was here. Niru asks her about it. What would he have said?
Amma ji does not want Niru to know the truth. She lies to Niru. We all were talking about Sagar. Niru says Ganga will be talking the most then. If anyone takes his name before her then it is her who will be talking the most. It is impossible to stop her in that case.
Ganga smiles while Madhvi looks angrily at Ganga. Niru goes to change. Amma ji tells Madhvi not to say anything to Niru. He and Pulkit will again have a fight then. Madhvi leaves from there. Amma ji too heads to her room. Ganga thinks how can it be wrong to unite two lovers. I will do this mistake even if it is wrong.
Ganga brings for Pulkit in his room. He refuses to eat anything. She agrees to go. Please eat something first. I know you are upset with me. I dint tell you before going to Saloni Didi's house. Don't take out my anger on food. I will feel bad. He says you could have atleast spoken to me. Saloni's father said so much at house. Everyone anyways has so many problems with me.
Ganga justifies her act. They atleast got to know you still love Saloni Didi. You don't do anything yourself. You are scolding me for no reason! Think about her. She is scared. She is being forced to marry. Let us try one more time. Ask her yourself if she really wants to get married or not. She picks up the phone.
Niru finds Madhvi lost in thoughts. She tries to dismiss it saying she isn't feeling sleepy.
He lies down to sleep. She thinks of Ganga's words about uniting two lovers. She thinks of Ganga and Sagar's proximity in childhood. She is disturbed.
I sent him away 10 years ago so the growing friendship between Sagar and Ganga does not change in something else. Ganga is still with Sagar. It cannot be. I had to be away from my son as I wanted to keep Ganga away from him. She talks with so much right about Sagar and what he will do. I will have to do something before Sagar comes here.
Saloni receives the call. Ganga has put it on speaker. She asks her directly if she loves Pulkit. You are being forced to marry? A lady calls out for Saloni so she disconnects the call. Pulkit is almost in tears. Ganga repeats everyone has scared Saloni Didi. Her father is a devil. Saloni Didi isn't happy by this alliance. She loves you a lot. He says I too love her a lot. Papa will never let it happen. Ma said this only.
I cannot understand anything. You too got scolded because of me today. I am sorry. Ganga does not mind it. I can do anything for your love. Now you too will have to speak to Babu. Be calm, patient and strong about it. I think Babu will agree. A girl's trust is on the fact that the guy will ask take a stand for them. Till when will she wait quietly if the guy wont do anything? You only have tomorrow. You should do something about it asap.
Amma ji paces in her room worriedly. She thinks of Ganga's words. I wont let this happen. It's all going wrong. I have to do something. Madhvi comes there. She gives a ticket to Amma ji. Ganga has to go to Ashram. You only say she should understand more about dharma. Amma ji understands that Sagar is coming. Madhvi nods.
He comes home this month of the year always. Amma ji says you did right. Ganga enters just then. Madhvi quietly leaves. Amma ji gives her the ticket. You have to go to Chitrakoot Ashram. Ganga panics. Sagar comes home in this month only. I haven't met him since so long.
In train, Sagar vows to meet Ganga from any corner of Banaras. Janvi says it is important that we meet her. Bhai is going to meet her only. Sagar thinks finally he will meet her.
Ganga questions Amma ji. Why do you always send me away when Sagar is about to come home? Amma ji asks her what's important. Ganga replies meeting Sagar! Amma ji suggests calling her in Ashram as soon as Sagar is home. Ganga reasons there is no connectivity. Amma ji says her word is final. Pack your bags. You leave tomorrow morning. Ganga sadly looks at the ticket in her hand.
Sagar thinks he will be home at 9 am tomorrow morning. I will give them all a surprise.
Ganga goes out of the room. Amma ji watches her. Outside, Ganga ponders over the issue. Bahu ji sends me away to Ashram the time when Sagar is to come home. I have had enough. This time I will meet Sagar. Amma ji has given me the ticket! I must do something. She almost collides with Maharaj ji. She sends him to Amma ji's room to give mishri. He leaves. He tells her to be careful. I have kept water to boil.
Ganga looks at the boiling water. Only this can stop me from going to Ashram. There is anklet on her left feet. Sagar made me wear it with his own hands. Please take care of me Kanha ji. This is the only way to meet Sagar. I can do anything to meet you. She pours the hot water on her right feet. She screams in pain. Everyone comes to check on her.
Doc bandages Ganga's feet. Maharaj ji asks her how it happened. I told you I kept water to boil. Madhvi too asks the same question. Ganga agrees. It never happened before but something can go wrong anytime. It is my mistake. The bowl fell by mistake. Amma ji is sure she must be lost in some thoughts. Doc advises her to rest for 2 days.
Madhvi and Amma ji look at each other. Doc repeats Ganga cannot go out of house for 2 days. Ganga smiles. She changes her expressions a minute later. I will find another way after 2 days to stay back here. I wont go to Ashram though. Madhvi looks tensed. Ganga makes a sad face. Niru goes to drop doc till the door.
Ganga asks Amma ji how she will go to Ashram now. Amma ji replies I was sending you to serve Guru ji. Now you will make us take care of you. The ladies leave from there. Pulkit questions Ganga. Tell me the truth. Don't tell me the story you told everyone. You did it intentionally for Sagar, right? You burnt your hand that day and now this? What's happening? She says I had no option.
This has been happening since 10 years. Amma ji and Bahu ji always send me away on some pretext when Sagar is about to come over. This time I had made up my mind that I wont let it happen. He is amazed she can go to this extent for friendship. She does not share she loves Sagar. I have full right to meet him. Neither you, nor anyone else will understand it.