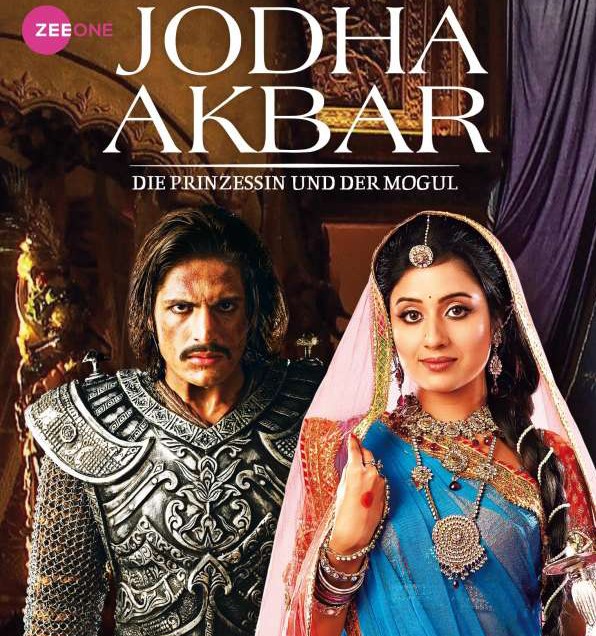 Jodha Akbar Zee World is an epic drama, a sixteenth-century story of a political marriage of convenience between a Mughal emperor Akbar and a Rajput princess Jodha Bai. The show focuses on how their political marriage brings love between them to an extent that it changes the fate of India.
This period drama also portrays the wars of that time along with the relations between the Mughals and the Rajputs. It also focuses on the functioning of the queens, the courts, courtesans, the ministers and their influence on the love story of Akbar and Jodha.
Full story / Plot summary 
Politically, success knew no bounds for Emperor Akbar, After having secured the Hindu Kush, he furthered his realm by conquest until his empire extended from Afghanistan to the Bay of Bengal, and from the Himalayas to the Godhavari River. Through a shrewd blend of tolerance, generosity and force, Akbar won the allegiance of the Rajputs, the most belligerent Hindus.
But little did Akbar know that when he married Jodhaa, a fiery Rajput princess, in order to further strengthen his relations with the Rajputs, he would in turn be embarking upon a new journey – the journey of true love. The daughter of King Bharmal of Amer, Jodhaa resented being reduced to a mere political pawn in this marriage of alliance, and Akbar's biggest challenge now did not merely lie in winning battles, but in winning the love of Jodhaa.
From the battlefield where the young Jalaluddin was crowned, through the conquests that won him the title of Akbar the Great ('Akbar' in Arabic means great), to winning the love of the beautiful Jodhaa, Jodhaa Akbar traces the impressive graph of the mighty emperor and his romance with the defiant princess.
Jodhaa agrees to marry him on two conditions: that she will retain her Hindu Dharam, and will worship Bhagwan Shri Kishan in the Mughal palace, which he accepts. The marriage takes place, and Jodhaa places yet another condition on him: that she will only get intimate with him after she is ready, which he also accepts. Then Jalaluddin's faith in Jodhaa is shattered when he learns that she has been meeting secretly with a male unknown to him.
In the midst of all these, Sujamal gets ready to attack Amer (disgruntled and oppressed Hindus, who are forced to pay a toll to their Mughal rulers for their Tirath Yatra, lose hope and faith) while his very own brother-in-law prepares to assassinate him and become the next Shahenshah of Hindustan.
Jodha Akbar is an epic love story like never before told. Zee World audience should get ready to take a trip down to the sixteenth century. The series is produced by Ekta Kapoor under her brand name Balaji Telefilms. Ekta is known for successful series as This is fate and Twist of fate.
---
Jodha Akbar Main Casts 
Other information on Johda Akbar 
Name: Jodha Akbar
Network: Zee World
Seasons: 1
Episode: 566
Start date: 1 march 2020
Wikipedia: Jodha Akbar