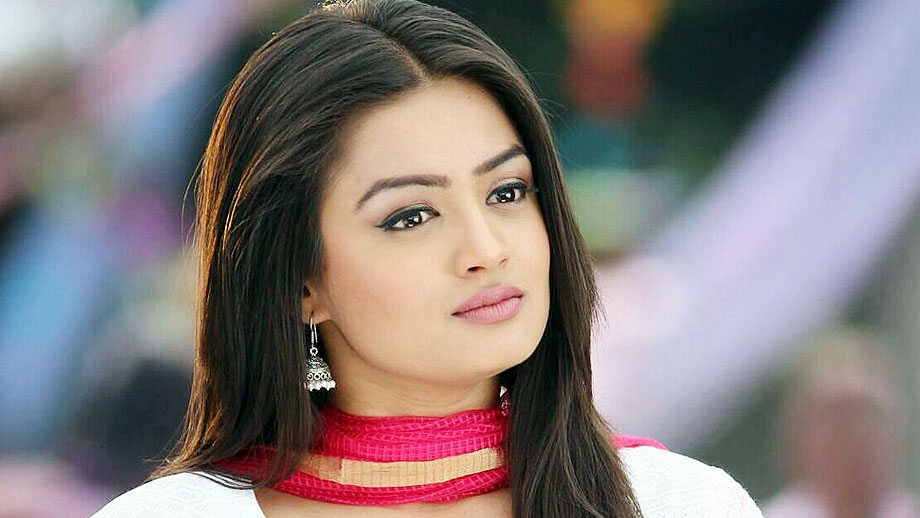 Its night, Mahek is online. She lies on bed to sleep but gets message, she checks it and sees Shaurya's message, he asks if she is busy? she says i was lying down, he says rest then, we will talk later. She writes i am fine, we can talk. He asks what you were doing at daily heart? she asks if he was there too? He writes that i saw your pictures you uploaded, Mahek says it means we were at same place, i hope your day was good there. He says not at all, i would have died there, people would be writing RIP on my wall. Mahek says mine was better then. Shaurya says our friendship's best part is that we dont need to understand fully each to talk, some relations become stale with time but some relations even if you dont know them, you feel connected to them.
Mahek writes your day was really bad. Shaurya says i have to sleep, i have work tomorrow. Mahek says alright, remember if you dont get sleep then dont take milk with turmeric powder, he smiles at her comment. Mahek is in the kitchen and says i will reuse rice that were not eaten yesterday.
Shaurya scolds his cooks in hotel for reusing food to serve customer, he fires one cook, she cries and leaves. Rajiv comes and says she was crying, you didnt have to do it, shaurya says go and get married to her if you are feeling so concerned about her, i am devil then be it. Rajiv comes to meet Mrs. Dehli Pammi.
Rajiv asks Pammi how she is? she says you gave my trophy to Chawla. Rajiv asks can she tell him address of girl who cooked for her, she is really talented, Pammi says i dont know anything about her, i wont give it, Rajiv says i saw video of her cooking for you, i will find her then at all cost, Pammi leaves.
kanta says to PD that i will talk to Nirja, she runs marriage center. Kanta calls her and asks her to find some match for Mahek. She asks PD to lower volume of Tv. Mahek does, Nehal's phone is ringing, Ajay is calling her. Kanta asks Mahek to ask Nehal to take her call. Mahek comes and tries to silent Nehal's phone, Nehal comes and says why you are touching my phone? you dont have anything to do in life so interfering in my life? Mahek says i didnt do anything, i was just putting your phone to silent as Kanta chachi asked me, why you are getting angry? she starts crying, Nehal says only family can be wavered by your tears not me, this is my room and i dont want you here, dont interfere in my life, stay away, Mahek is hurt and runs from there, Nehal have sigh of relief.
Rajiv is finding Mahek, he shows video to one man and says she works at dhabba, did you see her? man asks if she works on Tv? Rajiv says i will find her myself. Rajiv ask other people on road. Mahek comes on same road, she parks her scooty and goes to Dhabba. Rajiv says to driver that i will eat at dhabba. Shaurya calls him and asks where are you? Rajiv says i am finding that girl which we found at Dehli heart, Shaurya says we have a lot work, comeback, Rajiv says you are right, i wont find her, he is about to end but see Mahek infront of him working at Dhabba, he is stunned. He comes to Mahek and asks if she was at Dehli heart? she says yes, Rajiv asks her to cook anything for him, Mahek goes. Rajiv says to Shaurya that i found girl, he asks Shaurya to come here, he will love to eat this food, shaurya says i dont like to eat on roadside dhabba, Rajiv says i feel like we have got diamond, come here, shaurya ends call, Rajiv laughs.
Mahek is cooking at dhabba, she is hurt over Nehal's words. Shaurya arrives at dhabba. Rajiv says i knew you would come fore sure, now you will see. Waiter asks Shaurya to sit on chair, Shaurya doesnt like hygiene but sits down. Rajiv says you are going to eat memorable food today. Shaurya says lets see what this dhabba has to offer me. One waiter says Mahek is really famous cook here. Rajiv asks him to see if she cooked it. Mahek is cooking but her mind is still stuck on Nehal's words and she is not concentrating. Waiter comes and takes food from her. He brings it to Rajive and Shaurya. Shaurya asks if he is gonna eat this? Rajiv says if you start eating then you will eat all. Shaurya eats it and spits it. He gets up and says disgusting, he asks waiter if this is what you call food? Rajiv tastes it and doesnt like it, Shaurya says it has whole factory of salt in it, shaurya says lets go.
Rajiv asks waiter if same girl cooked this food? waiter says yes, Rajiv says i cant believe it, he gives money to waiter, waiter says if you didnt like food then we will cook something else for you, we dont allow people to leave food in middle. Shaurya says we call this food trash and the cook who made it is pathetic. mahek hears commotion and comes out of kitchen. Waiter says dont insult us, many people come here to eat and praise it too, Rajiv says its okay. mahek comes there, Shaurya says i can see what kind of people come here. Shaurya says humans eat food for taste while animals eat to end their hunger,
Mahek says you are right, they eat it with hope, they sleep in small home but have dreams, they have so many hardships that they dont care about taste, they just need food to end their hunger, you are very famous chef, you can reject my food but you can call these people working at dhabba as animals. shaurya asks Rajiv if he was praising this girl? she is multi talented? seems like she likes her food so much that she eats it all as seem by her weight, Mahek is offended to listen it, waiter says leave from here and dont ever comeback, shaurya says i was brought here, didnt come on my own, he leaves. Waiter says these rich people have habit of insulting, Mahek tastes food and says what did i make? this is too salty, she recalls shaurya's words, and realizes Shaurya was right.
Shaurya tastes food in kitchen of his hotel and scolds his cook, he says we will make guests eat this dish? see its dressing, food critic will not like it, cook says you suggested its dressing like this, Shaurya says get lost, he leaves. Rajiv says we still have time before critic comes, i dont know how i got mistaken with that girl, Shaurya says i dont want to waste more time on her.
Mahek is cooking in dhabba, she recalls how she argued with Shaurya. Manager comes and asks where are you lost? Mahek's hand gets burned, manager asks her to be careful, Mahek says i said so much to them while i cooked such bad food for them, you know bad food can destroy whole day's mood, manager says you didnt do it deliberately, now go home and rest.
Kanta and Nehal are in market, Kanta scolds Nehal for being always late. Kanta comes to jewelry shop. Nehal gets Ajay's call, he is outside shop, Nehal says to Kanta that i will come later, she leaves shop. Ajay pulls Nehal aside, Nehal says you are for hunt today? Ajay says if i get girl like you then i will be your prey easily, give me birthday kiss, she says today is not your birthday, he says give it in advance then, they hug each other intimately. Ajay sees Kanta coming there and Nehal sees Pammi coming from other side. Ajay throws Nehal on ground and leaves with Pammi. Kanta comes to Nehal and asks how did she fall? Nehal sees Ajay going and silently saying sorry, Kanta asks if she is fine? Nehal says i am going home.
Mahek comes home, PD asks why you look sad today? Mahek says i did mistake today, she tells about dhabba incident to PD, PD says there is no problem that cant be solved, make your best dish and make him eat, he will be happy, Mahek says how to call them at Dhabba? PD says cook, pack in box, put note of sorry and send to his office, Mahek says i dont know where his office is, Pd says when will you use google? Mahek says you are best, she leaves. Nehal comes there all dirty due to fallen on ground, Pd jokes.
Shaurya messages Mahek Hi, she says Hi, i got in fight with someone today. Shaurya says strange me too. Mahek says it was my mistake, i am guilty, i want to say sorry. Shaurya says then go tomorrow and say sorry. Mahek says i dont know his office address. Shaurya is busy on work but keep getting distracted with Mahek's messages. He keep replying Hmm. She asks if he is not in mood to talk? he says i am little busy, i have important presentation. Mahek says go to hell Karela king, she gets offline. Shaurya says what happened to her?
Nehal comes to Mahek's house, Mahek asks how did she get hurt? Nehal says i fell down, Mahek says your foot is swollen, she brings balm and cramp and puts it on Nehal's foot, she says i will bring milk for you. Nehal says i am sorry, i said so much to you, Mahek says its okay, your mood was bad so you said it and i was in bad mood so i scolded someone too. Nehal asks who? Mahek says that celebrity cook Shaurya Khanna, he came to my dhabba, i made such bad food then i scolded him too, i feel bad, i want to say sorry. Nehal searches his hotel's address and says to Mahek that your work is done, happy now? Mahek happily hugs her.
Scene
Its morning, Mahek is cooking food, Kanta says so much food? Mahek says this is for Shau(Shaurya).. i mean i am taking for manager at dhabba. Shaurya says to cook that critics are coming in half an hour and your desert is not ready till now? get it? cook goes, assistant comes and says Sumant Rajput has come. Cook says nothing can happen with this desert, how to tell this karela king.
Mahek comes outside Shaurya's hotel. She calls manager and says if Kanta calls you then please handle.
Shaurya is entertaining critic Suman at restaurant. Critic says echo is little loud. Cuisine is brought there. Critic tastes it. Cooks in kitchen jokes that Karela king is tensed.
Mahek tries to go to restaurant. Guard says you cant go in, its closed today. Mahek says if you think that i cant afford food here then you are right but i have come here to make owner eat my dish. Guard says come tomorrow. One cook comes out and mistakes Mahek for someone else, she says to Guard that why you are stopping her? she asks Mahek to come in fast.
Cook brings Mahek in kitchen and asks her to start washing dishes, Mahek says but.. she says start now. Shaurya comes there, he says i dont know how much critic liked starters. Mahek hides from him. shaurya scolds one cook to work fast on desert, Mahek thinks that he shouldnt see me, she tries to go out of kitchen but Shaurya sees her, Mahek thinks that i couldnt even say sorry, i lost my box inside too, it was of 500rs, Shaurya says dhabba girl? he says stop.. Mahek turns and looks at him tensely.
Cook says to other cook that Shaurya will fire me, cant we do something with desert? Rajiv comes and says serve what you have now, we dont have time to cook. Rajiv finds Mahek's box there and reads her note.
Shaurya says to Mahek that my whole got destroyed yesterday because of you, have you come to make me eat that salty food again? Mahek says i just came to say sorry, shaurya says you think that i care? you should not be seen in even surroundings of my restaurant, now get lost, Mahek says actually.. Shaurya says i can call police, dont come here again, out now, Mahek helplessly leaves.
Rajiv tastes Mahek's food from the bowl she left and likes it. he asks cook to serve this to critic, this is your solution, your desert, go and serve it, cook asks where did box came from? Rajiv says God came to save your job.
Mahek's desert is served to critic, Shaurya and all are tensed. Critic tastes it and says its amazing, chocolate rasmalie, its really good, you wanted to get five stars but i was not very keen but will get five stars for your this dish. He meets cook thinking that he made it, he praises him and leaves.
Rajiv reads Mahek's note that i am sorry, bad food can destroy mood, maybe this dish will make your day today. Rajiv smiles reading note Mahek and Sonal are drinking soda at street. Mahek sees Rajiv with police coming there, she gets shocked and says to Sonal that i think he brought police for me as i went to Shaurya's office without permission, Sonal says lets run then, they both runaway from Rajiv.
Rajiv comes to Mahek's dhabba, manager asks why did you come here again? he says i want to meet Mahek once, manager says i am warning you last time to leave from here, you have nothing to do with Mahek, Rajiv says i knew about your anger thats why i brought police with me incase you decided to beat me but i dont want anything, i just want to ask where Mahek lives?
Sonal and Mahek are running, Sonal says are you sure that judge Rajiv has brought police for you? Mahek says i think so, they see Rajiv coming there, Sonal asks her to go and hide in her house, they leave. Rajiv is finding Mahek's house. Shaurya calls him and says you need to at venue of India's super cook. Rajiv says i am finding Mahek, Shaurya says you are still hung over that dhabba girl? Rajiv says that Dhabba girl made your restaurant get 5star rating, Shaurya says my cook made that desert, Rajiv says no it was Mahek Sharma's dish, Shaurya looks on.
Sonal comes to Mahek's house and is gasping for air due to running. Pd asks when did she come from inlaws house? Sonal says i didnt get married now, it has time, Pd asks when is marriage happening? sonal says december, PD says its good to romance in winters, Sonal blushes.
Ravi calls car vendor and asks him to give advance back, he will buy car from someone else. Jeevan comes there and says this is wrong, you cant ask advance back for your shop's stuff, we have reputation here, Ravi says i dont need to learn from you, you should start selling hats and glasses as you are good at spying, Jeevan says i was just trying to explain. Rajiv comes and asks where is Sharma house? Ravi tells him way and continues to fight with Jeevan, Rajiv goes to Mahek's house.
Shaurya asks cookf if he made desert? cook says yes trust me i made it, Shaurya says you can leave, cook smirks and leaves, Shaurya says then why Rajiv wants to give credit to that girl? Mahek messages Shaurya if he is busy? he says no, she says i have been stuck in situation with a guy, he is ill-mannered. Shaurya says one girl is behind me too, she is so clingy that she reached my office, Mahek thinks, she writes that boy sent his chinto(worker) behind me. Shaurya writes Chinto is interesting name, Mahek smiles. Sonal calls Mahek and says Rajiv has reached your house, Mahek gets offline and goes to see. Shaurya says she got offline?
Scene
Jeevan says to Kanta that Rajiv kapoor in our house? Mohit meets Rajiv and says who doesnt know you? Balwant asks Ravi to ask him why did he come? Mansi comes there with refreshment, she says Mahek have come too. Rajiv smiles seeing Mahek, Mahek gets tensed and says i accept that i shouldnt have come to your restaurant without permission, i just wanted to refill the mistake i did by making you eat bad dish, i just wanted to make you eat good food, i wont do that mistake again. Rajiv laughs and says why not? why not you will cook such good dish again? i infact want you to cook in biggest restaurant.
Rajiv says to her family that your daughter has magic when she cooks, i want her to take part in India super cook competition, all are stunned. Rajiv asys Mahek deserves it and that stage deserves Mahek. Sonal says its that show which comes on Tv and you and Shaurya judge it? Rajiv says yes, people from different areas come and after 8weeks of competition, winner gets 50lacs, Nehal is about to faint listening it.
Rajiv says this is great opportunity for Mahek, its time to get Mahek's cooking out of kitchen, he shows form and says this is small formality to enter competition, please fill it, all are silent. PD asks to serve him something, Mansi says you must drink coffee? Rajiv says no tea will be fine, she says your face seems like you drink coffee. Kanta asks Mahek to come in kitchen.
Mahek comes in kitchen, she says to Kanta that i wont be able to handle all that competition, i am just happy cooking in this kitchen. You know i cooked in Sonal's roka, all praised me so much but i blacked out seeing so much attention, i cant handle all that camera and Tv, chachi you will say no right? Kanta asks her to cook samosas.
Mansi serves samosas to Rajiv. He eats it and loves it, he says wow, they are tasty. Rajiv asks what you people thought about offer? Mahek says sorry Sir, i dont think i dont think i deserve this offer, Rajiv says trust me you are really good cook, Mahek says my mother taught me how to cook, she was great, i used to do homework in kitchen, cooking is my hobby and passion, it makes me feel close to my mother, i dont want to use it in any competition, Rajiv says think first please, dont take haste decision.
[recent_post_slider design="design-1″]