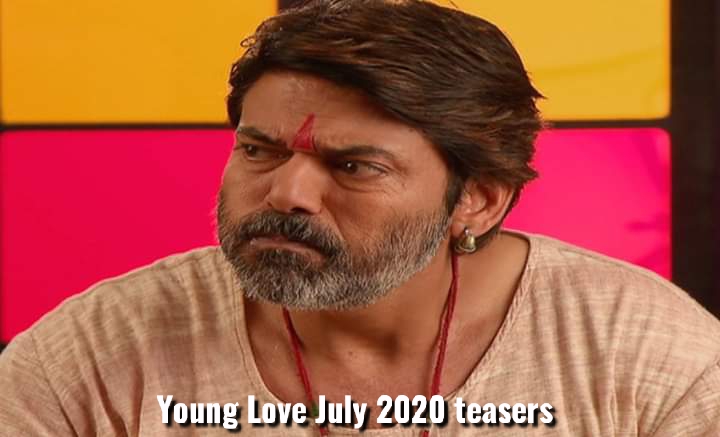 Young Love July teasers 2020:
Wednesday 1 July 2020
Akheraj asks Kamli to tie a Rakhi to Kundan, but Kamli responds by saying that she would only tie a Rakhi when her brother becomes worthy of it! Akheraj is about to slap Kamli but her father-in-law saves her once again. Akheraj orders .
Thursday 2 July 2020
Akheraj, Kundan and Harkhi are happy to hear that Urmi is pregnant. Nimboli meets Pampo and decides to play with her and bunk school.
Friday 3 July 2020
Nimboli is asleep when Harkhi arrives and pours water over her and tells her to complete the household chores. Akheraj rages in anger over Nimboli lying and bunking school, and tells Harkhi to punish her..
---
Monday 6 July 2020
Urmi tells Akheraj that she will not eat anything for as long as Nimboli is kept tied up. Pooja is about to undergo an abortion. Do you think Mannu will stop her in time?
Tuesday 7 July 2020
Nimboli tells Urmi about Kamli and Gopal and the way that Akheraj killed Gopal. How do you think Urmi will react?
Kamli asks Nimboli to come and stay with her for a few days.
Wednesday 8 July 2020
Akheraj agrees to send Nimboli with Kamli and her in-laws for a few days.
Kamli's in-laws are sitting in the parked car, when a truck drives straight into their car.
Thursday 9 July 2020
Now that Kamli and Pushkar are the sole heir's to Pushkar's father's properties, Akheraj speaks to Harkhi and tells her to convince Kamli to move back to their house along with Pushkar.
Kamli agrees to move back to her parent's home along with Pushkar.
Friday 10 July 2020
Urmi's parents arrive to visit her and are stunned to see her bonding with Nimboli.
Kamli is suspicious upon seeing Akheraj's sudden good behaviour toward her and Pushkar. What do you think he is up to?
---
Monday 13 July 2020
Grandma Kalyani goes to Mannu's room to tell him to come down to have dinner, and is worried after seeing that he is not there.
Akheraj asks Kamli to sign some legal documents, as he feels that she is a woman and thus for her safety, he should manage the property and money left by her father-in-law.
Tuesday 14 July 2020
Akheraj picks up his hand to hit Nimboli, but Kamli stops him from doing so and agrees to stay back for Nimboli's sake.
Nimboli asks Kamli if she is now happy with Pushkar and Kamli tells her that there are two ways to handle any situation – either cry about it or move ahead and find happiness.
Wednesday 15 July 2020
Jagdish saves Nimboli's life!
Jagdish arrives at Akheraj's house while Mangla is terrified of losing Nimboli.
Thursday 16 July 2020
After being chased by Kundan, Nimboli reaches the police station and collapses.
The cops bring Nimboli home and tell Akheraj to keep his son under control, because such behaviour would negatively affect his political campaign.
Friday 17 July 2020
Mangla beats Kundan up with a stick, as Harkhi cries because she is unable to save her son from being hurt.
Akheraj is angry upon hearing that Mangla hit his son, and tells vows to teach Nimboli and Mangla a lesson once the elections are over. Until then he has to pretend to be good in order to win.
---
Monday 20 July 2020
Pushkar and Kamli are attacked by goons in the market.
Pushkar goes to meet Kamli, when Akheraj stops him and tells him to stay in his room until he is better. What do you think Akheraj is up to this time?
Tuesday 21 July 2020
Kamli is shocked upon seeing Akheraj give money to the same goon who had hit her and Pushkar in the market!
Nimboli tells Kishore about what Kundan had done to her. Mangla gets there and pleads with Kishore not to take the matter any further, and walks away with Nimboli.
Wednesday 22 July 2020
Jagdish and Ganga come out of the operation theatre and inform Sarita that Pooja was pregnant, but they were not able to save the baby.
Jagdish drags Mannu out from his friend's birthday party and slaps him!
Thursday 23 July 2020
Akheraj frames Kishore for molesting Nimboli!
Pooja tries to kill herself after losing her baby and finding out that she will never become a mother again. How do you think she should handle the situation?
Friday 24 July 2020
Akheraj catches Mangla with his cell phone in her hand.
Mangla decides to take a bus and go to meet Jagdish in person, and Nimboli secretly follows her onto the bus!
---
Monday 27 July 2020
After Mangla reveals the truth to Jagdish, Jagdish has Akheraj arrested. Nimboli sees Akheraj being beaten up and tries to help him, after everything he has done to her.Akheraj escapes!
Tuesday 28 July 2020
Akheraj finds out that Mangla was behind his arrest, and pulls out his sword to kill her!Mangla gives her statement against Akheraj to the magistrate.
Wednesday 29 July 2020
Mangla narrates the story of how Nimboli was brought into their home, to Jagdish. Jagdish thinks of Anandi's daughter upon hearing the story and asks Mangla if she has any items that Nimboli had on when she came into their home.
After finding out that Nimboli is Anandi's daughter, Mangla takes Nimboli and runs away with her as she afraid of losing Nimboli.
Thursday 30 July 2020
Anandi comes face-to-face with Akheraj after all these years.
Friday 31 July 2020
Anandi is devastated after losing Nandini (Nimboli) yet again.
Akheraj vows to kill Anandi, Jagdish and Mangla once he is out of prison!