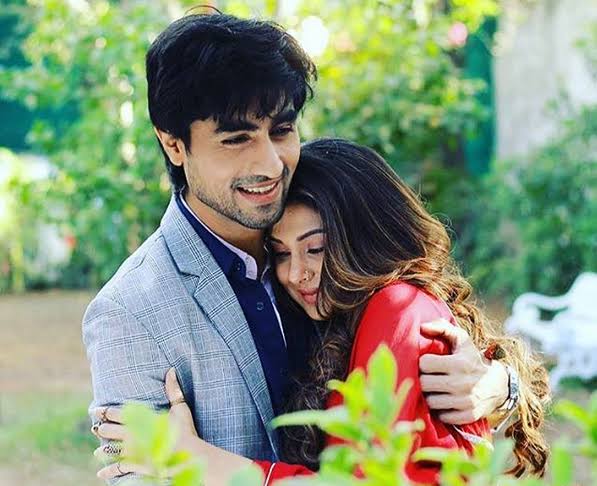 Till the end of time on Tv3 is an Indian series that follows Aditya Hooda and Zoya Siddiqui, two individuals brought together by fate through their spouses' betrayal. Love blossom between them while they try to solve the mystery behind their spouses death.
Till the end of time Full story:
Aditya and Zoya's spouses Pooja and Yash are found dead together in a road accident. They discover that the two were having an affair and are left shocked. Aditya channels his grief into anger while Zoya goes into denial. They receive divorce papers from their spouses that reach them late. Unable to run from the truth anymore, Zoya attempts suicide but is saved by Aditya.
As the two bond, a mysterious CBI inspector named Rajveer Khanna enters their lives with a relentless hunger to put them behind bars. He believes that they are guilty for the murder of their spouses and frames the two as such. Having grown to trust one another, Aditya and Zoya go on the run to prove their innocence.
Harshvardhan proves them innocent. Aditya and Zoya read Pooja's diary and break down, learning that Pooja was pregnant with Yash's child. Broken but resolute, Aditya and Zoya decide to move on. Together, they forgive Yash and Pooja. Aditya leaves for Paris, wanting time to reflect on himself, while Zoya focuses on reviving her bankrupt company.
Six months later 
Zoya is a successful entrepreneur; Aditya remains in Paris. Sakshi is being held hostage by Anjana. Zoya supports Noor and Arjun when she comes to know about their feelings. When Aditya returns, he finds Zoya a more confident and assertive person while he himself has become quieter. Their friendship blooms as they begin spending time together. Aditya feels new emotions arising in his heart for Zoya. He ignores them at first but later accepts that he has fallen in love with her.
When Aditya decides to confess to Zoya, he comes to know about Zoya's suitor Arshad Habib. Jealousy hits Aditya as he sees Arshad and Zoya spending time together. Meanwhile, Sakshi is aware about Anjana being Pooja and Yash's murderer and warns her of the fact. In fear of getting exposed, Anjana pushes Sakshi off a cliff. Differences arise between Arjun and Noor. Aditya confesses his love to Zoya due to which she misunderstands him.
Amidst the confusion, Zoya agrees to marry Arshad. Aditya confronts Zoya and asks her to listen to her heart and accept her true feelings but she remains obstinate. His words continue to linger in her mind. She tries faking a smile but realizes that she is genuinely not happy. On the wedding day, Zoya reminisces her moments with Aditya. She accepts having feelings for Aditya due to which Waseem breaks ties with her. Aditya proposes Zoya and they get married, the two promising to always love, trust and stand by each other.
Zoya gets anonymous messages and calls, threatening her. The blackmailer is revealed to be Rajveer's grandmother. She brings out the truth about Rajveer being Aditya and Arjun's half brother and reveals the story about Harshvardhan's past wherein her daughter Pallavi was pregnant with Rajveer but Harshvardhan, unaware of it, had married Anjana. Heartbroken, Pallavi had committed suicide.
Rajveer and his grandmother kill Harshvardhan to avenge Pallavi's death and frame Aditya. Aditya is found unconscious near Harshvardhan's body, holding the knife smeared with blood. Anjana goes in a shocked state and Arjun leaves the house. Rajveer causes misunderstandings between Aditya and Zoya. The two, broken and helpless, go their separate ways.
One year late.
Aditya has taken over Harshvardhan's law firm, Hooda and Associates. Anjana is mentally unstable and kept under supervision. Zoya having studied clinical psychology, gets an internship in the same hospital Anjana is admitted in. Aditya and Zoya miss each other and reminisce the love they shared. Noor bumps into Arjun in Delhi. Despite trying to resist one another, they come close again. Meanwhile, Aditya and Zoya come face to face. They try to ignore their feelings and act cold towards each other.
Unable to control their emotions anymore, Aditya and Zoya reconcile. Arjun reaches Mussoorie and confesses his love for Noor. Anjana recalls everything and owns up about killing Pooja, Yash and Sakshi. She asks Aditya and Zoya to forgive her and gets arrested. Aditya breaks down in disbelief. Zoya comforts him and the two embrace. Arjun and Noor get married and the show ends with Aditya, Zoya, Arjun, Noor, Roshnaq and Waseem posing for a photograph.
Love will never lie Full Casts.
Harshad Chopda as Aditya "Adi" Hooda– Anjana and Harshvardhan's son; Arjun's brother; Zoya's husband
Jennifer Winget as Zoya Siddiqui– Roshnaq and Waseem's daughter; Noor's sister; Aditya's wife
Rajesh Khattar as Harshvardhan "Harsh" Hooda– Anjana's husband; Aditya, Arjun and Rajveer's father
Parineeta Borthakur as Anjana Hooda– Harshvardhan's wife; Aditya and Arjun's mother
Iqbal Azad as Waseem Siddiqui– Roshnaq's husband; Zoya and Noor's father
Aaryaa Sharma as Roshnaq Siddiqui– Waseem's wife; Zoya and Noor's mother
Shehzad Shaikh as Arjun Hooda– Aditya's younger brother; Anjana and Harshvardhan's son; Noor's husband
Aanchal Goswami as Noor Siddiqui– Zoya's younger sister; Roshnaq and Waseem's daughter; Arjun's wife
Namita Dubey as Pooja Hooda– Sakshi's daughter; Aditya's former wife
Sehban Azim as Yash Arora– Madhu's son; Mahi's brother; Zoya's former husband
Vaishnavi Dhanraj as Mahi Arora– Madhu's daughter; Yash's younger sister
Shweta Gautam as Madhu Arora– Yash and Mahi's mother; Zoya's former mother-in-law
Mallika Nayak as Sakshi Mathur– Pooja's mother; Aditya's former mother-in-law
Apurva Agnihotri as Rajveer Khanna– Pallavi and Harshvardhan's son; Aditya and Arjun's half brother
Shagufta Ali as Kalpana Dadeech– Pallavi's mother; Rajveer's grandmother
Unknown as Pallavi Dadeech– Kalpana's daughter; Rajveer's mother
Taher Shabbir as Arshad Habib– Ameena and Sohail's son; Zoya's suitor
Anjali Thakkar as Ameena Habib– Sohail's wife; Arshad's mother
Unknown as Sohail Habib– Ameena's husband; Arshad's father; Waseem's friend
Ishani Sharma as Milli– Aditya's assistant
Hargun Grover as Kunal– Aditya's friend
Farah Lakhani as Mona– Employee
Palak Jain as Akanksha– Employee
Arun Sharma as Mithilesh– Employee
Yash Bhatia as Shaun– Employee
Nitesh Prasher as Vinod– Employee
Chandar Khanna as Kanti Virani– Patriarch of Virani family; Kalpesh and Sumer's father
Manisha Marzara as Sagarika Virani– Kalpesh's wife