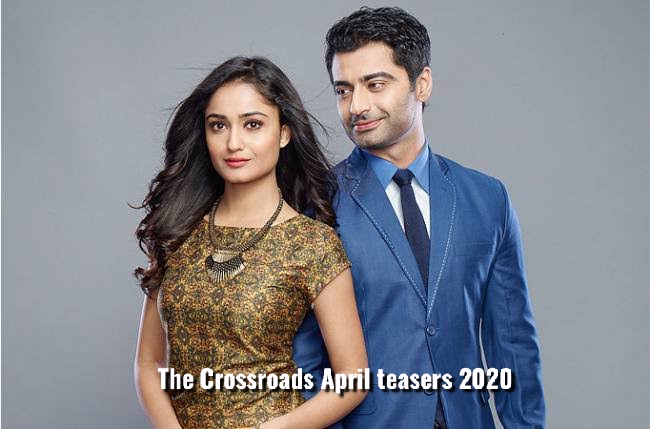 The Crossroads April teasers 2020: Adash and Swadheenta are two different personalities united by a common goal of fighting for the downtrodden, in the midst off all these love blossoms.
---
Starlife The crossroads April teasers 2020.
Wednesday 1 April 2020
Episode 1
Adarsh bumps into a girl, Swadheenta, who fits perfectly into his definition of a soulmate. Swadheenta loses to Adarsh at Akshay and Shraddha's sangeet ceremony. However, Swadheenta calls Adarsh for help when a few goons corner her.
Episode 2
Simmi's father, Ahuja visits the Sinhas to meet Simmi. Suhasini tells Ahuja that the land on which he is building is disputed. An advocate tells Swadheenta that she will be given the job only if she represents Prakash, a farmer.
Thursday 2 April 2020
Episode 3
Adarsh gets cop Rathi arrested for taking a bribe. Suhasini scolds Abhay for eloping and marrying Simmi. Swadheenta visits Prakash's house. Prakash confronts Ahuja for acquiring his land illegally. Swadheenta introduces herself to Ahuja.
Episode 4
Ahuja informs Swadheenta about a renowned lawyer, Singhvi. Adarsh tells Swadheenta that Ahuja has recorded their conversation. Manohar tells Suhasini about Swadheenta's challenge. The Sinhas attend Shraddha's wedding.
Friday 3 April 2020
Episode 5
Shraddha introduces Swadheenta to Suhasini. Swadheenta asks Suhasini to represent the farmers' case against Ahuja and agrees to assist her. Suhasini refuses to take up the case but she motivates Swadheenta.
Episode 6
Adarsh returns Swadheenta's earring. Later, Swadheenta fails to get the property's mutation document. Asad is smitten by Radhika, a fresher in his college. The next day, Swadheenta feels nervous before the hearing.
Saturday 4 April 2020
Episode 7
Mishra gives the mutation documents to Swadheenta. She seeks Adarsh's help to reach the court as her scooty breaks down. Singhvi blames Swadheenta of repsenting a fake case! The judge gives two days' time to Swadheenta to gather evidence.
Episode 8
Manohar asks Adarsh to use his influence and get a tender to Mr. Mehta, but he refuses. Swadheenta meets the farmers, but they refuse to speak to her. Later, Suhasini confronts Swadheenta for entering her office without permission.
Sunday 5 April 2020
Episode 9
Asad and his parents try to cheer up Swadheenta. Manohar tells Suhasini that Adarsh refused to help him. Adarsh assures Swadheenta of helping her in the case. He asks her to meet Shukla, who will help her with the case.
Episode 10
Shukla agrees to give the documents to Swadheenta. Prakash tells Swadheenta that the farmers are withdrawing their case and apologises to Ahuja. Prakash tells the judge that he wants to withdraw the case.
Monday 6 April 2020
Episode 11
Prakash lies to the judge,saying that Swadheenta provoked him against Ahuja. Swadheenta shows a video of the farmer's meeting with Ahuja and Singhvi. She also shows the original documents. The judge orders Ahuja to stop the construction.
Episode 12
Asad celebrates Swadheenta's victory. Suhasini asks Swadheenta if she would be interested in assisting her. Ahuja's men assault Asad and surround Swadheenta. Adarsh comes to their rescue. Asad tells Swadheenta that Adarsh loves her.
Tuesday 7 April 2020
Episode 13
Swadheenta Joins Suhasini's office. Simmi confronts Adarsh for helping Swadheenta. Abhay tells Jaydev that Ahuja's associates had assaulted Adarsh, Swadheenta and Asad. Suhasini gives the files regarding Ahuja's case to Swadheenta.
Episode 14
Ahuja visits Abhay at his office. Adarsh gives a speech at Asad's college. Haider invites Adarsh to his house for tea. Adarsh bumps into Swadheenta at the shopping mall. Later, Suhasini introduces Adarsh and Swadheenta to each other.
Wednesday 8 April 2020
Episode 15
Suhasini introduces her son Adarsh to Swadheenta. Later, the mother-son talk about Swadheenta. Later, Adarsh surprises Swadheenta when he comes home.
Episode 16
Swadheenta asks Adarsh to leave. Simmi learns that Swadheenta is assisting Suhasini and tells Ahuja about it. Swadheenta tells Suhasini that a man is following her. Banwarilal introduces himself to Suhasini and asks for help.
Thursday 9 April 2020
Episode 17
Swadheenta requests Suhasini to let her go to Faridabad regarding Banwarilal's case. Swadheenta lies to Banwarilal's wife, Leela that she has come to interview her. Suhasini tells Adarsh that she has found a girl for him!
Episode 18
Suhasini informs Adarsh that the prospective bride's family will be visiting their house. Adarsh lies to Subhash that he is married to Ramkatori. He also lies to Leela that his name is Pyaremohan. Adarsh meets the prospective bride.
Friday 10 April 2020
Episode 19
Asad shares his feelings for Radhika with Swadheenta. Manohar introduces Ahuja to Vanshika's parents, the Bundelas. Later, Ahuja reveals to Bundela that he had acquired his property. Adarsh and Vanshika's roka is fixed.
Episode 20
Suhasini reminds Adarsh about their deal. Mr. Bundela introduces his son, Yash to Manohar. Later, they celebrate Adarsh and Vanshika's roka ceremony. Swadheenta sees Subhash threatening Sudha. Pyaremohan wishes Ramkatori on Rose Day.
Saturday 11 April 2020
Episode 21
Asad pours his heart out to Radhika on Rose Day but is met with a rude shock! Ramkatori gets Leela drunk on thandaai and tries to get the truth about her and Subhash! Pyaremohan records their conversation.
Episode 22
Adarsh gets ready to go on a date with Vanshika. Haider and Zubaida are worried as Asad does not reach home. Adarsh refuses to dance with Vanshika. Swadheenta learns that Geeta is Banwarilal's daughter. Subhash holds Swadheenta captive.
Sunday 12 April 2020
Episode 23
Adarsh and Suhasini try to reach out to Swadheenta. Adarsh tries to rescue Swadheenta. But, Subhash and his associates hold him captive as well. However, Adarsh, Swadheenta, Banwarilal and Sudha escape from Subhash.
Episode 24
Swadheenta and Adarsh tend to each other's wounds. Asad refuses to meet Radhika. Swadheenta tells Haider and Zubaida about Sudha's case. Suhasini and Swadheenta go for lunch. Subhash comes with the police, looking for Sudha.
---
Monday 13 April 2020
Episode 25
Swadheenta tells the inspector that Sudha is in protective custody. Suhasini informs the judge that Sudha's DNA report matches that of Banwarilal's. Banwarilal's friend, Kabir meets Swadheenta. Sudha refuses to recognise Banwarilal!
Episode 26
Suhasini finds an intimidating letter meant for Sudha and terminates Swadheenta for neglecting her job. Sudha tells the judge about the letter. The police arrest Subhash when he tries to escape. The judge sentences Subhash and Leela.
Tuesday 14 April 2020
Episode 27
Suhasini reappoints Swadheenta as her assistant. Simmi suggests Suhasini to get Vanshika and Adarsh's engagement date fixed. Asad tries to avoid Radhika. Jaideep and Abhay ask Adarsh if he is happy about getting married to Vanshika.
Episode 28
Adarsh visits a temple in the hope of getting some clarity about his marriage. There he bumps into Swadheenta. Simmi is shocked to hear that Adarsh wishes to marry Vanshika. Asad's friends push him to attend the youth festival.
Wednesday 15 April 2020
Episode 29
Swadheenta visits Suhasini's house to help her select a few saris and learns that Simmi is Ahuja's daughter. Manohar confronts Suhasini for not telling him about Swadheenta. Meanwhile, Asad refuses to become Radhika's dance partner.
Episode 30
Bundela tells Manohar that Yash's marriage has been fixed with Col. Deshmukh's daughter. Meanwhile, Mrs Bundela asks Adarsh about Swadheenta, on seeing their photographs. Suhasini sees Simmi keeping an envelope on a tray.
Thursday 16 April 2020
Episode 31
Suhasini forbids Ahuja from entering her house. Ahuja requests Adarsh to mend Simmi and Suhasini's relationship. Simmi has a seizure and Adarsh confronts Abhay for hiding about her medical condition.
Episode 32
Abhay reveals to Adarsh and Jaideep that he married Simmi in the fear of losing her. Adarsh, in turn, confesses that he loves Swadheenta. Adarsh proposes to Swadheenta. Will she accept it or turn him down?
Friday 17 April 2020
Episode 33
Adarsh is heartbroken to learn that Swadheenta is getting engaged. She tells him that her father always wanted her to marry his best student, Jeevan. Later, Adarsh watches Jeevan practise Bharatnatyam.
Episode 34
Adarsh take Bharatnatyam lessons from Swadheenta's father, Ramakrishnan. Adarsh tells Swadheenta that he intends to become the best student in order to marry her. Ramakrishnan visits Suhasini's office to invite for Swadheenta's engagement.
Saturday 18 April 2020
Episode 35
Adarsh struggles to perform the Bharatnatyam steps while taking dance lessons from Ramkrishnan. Later, he rushes to office as he is running late. Jaidev informs Jaya that Adarsh loves Swadheenta.
Episode 36
Swadheenta watches Adarsh practise Bharatnatyam. Adarsh wants her to realise his love for her. Swadheenta is speechless when Adarsh asks her why she is hiding his visits to her house from Suhasini!
Sunday 19 April 2020
Episode 37
Adarsh puts the engagement ring in his pocket when Jeevan drops it while dancing. Swadheenta and Jeevan go to a jewellery shop. Adarsh grabs Swadheenta and puts a ring on her finger, while Jaya prevents Suhasini from seeing them together.
Episode 38
Swadheenta decides to keep her promise to Ramakrishnan. She requests Adarsh to stop coming home. Jeevan finds Swadheenta folding her hands before Adarsh. Adarsh tells Ramakrishnan about his wish to compete against Jeevan.
---
Monday 20 April 2020
Episode 39
Jeevan finds out about Adarsh's desire to compete against him. Later, he tells Swadheenta that he needs to win her love by beating Jeevan in the dance competition. Asad runs into a car on learning that Radhika is getting engaged.
Episode 40
Radhika is sad to see Asad in the hospital. Jaya, Abhay and Jaidev stop Suhasini from seeing Adarsh rehearse! Meanwhile, Ramakrishnan holds a Bharatnatyam competition between Adarsh and Jeevan.
Tuesday 21 April 2020
Episode 41
Adarsh and Jeevan compete in a contest. Adarsh tells Ramakrishnan that Swadheenta has agreed to marry Jeevan only because of the promise made to him. He then tells Swadheenta that she has only a day to decide if she wants him in her life.
Episode 42
Asad tells Swadheenta about his plan to help Radhika escape from her engagement. Adarsh helps Swadheenta to find Radhika's house. Yash stops Radhika from eloping with Asad. Swadheenta stops the police from arresting Asad.
Next month teasers on the cross roads
Wednesday 22 April 2020
Episode 43
Swadheenta convinces the police to release Asad. Asad learns about Yash's sister, Vanshika's engagement with Adarsh. Adarsh gets ready for his engagement. Suhasini tells Adarsh about the incident at the Bundelas' house.
Episode 44
With Asad's help, Swadheenta reaches Adarsh's engagement venue and professes her love to him. Adarsh tells Manohar that he doesn't love Vanshika. Radhika, too musters the courage to tell her father that she loves Asad.
Thursday 23 April 2020
Episode 45
Swadheenta apologises to Suhasini. Suhasini refuses to listen to Adarsh. Haider tries to convince Ramakrishnan and Revati that Adarsh is a good boy. Later, Swadheenta and Adarsh express their love and embrace each other.
Episode 46
Adarsh and Swadheenta go out on a long drive and spend some romantic time together. Ramakrishnan and Suhasini refuse to listen to them. Jeevan convinces Ramakrishnan to speak to Suhasini.
Friday 24 April 2020
Episode 47
Ramakrishnan and Suhasini have a showdown after which he refuses to compromise for Adarsh and Swadheenta's marriage. Adarsh confronts Suhasini for insulting Ramakrishnan. Yash tells Asad about a possible terrorist threat on Delhi.
Episode 48
Suhasini stops Jaya from leaving. Radhika tells Asad that his friends are taking advantage of him. Adarsh and Swadheenta decide to stand by each other. After pondering over Jaidev's words, Suhasini and Manohar visit Ramakrishnan.
Saturday 25 April 2020
Episode 49
Adarsh and Swadheenta listen to their parents discuss about their marriage. Jaya tells Jaidev that she disclosed the reality of their marriage to Suhasini. Later, Suhasini tells Manohar about her plan to separate Adarsh and Swadheenta.
Episode 50
Swadheenta asks Haider to let Asad's friends stay at his flat. Suhasini postpones her hearing to meet Ramakrishnan to discuss SwaAdarsh's engagement and as expected, there is friction again between the two sets of parents!
Sunday 26 April 2020
Episode 51
Haider asks Asad's friends to get police verification done before shifting. Abhay and Jaidev plan a surprise party for SwaAdarsh. Abhay signs the verification form for Arvind. Later, some masked men with guns disrupt the party.
Episode 52
Abhay and Adarsh get the intruders arrested. Asad unaware of his friends being terrorists gives them the keys to the apartment! Suhasini fixes the SwaAdarsh's engagement. Manohar tells Jaidev about the arrest of a terrorist, Allan Broad.
Monday 27 April 2020
Episode 53
Swadheenta and Adarsh go shopping for their wedding. Adarsh fails to recognise Arvind in his new look. Manohar visits Allan Broad in jail. Suhasini invites Ahuja to SwaAdarsh's engagement with a motive.
Episode 54
Suhasini and Manohar invite Ahuja and Ramakrishnan for their anniversary celebration. Swadheenta and her family arrive at the party. SwaAdarsh vow to love each other forever. Suhasini asks Simi to keep an eye on them.
Tuesday 28 April 2020
Episode 55
Ahuja suggests that Ramkrishna perform Bharatnatyam at the anniversary party. Ramakrishnan slaps Ahuja when he offers him money for his performance. Swadheenta stops Simmi from slapping Ramakrishnan.
Episode 56
Suhasini tells Ahuja that Ramakrishnan will have to apologise to him. Ramakrishnan refuses to do so. Swadheenta stands by Ramakrishnan. However, Adarsh feels that Ramakrishnan should apologise.
Wednesday 29 April 2020
Episode 57
Suhasini calls off SwaAdarsh's engagement. Abhay tells Asad his plan to make SwaAdarsh meet. However, SwaAdarsh end up getting into an argument with each other. Ramakrishnan calls Ahuja to Suhasini's house.
Episode 58
Ramakrishnan apologises to Ahuja. Suhasini learns that Ramakrishnan is allergic to alcohol. Swadheenta arrives with her family for the engagement. Swadheenta confronts Suhasini for deliberately serving alcohol at the party.
Thursday 30 April 2020
Episode 59
Swadheenta confronts Suhasini and tells her that she loves Adarsh very much. SwaAdarsh exchange their rings. Suhasini complains to Adarsh about Swadheenta blaming her for conspiring against Ramakrishnan.
Episode 60
Adarsh confronts Swadheenta for lying about Ramakrishnan. Manohar gets Allan Broad's signature on a few documents. Haider tells Swadheenta that he will file a PIL against Broad. Swadheenta apologises to Suhasini for misunderstanding her.
Next month teasers on the cross roads