If you watched Forbidden Love previously on Starlife, then you will love Strange Love which is a sequel to that drama series. Strange love focuses on two people with different personalities; Aastha with a happy go lucky attitude to life and Shlok who feels money is the answer to everything. Their relationship could best be described as Negative attracts, also watch how and if Aastha will be able to break all the hard shells that Shlok has built over the years.
Strange Love starlife full story.
Meet Aastha, a cheerful, lively, passionate, and charming woman who values relationships and supports equality. And also meet, Shlok is an arrogant, self-reserved, business-minded man who believes in wealth more than relationships. He had a miserable past that ultimately led him to his arrogance.
Shlok is informed about a possible cheating that occurred in a university institution. He suspends the boys but expels the girl. Later, the Agnihotri's are invited to an award event to recognize their reputation in the education industry for their business. Aastha learns that Shlok had done injustice to the girl. At the event, she questions Shlok about his negligence after which it gets recorded live and gets exposed to the public.
The public labels Shlok and his family as supporters of inequality which leads to their business getting raided. Shlok mistakenly believes that Aastha is responsible for the consistent insult of his family, his father in particular, and decides to take revenge.
Shlok shows fake love to Aastha and marries her on false pretenses. During the night of their Suhag Raat, Shlok breaks Aastha's wedding necklace and reveals to her that he never loved her and that he only married her to take revenge, leaving Aastha heartbroken. Shlok angrily tells Aastha that he showed fake love in order to take revenge for the insult of himself and his father. He goes as far as to threaten her that if she reveals this to anyone, he'd have her father framed in a case of corruption.
Meanwhile, Anjali wants Aastha to perfectly adapt to the Agnihotri traditions. Varad arranges a honeymoon for Shlok and Aastha. Despite Aastha's efforts to cancel the honeymoon, Shlok and Aastha leave. On the way to their honeymoon, Aastha escapes and gets lost in a jungle. While searching for Aastha, Shlok meets with her and they both spend their planned "honeymoon" in a jungle while trying to find their way out.
Aastha comes to know that her father, Avdhoot, is in jail. She assumes that Shlok sent him to jail and vents her anger at him. Shlok in return. tries to prove his innocence that he did not send him to jail. Disappointed, Aastha reveals the truth to her family and the Agnihotri's of her marriage and Shlok's planned revenge; they are shocked. Kalindi wants Aastha to file for divorce. At the first court hearing, Aastha is ordered by the court to stay with Shlok for 6 months. During the 6 months, Aastha discovers Shlok's miserable past; in which Shlok is actually an innocent and good person.
Aastha finds out that Shlok was in love with this girl named Swati and that their break-up led to his hatred of women. It is shown that Niranjan ordered Anjali to hate Swati, simply because she was against the Agnihotri traditions that ultimately led to Shlok's break-up, in which Shlok blames Anjali, leaving him heartbroken onwards. While attempting to bring back Shlok's true personality, Aastha falls in love with Shlok and confesses her love to him.
Aditi, who is the daughter of a close friend of Niranjan, arrives at the Agnihotri mansion and acts as an imposter to separate Shlok and Aastha. Aditi attempts to kill Aastha multiple times but she is saved by Shlok. Aditi kidnaps Aastha but Shlok rescues her just as Aditi is about to shoot her. It is revealed that Aditi is Swati's sister and her main motive was to kill Aastha so that Shlok suffers. Aditi believes that Shlok is the reason for Swati's deteriorating health. Shlok is shocked to see Swati who soon passes away. Shlok realizes his love for Aastha and confesses his love to her. They both consummate their marriage. At the end of the 6 months, Shlok and Aastha both state that they do not want to divorce each other.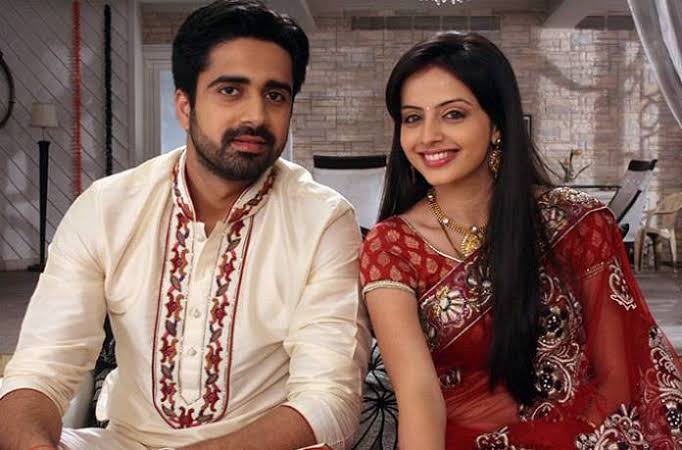 Shlok's sister, Jyoti, runs away from her misogynistic in-laws after they want abortion for the third time for her unborn baby girl. While running away, she meets the charming Siddharth who happens to be Aastha's cousin. Unaware of Jyoti's situation, Siddharth takes care of her. He sends her to Kalindi's house who is shocked to see her. Jyoti explains everything to Kalindi. Abhay and Sulbha craft a plan to tell the Agnihotri family and make them believe they are innocent and that Jyoti has run away. Siddharth slowly falls in love with Jyoti. During Anjali's birthday celebration, Abhay finds Jyoti and the family is shocked to see her. She pleads to Niranjan to let her stay with them. Aastha manages to get Abhay arrested.
Aastha learns the truth about Niranjan's true nature and how he is the one who controls Anjali to fulfill his ill desires. Aastha and Anjali both get emotional when she accepts that Niranjan has her helpless. Aastha promises Anjali that she will unfold Niranjan's true nature and that she will erase the false impression that everyone has of Anjali. Niranjan wants Abhay released from jail and asks Anjali to make Jyoti sign the bail papers. Jyoti begins to develop hatred towards her mother. When Niranjan manages to indirectly make Jyoti sign the bail papers, Abhay forces Jyoti to take her home. Anjali stops this from happening and Niranjan is enraged. However, Jyoti begins to see Anjali's sweet nature. Abhay fakes to act that he has changed, and Niranjan convinces Shlok that Jyoti should go with Abhay. However, Abhay kidnaps Jyoti's daughter and Shlok beats him up. After convincing the family, Siddharth and Jyoti finally get married.
Aastha tries to expose Niranjan's true identity to Shlok several times but he does not believe her. Afraid that Aastha might succeed to expose Niranjan, he begins to create misunderstandings between Shlok and Aastha. Aastha goes on to blame Niranjan for controlling Anjali and not caring for Jyoti. Angered by Aastha's accusations, Shlok decides to divide the house and orders Aastha to stay in one part of the house. Aastha is joined by Anjali after which she also blames Niranjan for deceiving everyone. Jyoti witnesses Niranjan badmouthing Anjali. She is devastated to see her father's true nature. She joins Anjali and Aastha and tells Shlok that he is being deceived.
Soon after, Shlok finally learns the truth about his father and is heartbroken. Shlok repents his misdeeds with Anjali and Aastha. He gets emotional thinking about his past; his mistreating of Anjali, and his misunderstanding of Aastha. Shlok addresses Anjali as his mother and embraces her. They both get emotional. The next day, Shlok, Aastha, and Anjali leave the Agnihotri mansion. Shlok and Aastha start earning a living by operating a food truck business and living modestly. The absence of Shlok has Niranjan feeling lonely. He realizes his mistakes and regrets his actions.
Varad foolishly signs a contract with Indrajeet Sarkar and the Agnihotri's lose their business and house. Niranjan is desperate to find Shlok. When he meets with Shlok, Aastha, and Anjali he asks for forgiveness and is forgiven. They come to know about their properties being given to Indrajeet Sarkar. Varad also asks for forgiveness for his foolishness and is forgiven. The reunited Agnihotri family live together in a small house. The Agnihotri's skillfully develop a plan to get their assets back from the Sarkar's.
Shlok and Aastha disguise themselves as Sapna and Balvankar Singh to get their lost assets back; Aastha works as Indrajeet's assistant and Shlok works as his children's caretaker. They precisely work together to possess the Power of Attorney documents. Eventually, Shlok and Aastha manage to get hold of the papers. On the day they get everything back, the Sarkar's reveal a shocking truth to the Agnihotri's that leaves Anjali shattered and the rest of the family shocked.
Shortly after, Anjali, Shlok, Aastha meet in an accident in which Shlok goes into a coma, Anjali dies, and Aastha loses her memory. When Shlok wakes up from the coma, he is devastated upon learning that Anjali died in the accident. He inquires about Aastha in which Varad says she is missing. After a desperate search, Shlok finally meets with Aastha who is unable to recognize him, leaving Shlok heartbroken. It is revealed that Indrajeet took advantage of Aastha's memory loss and led her to believe that he is her husband. Shlok begins to recreate previous events so that Aastha regains her memory, angering Indrajeet. On the day of their marriage to Indrajeet, he has Shlok abducted. Slowly recalling her past, Aastha's mother, Kalindi, helps Aastha remember. Shlok manages to stop the marriage and rescues Aastha. Aastha is delighted to see Shlok. Indrajeet is arrested. Shlok and Aastha adopt Indrajeet's children and live happily together.
Strange love starlife casts, real names.