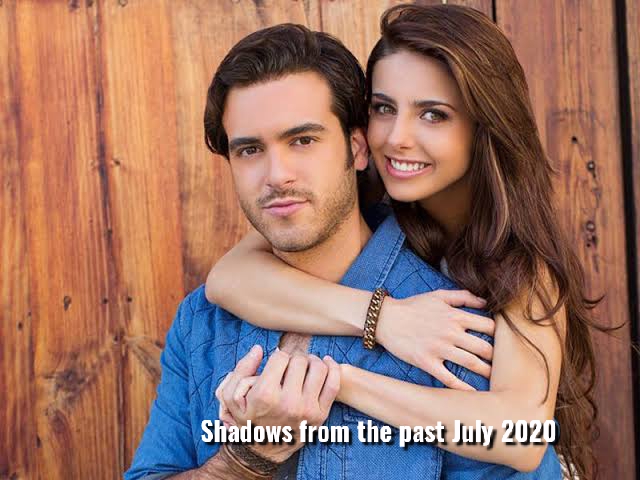 Two very different families live in the village of Santa Lucía who are involved in a whirlwind of passion, pain, and revenge. The rivaling families are the Mendozas and the Alcocers.
Severiano Mendoza and Candela Santana are a rich and powerful marriage who live at the ranch, "Las Ánimas", along with their young son, Cristóbal. Roberta and Raymundo Alcocer also have a daughter named Alonza; however, they do not live with the same luxuries as the Mendoza family, which causes frustration and resentment in Roberta as nothing is enough to fill the inferiority complex that follows her like a shadow
Shadows from the past July teasers 2020: 
Wednesday 1 July 2020
Episode 53
Candela warns her son that Aldonza will find a way to make him hate her and his father.
Thursday 2 July 2020
Episode 54
Cristobal informs Aldonza the reason why his parents abhor her. Lola see Severiano kiss Simoneta.
Friday 3 July 2020
Episode 55
Severiano threatens Jeronimo at the clinic. Aldonza assures Adelina she'll marry Cristobal with or without her support.
---
Monday 6 July 2020
Episode 56
Renato tells Aldonza about several fingerprints found in her apartment adding that they very possibly are Abelardo's.
Tuesday 7 July 2020
Episode 57
Severiano informs Abelardo he might be arrested and orders him to hide. Silvia tells Cristobal where Aldonza is.
Wednesday 8 July 2020
Episode 58
Lola and Veleria have a fight. Cristobal stalks Aldonza at Renato's house and she refuses to speak to him.
Thursday 9 July 2020
Episode 59
Cristobal accidentally crashes his van. Aldonza finds him unconscious and takes him to the hospital. They get married.
Friday 10 July 2020
Episode 60
Abelardo asks Severiano for more money for his expenses while he is in hiding. Aldonza and Cristobal are celebrating their marriage with champagne when Severiano and Simoneta crash the party.
---
Monday 13 July 2020
Episode 61
Prudencia tells Emanuel he's Humberto's son. Aldonza confesses to her husband that a man raped her and he's determined to find out who that man is.
Tuesday 14 July 2020
Episode 62
Humberto makes it clear to Valeria that Emanuel is not his son. Adriano informs Uriel that Abelardo owes him a substantial amount of money for bets he made in poker.
Wednesday 15 July 2020
Episode 63
Jeronimo and Adelina find out Aldonza and Cristobal got married and The father proposes the kids' religious wedding to be in a week. Abelardo enters to Severiano's office and takes a gun.
Thursday 16 July 2020
Episode 64
Cristobal finds Aberlado and tries to help him but Abelardo dies in his arms. The police don't take long to reach the conclusion that the gun found at the scene belongs to Severiano.
Friday 17 July 2020
Episode 65
Anonymously, Valeria calls the attorney general's office and reports Cristobal for having a reason to kill Abelardo. Candela tries to locate her husband and Simoneta is the one who answers in his hotel room.
---
Monday 20 July 2020
Episode 66
Cristobal is arrested for Abelardo's assassination. Candela makes the mistake of telling Jeronimo that she will forgive Severiano for having had a baby boy with Roberta.
Tuesday 21 July 2020
Episode 67
Aldonza visits Cristobal in his cell. Candela assures her son that Valeria is the only woman who can make him happy. Lola confronts Simoneta.
Wednesday 22 July 2020
Episode 68
Valeria confesses to Prudencia that she is pregnant. Aldonza is happy because Joaquin decided to work with them on the orchard.
Thursday 23 July 2020
Episode 69
Candela informs Cristobal and Aldonza they can't remain married because they might be siblings. Renato confronts Severiano and he threatens him.
Friday 24 July 2020
Episode 70
Aldonza asks Renato to annul her marriage. Father Jeronimo calls on Humberto to ask him downright if Emanuel is the son of Severiano and Roberta.
---
Monday 27 July 2020
Episode 71
Father Jeronimo confronts Candela for her lies. Cristobal gets drunk thinking that Aldonza could be his sister.
Tuesday 28 July 2020
Episode 72
Candela tries to convince Cristobal to marry Valeria when his divorce is final. Joaquin spends the night in a cell.
Wednesday 29 July 2020
Episode 73
Aldonza breaks up with Cristobal for good. Severiano admits Roberta had a daughter, but she was stillborn.
Thursday 30 July 2020
Episode 74
Renato calls on Cristobal's house to deliver to him the documents to start his divorce from Aldonza. Severiano takes Camilo by surprise and gives him a blow to the head.
Friday 31 July 2020
Episode 75
Uriel accuses Severiano of being guilty of his son's death and tries to suffocate him.