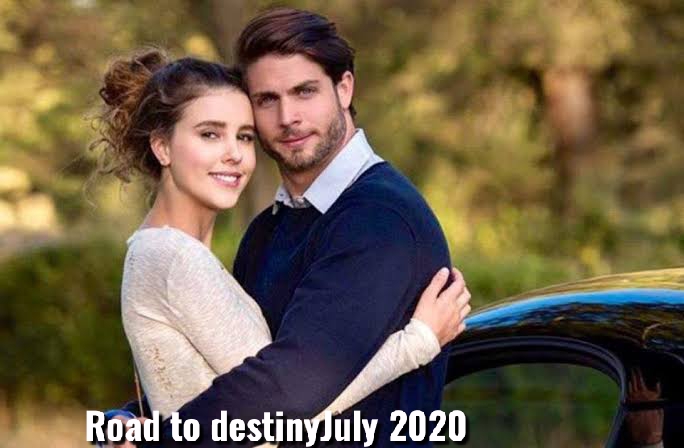 Luisa Fernanda Pérez, a beautiful, 18-year-old student, has two passions: mastering the violin and gardening, a skill she learned from her father, Pedro, the former groundskeeper of the wealthy Altamirano family's estate. A chance encounter with destiny alters her life after she is injured in a car accident caused by Luis (her biological father), a playboy lawyer and falls for his stepson, Carlos, an attractive, young doctor treating her at the local hospital.
Road to destiny July teasers 2020: Carlos learns that Marissa suffers from muscular dystrophy. Fernanda finds out that Lucero and Diego are going to get married secretly.
Wednesday 1 July 2020
Episode 53
Fernanda tells Pedro that Carlos is the love of her life and that it won't be easy to get over him. Luis taunts Mariana by telling her that the new will doesn't guarantee her anything.
Thursday 2 July 2020
Episode 54
Javier promises Fernanda that he won't squabble with Carlos anymore. Mariana tells Amelia she still loves Luis and that they're not together because Amelia got in the way.
Friday 3 July 2020
Episode 55
Fernandoa says that she will go to Mexico City to receive a treatment to walk again. When Carlos sees Luis and Marissa kissing, he gets furious.
---
Monday 6 July 2020
Episode 56
Fernanda begs Javier no to stop treating her father. Javier needs to sedate Pedro again. Luis rejects Mariana.
Tuesday 7 July 2020
Episode 57
Luis tells Mariana that she's going to be left without a cent because all of Fernando's inheritance belongs to his daughter. Adelina convinces Pedro not to escape for Fernanda's sake.
Wednesday 8 July 2020
Episode 58
Isabela warns Camila to move away from Carlos. She also tells her that Fernanda dated Carlos. Mariana threatens Fernanda with firing her.
Thursday 9 July 2020
Episode 59
Carlos wonders why Pedro hates him. Camila treats Fernanda rudely. Camila asks her father to fire Fernanda immediately. Fernando assures Fernanda that Carlos adores her.
Friday 10 July 2020
Episode 60
Mariana threatens Amelia with killing Fernanda if she tells the truth to Fernando. Fernanda finds out that Pedro knows she is not his daughter.
---
Monday 13 July 2020
Episode 61
Javier and Fernanda agree not to tell Pedro that Amelia is back. Luis and Amelia meet. Mother Rosaura tells Amelia she does not believe that she is truly regretful.
Tuesday 14 July 2020
Episode 62
Pedro tells Rosaura he is tormented because he can't stop loving Amelia. Amelia asks for Fernanda's forgiveness.
Wednesday 15 July 2020
Episode 63
Fernanda tells Mariana that she doesn't want Mr. Fernando to find out that she's his granddaughter. Luis is furious when he learns about Ordoñez's plans and is determined to get rid of him.
Thursday 16 July 2020
Episode 64
Blanca tells Amelia that she found Pedro, but that he never wants to see Amelia again. Luis threatens to send Ordoñez to jail for stealing his documents.
Friday 17 July 2020
Episode 65
Mariana suggests Fernando fire Fernanda. Cesar and Clarita get married. Isabela is furious because neither Carlos nor Fernanda are at the party.
---
Monday 20 July 2020
Episode 66
A social worker comes to take Paco to a children's home. Carlos is determined to adopt Paquito at any rate. Pedro is upset to know that Fernanda made up with Carlos.
Tuesday 21 July 2020
Episode 67
Pedro and Fernanda are very happy over the fact that Pedro is being discharged from the hospital. Blanca tells Mariana she knows she is trying to harm her father.
Wednesday 22 July 2020
Episode 68
Carlos is fretting over the results of the scan Marissa underwent. Adelina is thrilled to see her mother. Leopoldo confronts Luis about smearing his reputation and getting him in trouble.
Thursday 23 July 2020
Episode 69
Carlos is told that Marissa suffers from muscular dystrophy. Fernanda finds out that Lucero and Diego are going to get married secretly.
Friday 24 July 2020
Episode 70
Carlos and Clarita hope that Marissa doesn't forgive Luis. Amelia shows Mariana that she's not afraid of her.
---
Monday 27 July 2020
Episode 71
Lucero's mother tells her she won't give her any money now because she got married in secret. Carlos is shocked to hear Marissa tell Ordoñez to stop the divorce proceedings.
Tuesday 28 July 2020
Episode 72
Mrs. Zamora disowns her daughter Andrea for eloping with Diego. Carlos goes to the orphanage to visit Paquito whom he wants desperately to get out of there.
Wednesday 29 July 2020
Episode 73
Marissa has a hard time accepting and forgiving Luis. Carlos and Fernanda spend the night together.
Thursday 30 July 2020
Episode 74
Pedro is very worried and is afraid that Fernanda already knows that he's not her father. Carlos threatens with killing Luis if Marissa dies.
Friday 31 July 2020
Episode 75
Luis taunts Fernanda when she is arrested and tells her she should have never messed with him. Fernanda can't believe Camila betrayed her