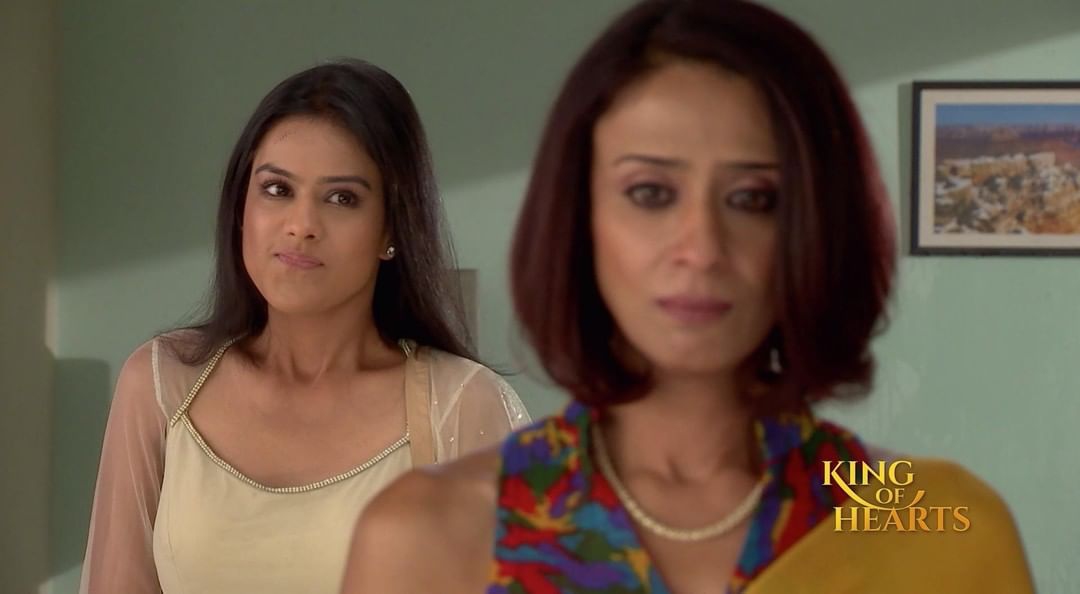 Saturday update on King of hearts 
Prev: Friday update on King of hearts
The episode starts with Simran reminiscing Roshni praising her and telling mother cannot be selfish at all. Raj asks if she is thinking about Roshni and now believes her back. She says Roshni does not know to follow relationships and she does not trust her. He says she realized Roshni has changed, but is not accepting. Soon she will accept Roshni soon.
Kritika comes back to her room, reminisces Roshni's speech and Biji praising her and agrily tries to drink poison. Rajveer stops her and asks if she is so weak. She says she cannot tolerate old granny Biji praising Roshni. Rajveer says he will make sure biji slaps Roshni and tells his crooked plan. She gets happy hearing his plan, hugs her and says she loves him.
He sees himself in mirror says he also loves himself and says he did not leave Sam for her, but for her wealth. He will loot her wealth and then find another prey.
Sid and Roshni's nok jhok starts. Roshni asks him to listen to her. He is busy on laptop and takes out cotton from his ears and says he did not listen to her. She angrily switches off light and sleep. He smile and also sleeps. Roshni hears rat sound and asks Sid to stop mimicking. She then sees rat and panics.
He also sees rat and panics hugging her. Biji comes with Raj and Simran and ask what happened. They point at rat. Biji says they have grown up to the age of bearing children and are afraid of rat. She throws rat out.
Sid and Roshni continue shouting. Biji asks them to stop and says she will sleep with Roshni. Roshni says she got cold and her infection will spread her. Raj takes biji from there. They both sleep again. Sid again panics. Roshni laughs and taunts him. She says until this house was in her mom's control, she did not see rats here, but they are comings as if it is their home now. Their nok jhok starts again.
At breakfast, Roshni asks Biji what she should prepare for lunch. Biji says she has thrown party for her win and asks her to get ready instead and asks Simran to prepare food and snacks. Roshni says she will help Simran. Simran says she does not need her help. Sid comes for breakfast. Biji asks him to attend party in the evening. He says he has important meeting and cannot attend. Rajveer says it is his wife's party and he should attend.
Biji taunts him and says he is very lucky to be a ghar jamai andenjoy lavishiness and asks to have his food instead of interrupting (Biji rocks..). Rajveer and Kritika gets angry. Simran consoles them. Biji orders Sid to attend. He leaves. Biji taunts again Raj to enjoy his free food. She asks Roshni to invite her family. Roshni reminisces telling DD if she does not apologize, she will not come to her house again and says Biji her mom cannot come. Raj asks to call her Naani and bua. Roshni nods yes.
DD tells Naani she will not go to Roshni's house as she does not care about her. Naani argues with her. Mona asks them to stop their fight. Sam comes and says she is going for shopping and get Visa as she is going to China on official trip. DD says she hopes this girl is not doing anything wrong.
Roshni joins Simran in kitchen. Simran gets irked and calls servant. Roshni says servants have gone out and says she knows she is still angry on her, but she will not go even if she pushes her out and continues cooking. Simran reminisces Raj's words.
Roshni gets ready for the party and asks Sid to behave in the party.
Naani and Mona reaches Roshni's house. Mona sadly tells this was their house once. Biji greets them in. Naani asks her to forgive for earlier mistake. Biji says what mistake and to forget the past. She asks where is here daughter Durga Rani. Naani says Durga Devi. She then asks where is Meena's daughter Upma. Naani says it is Mona and Pratima and Mona's daughter's name is Sam.
They all sit on sofa. Ugly vamp Kritika acts as fighting with her loafer husband Rajveer. Roshni goes there and sees Kritika asking Raj to help and he yelling at her. She says she will help. Kritika thanks her. Loafer Rajveer picks her phone, calls Yash and switches on her recorded shouting when she panicked seeing rat.
He reminisces how his wife put rat in Roshni's room to record her shouting voice and says he will make Roshni fall in front of everyone's eyes and gives his ugly smile.
Sid sees Sam with her boss who is holding her back tight and telling he is going on official trip with Sam. He thinks boss will harm Sam and he should do something.
Biji grees her neighbour/rival lady in and ask her to hold the trophy to get a feel of winning. Jealous lady holds trophy and acts as being happy. Another neighbour tells her Gurjati bahu did wonders by winning in Punjabi competition. Kritika calls everyone for dinner.
Rohsni after helping kritika sees her phone missing. Rajveer locks her inside door and switches house's lights off. Yash reaches there calling Roshni. Roshni bangs door and calls papa/Raj. Kritika asks guests to wait until goes and checks what happened. Neighours start feeling warm due to summer and power cut. Rajveer comes there and purposefully drops drinks on guest/rival lady and takes her to washroom. Another lady also joins her.
Roshni slips and falls on down and gets up. Yash comes there, opens door, slips and falls down with her on bed. Rajveer brings guests to the same room. Everyone are shocked to see Roshni in bed with another man. Roshni tells there is some misunderstanding, someone locked room door from outside and she due to dark she slipped on bed.
Rival lady tells her explanation is not valid and tells Biji this is what her bahu is doing with strangers. Yash says he got Roshni's call, so he came here. Roshni says she did not call him. Rival lady vamp starts badmouthing Roshni and taunting Biji that her bahu is characterless. Yash asks her to stop her drama and says Roshni's character was less before and even now. bahu asks her not to yell at her saas.
Raj says roshni is his bahu and daughter and he knows she is clean. Simramn asks him to stop taking Roshni's side and says now she will not tolerate it. It is her house and not a lodge that anyone will come, enjoy here and leave. She has decided that this girl will leaver her son forever.
Next: King of hearts update Sunday
[display-posts category="Zee World written update"]