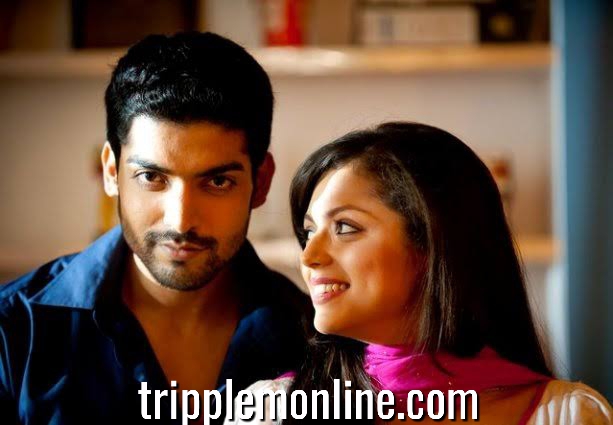 Read the season finale teasers on Geet this October 2020 as the couple finally get their happy moments. Geet gets a cradle as a gift, and to Maan's surprise, she gifts him the same thing and tells him that she is pregnant. The family is extremely happy, and awaits the arrival of the new member in the house. Days pass, and Geet is ready to deliver a baby. 
Starlife Geet October teasers 2020.
Thursday 1 October 2020
Episode 441
Geet gets a bouquet from Maan. Nevertheless, she is worried about the unknown person. On her way back home, the car breaks down and it gets fixed 'on its own' while she goes in search of a workshop. But to Geet's amazement, a letter awaits for her at the house from the same unknown man.
Episode 442
Geet is scared with the uncertain things happening with her. She calls up Maan, but can't get through to him, as he is at the airport. Geet tries to talk about it to Dev and Lucky, but they seem to be lost in their own worlds.
Friday 2 October 2020
Episode 443
Reena reveals the truth in front of Nandini and Prito. Maan comes back from London to surprise Geet, who is following the unknown person. She gets scared seeing her picture in the unknown person's house, and calls Maan. She runs from that place, and someone stops her.
Episode 444
Reena is taken into police custody. Maan comes to Geet's rescue, and she tells him about being followed by someone. Maan is furious to know about this. Later, he decides to celebrate Geet's birthday.
Saturday 3 October 2020
Episode 445
Although Maan assures of Geet's safety, the entire family is worried about her, and wants to cancel the birthday celebrations. Meanwhile, Geet gets a call from the unknown person, Vikram, who says that he would soon meet her.
Episode 446
Maan arranges tight security for Geet's birthday party. Meanwhile, Geet gets a call from Vikram, and she gets tense. Maan sees one of his staff tied up, and gets to know that Vikram is responsible for his state. Can Maan protect Geet from Vikram?
Sunday 4 October 2020
Episode 447
Maan gets furious on recalling his experience with Vikram. Adi asks Maan to come to office. Maan leaves for work asking Dev and Lucky to take care of Geet. Later, Dev gets a call informing him about Nandini's accident.
Episode 448
Geet is traumatised by Vikram's presence. Maan talks to Geet over the phone, and rushes back home. Vikram tells Geet that he has been loving her since childhood. Later, Vikram calls up Maan, and threatens him that he will take Geet away.
---
Monday 5 October 2020
Episode 449
The commissioner arrives at the Khurana residence, and offers to help Maan catch Vikram by tapping their phones. Later, Maan goes to Vikram's house, and sees Geet's pictures. Just then, Vikram calls him up and gives him directions to meet him.
Episode 450
Maan and Vikram engage in a brawl. Vikram hits Maan on his head and the latter goes unconscious. Geet, Dev and Lucky find Maan bleeding and take him to a doctor. Maan is upset as he could not keep up his promise. How will Maan protect Geet?
Tuesday 6 October 2020
Episode 451
Nandini worries about the safety of Maan and Geet and suggests that Dev take up responsibilities at the office. Vikram calls Geet and threatens that he would kill Maan. Later, he calls Maan and tells him that he would kill Dev. Maan tries reaching Dev, but his phone is switched off.
Episode 452
Vikram ties up Dev, and targets to kill Maan. Dev learns Vikram's ploy, and saves Maan. Geet overhears Dev and Nandini's conversation, and it upsets her. Later, she gets a call from Vikram, who says that he would not bother her ever, if she meets him once.
Wednesday 7 October 2020
Episode 453
Vikram comes to the Khurana Residence, disguised as an electrician. He sneaks into Geet's room and leaves a gift for her. However, Maan recognises Vikram. Later Geet calls up Vikram and tells him she will find out the person who left the gift there.
Episode 454
Vikram calls up Geet and informs her about their meeting place. Geet is worried about how she will go out of the house in front of Maan. Meanwhile, Vikram gets impatient to meet Geet. Geet manages to sneak out of the house and reach the meeting point. Why is she shocked there?
Thursday 8 October 2020
Episode 455
Maan comes with the police and rescues Geet from Vikram. However, Vikram manages to escape. Later, at the Khurana house, Geet receives a CD from Vikram.
Episode 456
Maan is sceptical about Vikram's death. Seeing Maan and Geet happy, Nandini proposes to send them on a holiday. Meanwhile, a stranger comes to their house in search of a job.
Friday 9 October 2020
Episode 457
Maan receives a call from office. As Geet leaves for the farm house alone, Vikram follows her. Later, she sees Vikram in a mask and mistakes him for Maan. She gets shocked when Vikram removes his mask. Meanwhile, Maan is kidnapped.
Episode 458
Geet tries to release Maan, but Vikram stops her. He shoots at Maan and takes Geet away. The family members get to know of Maan's critical condition, and he is rushed to the hospital. Maan undergoes surgery, while Geet regains her consciousness.
Saturday 10 October 2020
Episode 459
The Khurana family waits for Maan to regain consciousness. Lucky sees Vikram and informs Nandini that he is not dead. Nandini and Preeto are shocked to see Maan missing. Geet escapes from Vikram's clutches.
Episode 460
Vikram looks for Geet, but she runs away from him. Lucky gets rescued by the police. Meanwhile, an injured Maan hunts for Geet. Vikram finds a trail, and follows it to reach Geet.
Sunday 11 October 2020
Episode 461
The police, along with Maan, search for Geet in the jungle. The police find Vikram's dead body lying on the road. Maan and Geet finally find each other. Meanwhile, Nandini misses Dev and shares her feelings with Preeto. Will everything return to normalcy at the Khurana Residence?
Episode 462
Preeti feels that Lucky is ignoring her. Seeing Geet and Maan together, Preeto tries to get Lucky's attention. However, Lucky fails to understand it, and keeps himself busy.
---
Monday 12 October 2020
Episode 463
Geet is surprised when Maan tells her that office has been shifted to the house. Meanwhile, Lucky tries to impress Preeto. However, he fails to make her happy, as Jugnu spoils his surprises.
Episode 464
Geet gets irritated with Maan, as he fails to concentrate on his work. Meanwhile, Maan plans a honeymoon trip, and asks Geet to keep it a secret. Preeto asks Lucky to plan something extraordinary to impress her.
Tuesday 13 October 2020
Episode 465
Geet and Maan plan their honeymoon, but hide it from Preeto. Later, when Lucky leaves the house, Jugnu and Preeto follow him. Geet and Maan also land in the same hotel, and Geet's bag gets exchanged.
Episode 466
Preeto follows Lucky hoping that she can catch him red-handed with the other woman. Meanwhile, Lucky decorates the entire room to surprise her. Nandini also lands up in the same hotel and sees Geet. Nandini informs Dev about Maan and Geet's trip.
Wednesday 14 October 2020
Episode 467
Maan decorates the room with candles to prepare for his date, and Geet gets carried away. Lucky and Preeto shift the dead body to Nandini's room. Nandini screams loudly, and attracts the attention of Geet and Maan.
Episode 468
Drunk Jugnu hunts for the killer, while Dev and Nandini shifts the dead body to his room. Later, Nandini catches Preeto and Lucky red-handed. Afterwards, Geet finds the dead body in front of her room, and screams loudly.
Thursday 15 October 2020
Episode 469
It's Geet and Maan's anniversary, and he showers rose petals on her, while the entire family waits for the couple to start the celebrations. Everyone wishes Maan and Geet, and asks what gifts they got. Later, Maan asks Geet to find her surprise.
Episode 470
Final episode
Geet gets a cradle as the gift, and to Maan's surprise, Geet gifts him the same thing and tells him that she is pregnant. The family is extremely happy, and awaits the arrival of the new member in the house. Days pass, and Geet is ready to deliver a baby.