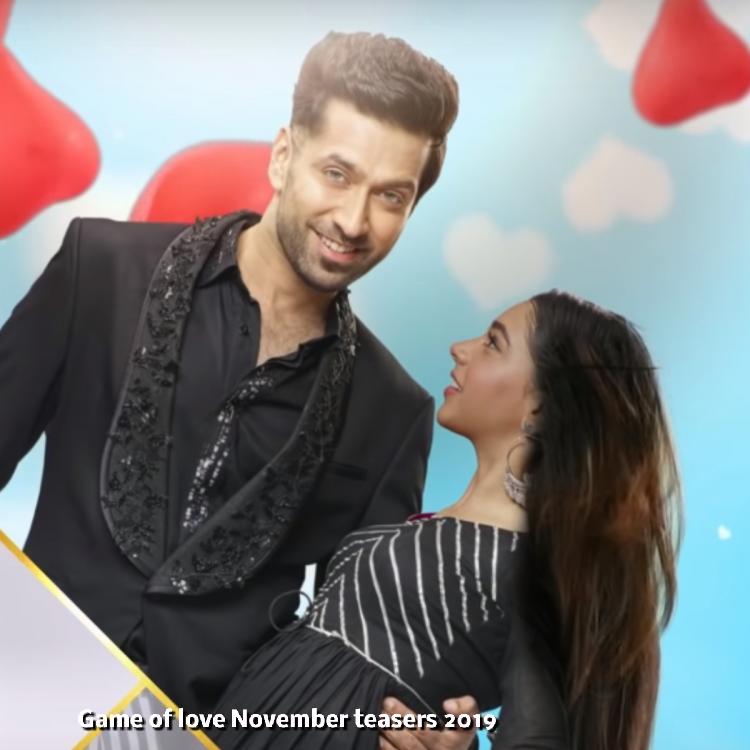 Years later and the story revolves around Anita and Shivaay son – Shivaansh who is a famous actor. Aditi and Mannat are the new women in his life and trouble is never far away.
Prev: Game of love October teasers 2019
Game of love November teasers 2019.
Friday 1 November 2019
Episode 695
Shivaay and Anika's son, Shivaansh becomes a famous actor and celebrates the launch of his movie,
Episode 696
Shivaansh talks about his parent's love story while ACP Aditi Deshmukh recalls her shocking past. Later, a nightmare leaves both of them traumatized.
Monday 4 November 2019
Episode 697
Shivaansh shares an emotional moment with his grandmothers. Later, Aditi is handed over the responsibility of his safety during an inauguration ceremony.
Episode 698
Shivaansh is upset on learning about the reviews of his film. His associates and ACP Aditi are shocked when he gets kidnapped.
Tuesday 5 November 2019
Episode 699
Shivaansh decides to come out of his fake kidnapping idea when Aditi taps his phone call. He pretends to faint when Aditi questions him about his kidnapping.
Episode 700
Aditi resolves to arrest Shivaansh. After a failed attempt, she forcibly enters his vanity van in order to put him behind bars.
Wednesday 6 November 2019
Episode 701
While Aditi prepares to expose Shivaansh in front of the media, he comes up with an ingenious strategy to tackle her.
Episode 702
Aditi meets a reporter who wants to help her expose Shivaansh. Later, she is shocked when the reporter does something highly unexpected.
Thursday 7 November 2019
Episode 703
Shivaansh loses his temper and assaults his arch-rival, Pankaj Kohli. Later, his bodyguard reveals a shocking truth about Shivaansh's health condition.
Episode 704
Pankaj tries to garner Aditi's support to plot against Shivaansh. Later, Shivaansh visits the police station and requests Aditi for a favour.
Friday 8 November 2019
Episode 705
Shivaansh and Aditi share a special moment. Later, things go awry when Shivaansh interrogates a criminal.
Episode 706
Aditi complains to her senior about Shivaansh. A worried Aruna compels Shivaansh to leave the police station. Later, Shivaansh is happy to meet Radhika and Dhruv.
---
Monday 11 November 2019
Episode 707
Khanna becomes worried as Shivaansh hides his illness from his family. Later, Shivaansh helps Aditi to get access to a five-star hotel.
Episode 708
Aditi and Shivaansh attend the New Year party as a couple. Later, Shivaansh is shattered, witnessing the unthinkable during the celebration.
Tuesday 12 November 2019
Episode 709
The Oberois receive some exciting news. Aditi confronts Shivaansh about Honey and wants to check his mobile phone.
Episode 710
Shivaansh holds Aditi responsible for ruining Shivani's engagement. Later, he forcibly enters her house and holds her at gunpoint.
Wednesday 13 November 2019
Episode 711
Aditi is suspended after the Anti Corruption Bureau finds her guilty of bribery. Later, Shivaansh offers a shocking proposition to her.
Episode 712
Shivaansh delivers a pen drive to Aditi to prove her innocence. Later, on seeing the video, Aditi realises that Shivaansh has deceived her.
Thursday 14 November 2019
Episode 713
Aditi secretly records Shivaansh's confession and presents it before her supervising officer. Later, Shivaansh executes his ingenious plan to outsmart her.
Episode 714
Aditi's boss asks her to safeguard Shivaansh. Later, Shivaansh faces a problem when Angad's aunt, Sudha meets Shivani.
Friday 15 November 2019
Episode 715
Shivaansh takes a stand when Sudha humiliates Radhika for her defective eye. Later, Aditi finds a clue and starts searching for a stranger.
Episode 716
Shivaansh tries to make Sudha realise her folly. Owing to the circumstances, Angad takes a stern decision regarding his and Shivani's wedding.
---
Monday 18 November 2019
Episode 717
Shivaansh takes a decision to ensure Radhika's well being. Aditi feels something is amiss after she spots an intruder escaping from the mansion, while Asiya goes missing.
Episode 718
The Oberois worry about Shraddha. Shivaansh rebukes Aditi for her negligence. Later, he frets when Aruna shows his horoscope to a pundit! But, why?
Tuesday 19 November 2019
Episode 719
Aashiya bids an emotional farewell to Shivaansh and his family. Elsewhere, a new girl is all set to enter Shivaansh's life.
Episode 720
While Mannat assaults Shivaansh in the hospital, her aunt comes up with a devious strategy to loot Shivaansh's family.
Wednesday 20 November 2019
Episode 721
Mannat secures a job at Shivaansh's house after she wins his grandmother's heart. Later, she gets scared, overhearing a shocking conversation.
Episode 722
Shivaansh carries Mannat in his arms after she unexpectedly falls unconscious. Later, an infuriated Shivaansh accuses her of theft.
Thursday 21 November 2019
Episode 723
Shivaansh shows a shocking video of Mannat to his grandmother. Unaware of Varun's intentions, Shivaansh's family welcomes him to the house.
Episode 724
Varun tries to steal the microchip containing the evidence against him from Mannat's bag. Later, Shivaansh accuses Mannat of leaking his photos to the media.
Friday 22 November 2019
Episode 725
Varun plans to steal a precious document from Shivaansh's locker. Meanwhile, Sudha gets suspicious on finding something odd in Shivaansh's room.
Episode 726
Shivaansh loses consciousness while dancing. Later, on finding the locker empty, he accuses Mannat of a serious crime.
---
Monday 25 November 2019
Episode 727
A guilt-ridden Shivaansh asks Khanna to take food and ice-cream for Mannat after wrongly accusing her. Later, he tells Varun about the location of the new will.
Episode 728
Sudha confronts Shivaansh on his health. However, he stands firm when she repeatedly tests him. Later, Varun escapes with the locker.
Tuesday 26 November 2019
Episode 729
Aditi instigates Shivaansh against Mannat, while Radhika gets abducted. Later, a miffed Shivaansh confronts Mannat.
Episode 730
Shivaansh rescues Radhika. Later, the doctor has some bad news for Shivaansh when Mannat takes him to the hospital.
Wednesday 27 November 2019
Episode 731
Sudha cancels Shivaansh's sister and Angad's marriage. Later, Mannat confronts Shivaansh when she mistakes him to be responsible for Munni's disappearance.
Episode 732
Varun wants to blackmail Mannat into doing his evil bidding and plans to get her married to Shivaansh. Later, the Oberois witness some shocking news on the television.
Thursday 28 November 2019
Episode 733
While Shivaansh and Mannat are at loggerheads, Aruna suffers a heart attack. Later, Varun coaxes Shivaansh to fake a marriage to save her.
Episode 734
While Shivaansh decides to conduct a fake marriage with Sonia, Varun hands over a mysterious syringe to Mannat and instructs her to do his evil bidding.
Friday 29 November 2019
Episode 735
Shivaansh and Mannat make a wish on sighting a shooting star. A guilty Mannat fails to complete the task assigned by Varun. Later, Varun spikes Sonia's drink.
Episode 736
Mannat attempts to tell Shivaansh about the abductor's demands on multiple occasions. Will she succumb to Varun's threats and take Sonia's place during the wedding?
See Game of love full story here
Next: Game of love December teasers 2019
---
Other Starlife teasers
[display-posts category="Starlife TV teasers"]
---