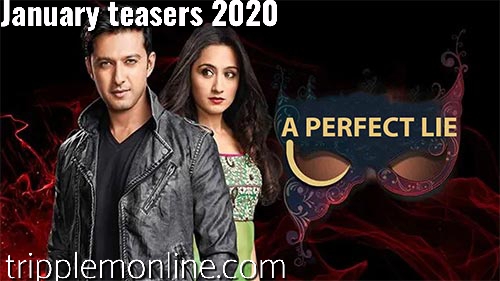 Divya and Sakshi battle it out to protect their secrets. Who is coming out on top?
Prev: A perfect lie December teasers 2019
A perfect lie January teasers 2020
Wednesday 1 January 2020
Episode 22
Sakshi instructs Aakash to find Payal and keep an eye on Durga. Raima invites Sakshi and Durga to a painting exhibition, where a painter gifts Durga a portait of Sakshi.
Episode 23
Avantika's father, Sahani, invites the Goenkas for dinner. Dr Dayal and Durga join them. At the dinner table, Sahani proposes Avantika and Shaurya's marriage. However, Shaurya turns it down.
Thursday 2 January 2020
Episode 24
On learning about Shaurya's refusal to marry her, Avantika contemplates suicide. However, she receives an anonymous letter, which reveals that Shaurya had raped Payal.
Episode 25
Durga informs Shaurya that Bagchi wants to see him first, after his operation. On Durga's advice, Bagchi pretends to be blind. A delighted Shaurya informs Sakshi about Bagchi's failed operation.
Friday 3 January 2020
Episode 26
Aakash follows Durga and takes her photographs with Payal. Later, he shows them to Sakshi. Sakshi shares the photos with Shaurya, who confronts Durga about her relationship with Payal.
Episode 27
Durga introduces Payal to Shaurya. On seeing Shaurya, Payal screams and leaves the asylum. Later, Durga comforts Payal. Shaurya informs Sakshi about his meeting with Payal.

---
Monday 6 January 2020
Episode 28
To get information about Nitya, Sakshi meets Navin Mathur in jail. He hands over details of the goons, whom he had hired to kill Nitya. Meanwhile, Aakash shows Nitya's death certificate to Sakshi.
Episode 29
Durga lies to Shaurya about meeting Payal in an NGO. She also informs Shaurya that she is aware of what he did to Payal. Shaurya tells her he was framed.
Tuesday 7 January 2020
Episode 30
Shaurya informs Sakshi that Durga had met Payal in an NGO and how he has convinced Durga of his innocence. Meanwhile, Durga learns that Aakash disguised as a doctor to acquire Payal's medical reports.
Episode 31
Dr Dayal informs Rajnath and Sakshi that he is looking out for a boy for Durga, and asks Shaurya to stay away from her. An upset Shaurya informs Durga he is going to meet Payal.
Wednesday 8 January 2020
Episode 32
Shaurya asks Durga to inform Dr Dayal about his innocence. On learning about Shaurya's intention to visit Payal, Durga tells him if he meets her regularly, she might recover faster.
Episode 33
Sakshi instructs Aakash to circulate posters of Bagchi's missing daughter, Divya. Believing that Sakshi might harm Divya, Durga stops her search. Meanwhile, Sakshi asks Raima to accompany her to the farmhouse.
Thursday 9 January 2020
Episode 34
In a bid to stop Sakshi from visiting the farmhouse, Rajnath lies to her about a meeting. While Sakshi informs Rajnath about Shaurya and Durga's visit to the farmhouse, Raima's phone rings.
Episode 35
Sakshi arrives at the farmhouse and sees Shaurya in the bedroom. Shaurya saves Rajnath saying he was trying to convince him to stay away from Durga.
Friday 10 January 2020
Episode 36
Shaurya expresses his wish to help the poor to Durga, but she asks him to stay away from her. In the meantime, Divya is kidnapped and the kidnapper informs the same to Sakshi and Aakash.
Episode 37
Even as Rajnath assures Raima not to worry about Sakshi, an intoxicated Shaurya blackmails him over his illicit affair. Durga learns that Bagchi is missing from the old age home.

---
Monday 13 January 2020
Episode 38
Sakshi learns Bagchi is not blind. However, he lies to Sakshi about Durga being unaware about the same. Meanwhile, Sakshi sets the house, where Bagchi and Divya are kept hostages, on fire and flees.
Episode 39
Aakash thanks Durga for helping him and reveals that he earlier wanted to inform her about Divya's whereabouts. Rajnath informs Dayal about Durga's positive influence on Shaurya.
Tuesday 14 January 2020
Episode 40
Raima confronts Rajnath for discussing Durga and Shaurya's marriage with Dayal. Sakshi continues to suspect Rajnath. Shaurya cancels his bet with his friends and asks them to stay away from Durga.
Episode 41
On seeing Dev visit his mother, Suchitra, Sakshi suspects he might ask about Nitya. Rajnath plans to inform Dev about Nitya's death. Later, Sakshi is shocked to learn that Rajnath had proposed Durga and Shaurya's marriage.
Wednesday 15 January 2020
Episode 42
When Dev questions Shaurya about Payal's rape case, Shaurya informs him that he was declared innocent in court. He also informs Dev about Nitya's death. Elsewhere, Durga decides to take revenge on Dev.
Episode 43
Sakshi confronts Dev for interrogating Shaurya over Payal's case. However, an adamant Dev decides to pursue investigation in the case without affecting their relationship.
Thursday 16 January 2020
Episode 44
On learning about the architect's accident, Ganguly suggests Shaurya's name as a replacement. Later, Aakash installs a spy camera in Ganguly's house, where Shaurya visits him to thank him.
Episode 45
Shaurya gives Rs 10 lakh to Ganguly for making him the chief architect of the hospital project. Durga asks Acharya become the advisor of the project. Later, she learns about an attack on him and suspects Shaurya's hand in it.
Friday 17 January 2020
Episode 46
Durga informs Dayal that she had slapped Shaurya on learning about his bet to impress her. She adds that Shaurya and his friends raped Payal to take revenge on her. Dayal encourages a disheartened Durga to teach the Goenkas a lesson.
Episode 47
On seeing a video footage of Ganguly's atrocities against his student, Nandini, Durga vows to expose him. Meanwhile, Dev and Durga coincidently order the same cake for Payal's birthday.
---
Monday 20 January 2020
Episode 48
Fearing Dev's intentions, Durga decides to shift Payal from the hospital. Dev informs Durga about his wish to meet Payal. Meanwhile, Aakash tells Durga about Ganguly taking advantage of Nandini.
Episode 49
Durga rejects Dev's wish to meet Payal, informing him about her unstable mental condition. However, she discusses Nitya's death with him. Meanwhile, Shaurya's dedication towards the project impresses Sakshi.
Tuesday 21 January 2020
Episode 50
Durga befriends Ganguly's daughter, Sagarika. Later, with Durga's help Sagarika learns about Ganguly and Nandini's affair. An upset Sagarika confronts Nandini, who reveals that Ganguly forced her to have an illicit relationship with her.
Episode 51
When Sagarika informs her mother about Ganguly's illicit affair, she instructs her not to disclose the same. To distract Dev from Payal's case, Suchitra asks him to take up the responsibility of her school.
Wednesday 22 January 2020
Episode 52
Sakshi, who finds Raima's message in Rajnath's phone, tells him to get Shaurya married to Sagarika. Meanwhile, on Aakash and Durga's insistence, Sagarika confronts Ganguly for having an affair.
Episode 53
Durga learns about someone getting hold of Payal's file. Ganguly fires Nandini from her job. The Goenkas attend Ganguly's party. Shaurya offers Durga a lift, and informs her about a video made for Ganguly.
Thursday 23 January 2020
Episode 54
Dev and Durga dance together at the party where she informs him about Nitya's diary. Meanwhile, Ganguly is exposed when the video swapped by Durga is played.
Episode 55
Dev and Durga discuss Ganguly. She also thanks Aakash for helping her expose Ganguly.
Friday 24 January 2020
Episode 56
A furious Rajnath and Sakshi rebuke Shaurya for ruining the family's reputation. In order to clear Shaurya's name, Rajnath orders Aakash to prove that Shaurya's degree is genuine. Durga asks Aakash to follow Rajnath's instructions.
Episode 57
A dejected Shaurya informs Durga that his parents were unaware of his fake degree. He further reveals that the court proceedings of the rape case disturbed his studies. Shaurya requests Durga marry him, but in vain.
---
Monday 27 January 2020
Episode 58
On Suchitra's insistence, Sakshi forgives Shaurya. While Dr Dayal performs his daughter's death anniversary rituals, Sakshi asks him to reconsider his decision of withdrawing support from the project.
Episode 59
Sakshi and Rajnath scold Shaurya for informing Durga about his fake degree. Shaurya, meanwhile, is shocked to learn that Dr Dayal wants Dev to be the chief architect.
Tuesday 28 January 2020
Episode 60
Sakshi warns Rajnath about Durga and Dev. Shaurya is irked when he learns about Dev reopening Payal's case. Meanwhile, Dr Dayal requests Dev to drop Durga to her house. How will Shaurya react to this?
Episode 61
Shaurya informs Sakshi that Dev has acquired the files of Payal's rape case. Dr Dayal supports Dev, but Durga is adamant on troubling him. Shaurya and Dev have an argument.
Wednesday 29 January 2020
Episode 62
Rajnath snatches the knife from Shaurya. Dev suspects Rajnath of hiding the truth from him. Rajnath informs Sakshi about Dev investigating Payal's rape case. Durga instigates Dev against Shaurya and decides to show Nitya's diary to Dev.
Episode 63
Aakash informs Sakshi about Dev and Durga being together in a restaurant. Shaurya informs Rajnath to keep Dev away from the project. Meanwhile, Dev finds Nitya's diary in Durga's bag and tries to steal it. Will he succeed?
Thursday 30 January 2020
Episode 64
Shaurya deliberately spills water on Dev. Durga leaves with Dev in order to make Shaurya feel jealous. The couple is shocked to find their tyres punctured and suspect Shaurya.
Episode 65
Shaurya becomes intimate with Urvashi. He later finds a note and an envelope containing pictures of their intimate moments. He panics on finding out that the pictures have been sent to Durga as well.
Friday 31 January 2020
Episode 66
Teaser unavailable
Episode 67
Teaser unavailable
See also: A perfect lie full story starlife