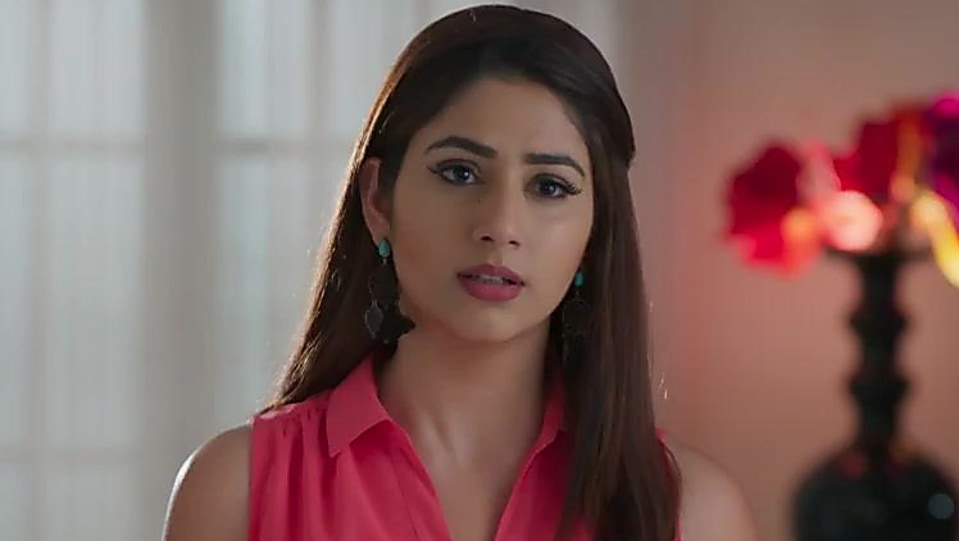 Arjun thinks that I want property but not with taking Baba's life thats why I am taking Jia's side. Nisha calls someone.
Jia comes home and says to Kaki that I brought antidote for Baba's poison. Kaki cries and says some goons of Nisha came and took Baba away. Nisha comes there and says you have very less time now to save Baba. Jia sits in her feet and says I will ask Baba to sign property papers, please take me to him. Nisha says Baba will not come here, Jia will come with me and if Jia takes sign on property papers from Baba then Baba will comeback here, Jia says I am coming. Nisha asks her to not to cheat otherwise baba will not be saved, Arjun looks on. Jia goes to her room.
Nisha and Jia are in car going to Baba. Jia sees cockroach in car and screams, Nisha throws it out of car.
Nisha brings Jia to Baba, Baba is huffing for air. Jia runs to him and asks if he is fine? Nisha says you have 15minutes to save his life, ask him to sign property papers. Jia shows property papers to Baba and says sorry I am asking for your life's wealth, please sign these papers. Baba signs property papers with shaky hands. Nisha smirks. Jia says you have to save Baba's life. Nisha gives antidote to Jia and takes property papers.
Jia makes Baba drink antidote, Baba coughs. Nisha hugs property papers and smiles. Jia asks Baba if he is fine? he nods. Jia tries to make Baba stand up, Baba says you took my sign against your will because you didnt want this property to go wrong hands. Jia says your health is most important, money doesnt matter infront of your life. Jia starts leaving with Baba. Nisha says Kaki prayed a lot but Nisha got the reward.
Nisha smirks at property papers and says Kaki's prayers bore fruit to me, she hums looking at papers. Arjun comes there and sees papers with her, he says you seem happy, she hugs Arjun and says I am so happy, I had to serve that oldie, we would have kidnapped him earlier, we had to waste money in treating him too. Arjun says you wouldnt get him treated.
Nisha says let it be, today is my new start, I am the owner of Jindal property. Arjun says so you are alone owner of property? Nisha says I have something for you too as you helped me so much. Nisha signs cheque of 25 lacs and says you have such a nie work me, she gives him cheque and says its not less? Arjun says you are giving me change?
Nisha says let be check, she says you are lucky that I have more money, she gives him cash and starts throwing at him, she says you can take as much as money you want. Arjun grabs her and says am I a crow? he glares at her, she is stunned. Arjun says I am not a crow that you are giving me in drops, I am your husband, not servant, I dont care about property, you are my wife, my life partner, I held your as Adi and now I will hold your hand as Arjun, he holds her hand and says in your health, sickness, happiness, worry, wealth, I have share in everything with you, I am your partner.
Nisha thinks that we removed his memory and replaced with what we wanted but now we will have to remove Adi's memory from his mind, I have to ask Priya to give him a session, I cant bear him, what if he gets Adi's memory again and goes against me? I have to handle him nicely. Arjun says we are partners. Nisha says we have age gap, we had to marry under circumstances. Arjun says we fought for our love in last birth.
Nisha says stop talking about last birth, I am leaving, Arjun says listen to me darling, Nisha leaves. Arjun sees cash thrown, he takes cash and says I will get more money, this Nisha was throwing money on me but I will get wealth soon and make Nisha dance to my tunes, I just want half of the property and then I wont spare anyone.
Jia brings Baba home, Baba is fine. Chinni hugs Baba and cries. Kaki is happy to see him and asks how is he? Baba says nothing can happen to me as Jia is with us, if she didnt come on time then I wouldnt be standing here. Jia says no more talks Baba, take rest. She makes him lie on bed. Chinni says I have packed bags to leave this jail, we will all leave and Arjun will come someday.
Jia says who said that we are leaving from here? Chinni says you said you will bring Baba home so Kaki asked him to pack bags, Jia says but.. Kaki says Baba was in danger for life, we wont stay here more, we will go and do peace pooja in our house. Jia says this house needs peace more. Kaki says Nisha have got the property and she wont let us live in peace here. Chinni says what Nisha wanted has been done, we dont have to stay here. Jia says stop it, this is not our loss but gain, this is not our end but start. Kaki says what are you trying to say? Nisha asks Kaki, Baba, Chinni and Jia to come down.
Arjun comes to lounge and asks Nisha what are you doing? she say wait. Jia, Kaki, Baba and Chinni comes there. Nisha shows them gifts and says these are for you, she says I have brought imported dry fruits for Baba for his health, Chinni glares at her. Nisha gives 11000 to Kaki and says you used to say its blessed shagun, you are going to chawl so you will have to bear poorness, I like to help and especially when guests are leaving my house.
Arjun thinks that Nisha changed her colors, I have to act now as old Adi. Arjun says what are you doing? throwing my family out of house? Nisha says I am sorry, I should have taken your permission but I have right on them and I am using that right to throw them out, I could kick them out too. Arjun says you wont misbehave with my family.
Chinni says we can expect this from this woman. Kaki throws money away and says I dont need your money, you can buy wine, we have money to eat. Nisha says but Baba needs medicines, how will you afford that? Kaki says can handle it, we are leaving. Arjun asks Nisha stop them. Nisha says to Kaki that you will see poorness in this age, dont worry about money, when you need it then you ask from me, I will give you money if I am in good mood, get out.
All are stunned. Arjun is tensed and thinks that I can find way to get property when they stay here with Jia. Arjun says I love them a lot,please stop them, Nisha says if you love them so much then go with them. Arjun says they are my family. Nisha says they are Adi's family not yours, you are Arjun, you dont have blood relation with them, you said you went against them to marry me? my foot, this Kaki and Baba have destroyed my life, this house is mine and everything will happen here as Nisha wants.
Jia comes there with a tray and says I am sure you will take care of plants too here and Priya can help you too. Nisha shows her gifts and says these are for you, get lost from here and take these puppets Baba, Kaki and Chinni with you. Jia says I have brought return gift for you. Nisha looks at tray in her and asks what is this? Jia says you were talking about poorness, Jia shows her bowl and says this bowl will help you in begging, Nisha says shut up.
Jia asks her to read to property papers, Nisha says Baba signed these papers and named them in Adi's name and I am Adi's widow so I got it. Jia laughs. Arjun thinks that that Jia be silent otherwise Nisha will slap you. Jia says to Nisha that you cant even read papers nicely so you dont deserve this property they say that you cant change and your destiny is not get anything and thats what happening with you, you wont get anything.
These papers are fake. Nisha is shocked and tries to slap her but Jia holds her and says if you try to hurt my family then I wont spare you. Nisha says you saved property but how will you save this oldie baba? Jia says no Nisha please dont do anything.. what are you gonna do? give him poison? try to kidnap him? but I have a solution.
She shows her health band and says it will track Baba's health, if you try to give him poison then this band will alarm police too as police and doctors are tracking his health, Baba wears the health band. Arjun smirks. Kaki says Nisha you have lost. Jia shows her bowl and pennies indicating that she is a beggar, Nisha glares at her
Jia says to Nisha that you lost, Nisha glares at her. Jia says Nisha you can stay in this house but behave yourself. Arjun thinks that I dont know what this Jia thinks and do, dont know how Adi used to handle her.
Prev: Friday update on kindred hearts 
Baba says to Jia that you gave me peace today. Kaki says Jia never lost faith, Chinni says why you allowed Nisha to stay here? Jia says Arjun still trusts Nisha because she is giving him medicines, I have to bring him to his family back too.
In morning, Arjun comes to Priya and says our plan failed. Priya says I think Jia is very clever, you got 20lacs so we should leave before Jia catch us too. Jia comes there. Priya hides. Jia says Arjun I have to talk to you. Arjun says I have to listen to you. Jia says not here, lets go somewhere. They leave. Priya sees them going.
Arjun and Jia comes to isolated in park. Jia says I have to win your trust, Nisha is playing with your mind. Arjun says dont know why Nisha thinks my family has tortured her, you must filled Nisha's ears against family. Jia says you are still thinking about Nisha? Arjun says dont fool me, tell me where are your rented goons? call them. Jia says I will do anything when I know you are fine. Arjun says you think I am a fool? I wont be in your trap, keep this drama with you, he throws away papers and leaves.
Jia calls out to him, she runs behind him and asks him to listen. Arjun says you called me to waste time, Jia falls down and her foot nail starts bleeding. Arjun comes to her, she says listen.. he says shh.. he takes off her slipper, mana k hum yaar nahi plays, Arjun wipes her wound carefully. Arjun says you have to be careful, how you do this everytime? Jia says what? he says nothing. Arjun thinks why I feel pain for her wound? maybe because I dont like blood. Arjun ties bandage on her wound. Jia says you have to listen to me, Arjun says we will talk at home.
Jia approaches him and says you have to give me a chance, Arjun moves back but slips and falls down from cliff, Jia shouts Arjun.. Arjun holds a tree branch, Jia crouch down and asks him to hold her hand, he grabs her hand, Jia tries to pull him up, she pulls him up and asks if he is okay? she hugs him tightly and cries. Arjun says why you saved me? you are my enemy? you hate me? Jia says you are stupid, I dont hate you, you irritate me but still I love you.. I love you Arjun.. Arjun is stunned.
They share eyelock, Jia is in tears and says please try to understand my love. Arjun recalls flashbacks of Adi and Jhanvi.. Jia says why you are silent? I never said it to someone else. Jia says I never felt this for anyone else, I want to help you, please come with me to London for sometime. Arjun says give me time, he leaves. Nisha is calling Arjun and says to Priya that Arjun must think that I lost so he has gone to Jia's side. Priya says you are Arjun's wife, he wont leave your side.
Arjun comes home. Nisha comes and says why you were not taking call? Nisha asks why your hand is bandaged? he says I got injured. Arjun looks at bandage and recalls how Jia applied it, he smiles. Nisha asks what are you thinking? Arjun says I didnt feel good that Jia insulted you. Nisha says to Arjun that I want to take revenge from Jia for the insult she did. Arjun ignores her and leaves. Priya says Arjun must be in shock, she leaves.
Arjun sees Jia coming in house, he smiles seeing her. Jia looks at her wounded arm and winces in pain. Arjun recalls how Jia saved him and hugged him. Arjun is mesmerized by her and stumbles on stair steps. Jia looks at him and shyly, they both cant look away. Arjun is about to bring ointment to her but Kaki comes there and asks how she got injured? she takes her away, Jia looks at Arjun and leaves. Arjun looks at his bandaged hand and how Jia took care of his wound.
Chirag comes home and says mom I am back from camp. Jia, Kaki and Chinni are playing video games on TV. Arjun sees Jia laughing and playing with them, he stealthily looks at her and whistles but Jia doesnt see it. Chinni sees him before he hides, Chinni says I heard some whistle, Jia says you are cheating in game. Arjun looks at Jia from far and smiles recalling how she saved him and confessed her love, mana k hum yaar nahi..
Jia turns and sees him smiling at her, she is surprised and smiles back.. Kaki turns to see but Arjun hides, Kaki asks Jia whom you are looking at? she says no one. She turns and sees Arjun looking at her again, she blushes seeing him. Arjun thanks her silently for bandage and leaves. Jia sees him gone and smiles to herself.
At night, Nisha comes to Chinni with Chirag. Chinni says I am studying, please leave. Nisha says what my daughter is studying? Chinni says its humanities, my mom didnt make me learn anything so I study myself. Nisha says you can curse me but I will always worry for you, I brought a blanket for you. Chinni says its extra long.
Chinni says my grandma has made me learn to adjust in what we have, you can take it. Nisha says cant you forget everything and accept your mom? Chinni says you are a mom now? when I have property in my name? you are cheap. Chirag says we are on roads now? Chinni says yes and its Jia's goodness that she is letting you stay here, Chirag says I knew Jia was a nice girl, Nisha asks him to leave, he leaves.
Nisha says I know you like this blanket from childhood. Chinni says you remember the blanket but not my tears when I was left alone? Nisha says forgive me, I am your mother. Chinni says dont insult mother word and leave. Nisha thinks you have insulted me, you are not at all like me, you are totally following Jhanvi's path and dont know to work in this world. Nisha turns to leave but Chinni says one minute.. Nisha thinks seems like my fake tears worked on her. Chinni asks her to take blanket back with her, Nisha is stunned,she takes the blanket and glares at her but says okay daughter I am leaving. She leaves.
Jia is working in kitchen but Arjun pulls her behind fridge and says dont scream, I want to talk to you. He pins her to wall, they share eyelock, dil diyan galan plays as they are lost in each other. Jia says what you want to say? they hear Chirag coming in kitchen. Chirag doesnt see them and says Chinni insulted mom, I will take revenge but first I will make coffee for her.
He wears headphones and doesnt hear Arjun and Jia. Jia asks Arjun what he wants to say? Arjun says I want to answer about the thing you told me, Jia recalls confessing her love. Arjun says I.. actually.. Nisha comes there and asks Chirag if he saw Arjun? Chirag says no. Arjun and Jia hides behind fridge. Arjun says to Jia that I will tell you after I get to know whats going on in Nisha's mind, I will tell you my heart's thing but not there, come to city studio at 2, I will wait for you, you will come? she nods. Arjun smiles and leaves.
Next: Sunday update kindred hearts
Kindred hearts September teasers 
Other Zee World updates below 
[display-posts category="Zee World written update"]