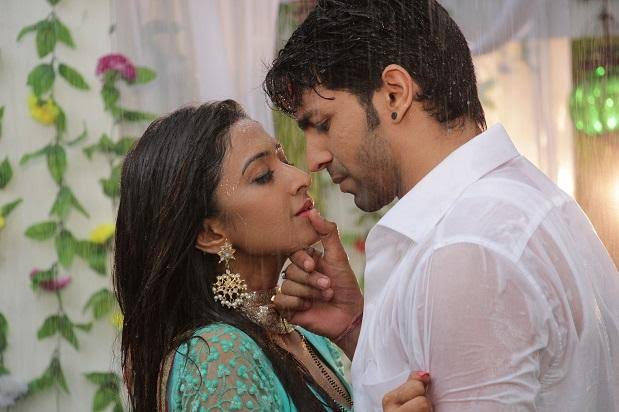 THE HEIR on Zee World Finale ends on a happy note as Raj and Preet, Rohan and Simran get Married. Five years later Raj and Mannu give birth to a girl, while Rohan and Simran gave birth to a boy. Also Amba realises her mistakes and the conflict between the families end.
In the last episode, Simran is seen crying. Amba ask her to think if Mannu will get a man better than Raj. She says it's tough for you, try to understand, at least do a drama in front of Mannu, her marriage with Raj should take place.
Raj stop Rohan and asked why are you punishing yourself? why can't you give another chance to Simran? Rohan says she doesn't love me. Raj says maybe your love ended, else you wouldn't have touched this alcohol.
Rohan says I love her a lot, Raj says but you are scared to have a heartbreak. Rohan says no, I understand her, I am ready to leave her for her happiness, is this not what love is all about? Raj says if you love her, you will make a last try to convince her, else I promise I will not marry Mannu. He leaves.
Simran says fine, I will marry Rohan for Raj and Mannu's happiness, who will explain this to Rohan. Rohan comes and says I understand, Raj told me if I don't give another chance to Simran, he will not marry Mannu.
Amba think Raj and Mannu are ready to sacrifice their love for Simran and Rohan's sake. Simran says don't forget this is just a drama. Rohan get shocked and says yes, just a drama I understand.
Its morning, Amba says the time for a new relation has started. Raavi ask the bride and groom to feed water to each other. Raj and Mannu smile. Raj ask Rohan to feed water to Simran first, then he will feed water to Mannu. Rohan takes the water from Simran. Simran drink water by from Rohan. Raavi ask Simran to feed Rohan. Simran does it. Raj and Mannu drink the water by each other's hands.
Amba apply mehendi on Mannu's hand. Babli takes Raj for a surprise. Raavi apply mehendi on Simran's hand. The lady ask Amba to write Mannu's husband's name. Mannu smiles. Raj signs Rohan and smiles. Rohan look at Simran. Raavi says I will also write husband's name. Simran think of Raman and cry. She think of Mannu's words. She think I can't love anyone now, maybe Mannu is right, I should move on, I am going to start a new life by marrying Rohan for you and everyone's happiness.
Raj smiles seeing Mannu coming to the wedding mandap. Amba and Raavi compliment her. Pandit ask them to call the groom and bride. Amba worries that Mannu might know that Simran and Rohan are just acting. Mannu ask her to call Simran,  she asked are you hiding something. Simran comes with Rohan. Everyone see the newly weds. Simran asks Mannu to marry Raj. Mannu hug Simran. Mannu and Raj take wedding rounds. They get married. They sign on the marriage register and get legally married too. Raj asks Mannu where will she go now. Raj lift Mannu and take her to the room. Tere sang yara….plays….. their old moments are seen.
Five years later Raj and Mannu gave birth to a girl, while Rohan and Simran gave birth to a boy. Raj and Mannu kid and Rohan and Simran kid are fighting, Rohan's child get hurt and scream. Everyone comes out. Raj/Mannu's child says Maa, I have made him lose. Mannu ask her why did you dress like a boy. Her daughter says I have to look like a boy to win.
Mannu says who said this, its nothing like that, girls have equal power as boys, power is not physical appearance, power is in realizing one's own identity. She says this fight and difference between boys and girls, I don't know when this will go on, we have to stop this, society can't go ahead about boys and girls, we have to give values to the kids, that they respect people.
Amba says your mum is right, I also did this mistake, everyone knows my family and village have suffered, I have raised my daughter as a son for many years, but this won't happen now, a new history will be written in this village.
The family keeps a ceremony and crown Mannu's daughter as the The Heir. Amba look at the Kalgi and recall Mannu. She fixes the Kalgi to her pagdi. She says its a big responsibility, Raj and Mannu have ended the enmity between Bajwas and Pavaniyas, you have become the head, you have to manage this responsibility, you have to take care of this village, you are the Waaris (THE HEIR) of the entire village.
Everyone smiles. Amba gives the sword to Mannu's daughter. She goes to her mother (Mannu). Mannu kisses her her forehead. Mannu look at Amba and recall her childhood moments. Mannu makes her daughter sit on the head's chair. They smile.
And they LIVE HAPPILY EVER AFTER. Did you enjoy the series?