In the season 2 Mehek rebirth track, Mehek falls for Shaurya's gestures even though at first he wants revenge from her. Unawares of his true intentions, mehek continues to defend him in front of the coach.
Later Yuvraj concots a plan to defame Mehek. He asks Karan to give her excess Alcohol. Mehek says 'I LOVE YOU Shaurya's in her drunken state. Shaurya rescues Mehek when she is kidnapped. Swetlana's son, Arush arrives in the picture. Arush's marriage is arranged to Sweeti, Shaurya's sister. Soon even Shaurya falls deeply in love with Mehek too.
Swetlana's comes to the picture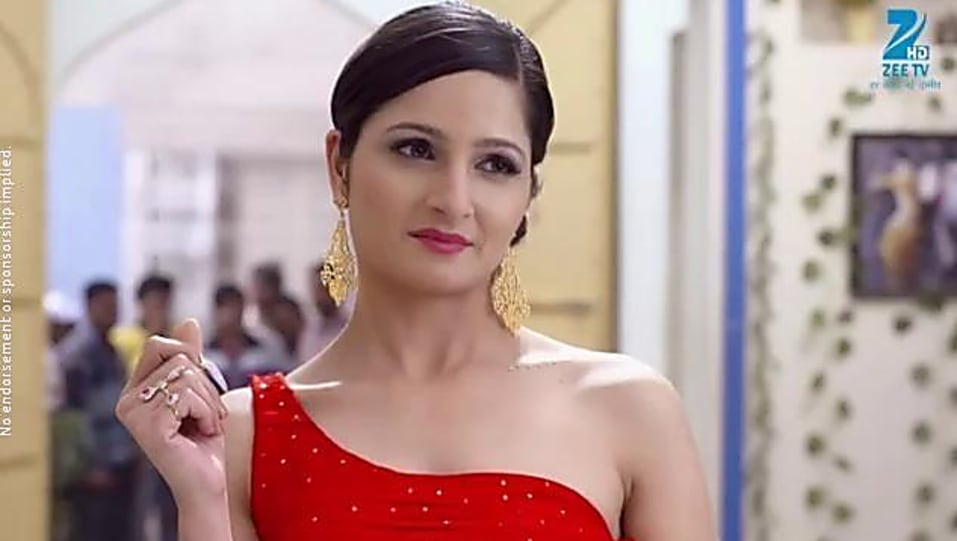 Arush takes his mom to Sweeti's family. Swetlana is shocked to see Shaurya after so many years. She calls off the engagement out of fear. Mehek is in a temple. Swetlana moves towards her with a car. She runs from there when she sees Mehek's face. Swetlana goes to a magician known as Baba to get Mehek killed again.
Shaurya sees Mehek everywhere, he wonders why he misses her. Mehek and Shaurya have a banter in the college ring. Mehek punches him hard in the face. Swetlana however, pays some goons to finish Mehek off. Mehek beat Swetlana's goons when they try to attack her. Shaurya also confesses how much he loves Mehek. Yuvraj is pissed when Swetlana announces her decision to sponsor Mehek.
Swetlana uses her sponsorship influence to put mehek in her control. She frames Mehek, which leads to a rift between Shaurya and her. After long struggles, Mehek is finally back with Shaurya. Their families fix their marriage. The duo starts to suspect Swetlana. Swetlana plans something deadly for Mehek's mehendi function. Shaurya finds Mehek's coach dead at the farmhouse and message Mehek to come over.
She leaves for the farmhouse, Swati follows her in a rickshaw. Swetlana's thugs follow them. One of the thugs shoots, the bullet hits Swati. Mehek in a distraught state rushes her to the hospital. It's too late as the doctor breaks the news of Swati's death..
Mehek and Shaurya take revenge in Swetlana. 
Swetlana returns to Baba and tells him that he killed the wrong person, and Mehek is alive. Meanwhile, Mehek blames Shaurya for her sister's death. Mehek enters Swetlana's room with a knife. They are both heading somewhere in the car. Swetlana takes out her gun and brings Mehek to a cliff.
She narrates how she killed her & Shaurya in their first life. Mehek recalls everything. Swetlana shoots her, she screams. Shaurya feels uneasy. Kanta watches from afar and get Mehek to the hospital. Kanta meets Shaurya but he doesn't remember anything. Mehek's burial is being performed. Arush and Swetlana are happy. Swetlana goes to sit in the car. She sees Mehek's ghost at the back. She runs out scared. Mehek didn't die, it's a plan to scare Swetlana.
Mehek and Shaurya happy ending
Finally, Swetlana falls on a knife while trying to attack Mehek and Shaurya. She dies. Mehek and Shaurya gets married with the whole family blessings.
Mehek Rebirth track… 
Their looks now will be different from their earlier ones. Karan will be seen going for a clean-shaven and casual look, while Samiksha will be seen ditching her traditional outfits to opt for a tomboyish look paired up with braided hair. She is always getting into fights, and her main opposition is Yuvraaj, who is Shaurya's father.
At first, they are constantly fighting with each other. And Shaurya aims to take revenge on her for deceiving him and making him lose a boxing  competition. Even though she had done that so that he could face his cooking which was his main passion.
Soon,  Swetlana crosses their path and she is jittery for her life… She plans to get them killed for real the second time, but will she succeed?
Speaking about the new transition years ago, Samisha Jaiswal had this to say...
"I got my first break on television with it. The character of Mehek has always been of a strong and independent girl. Post leap, she will continue to possess similar qualities and fight her own battles albeit she will be a boxer after reincarnation. My new avatar is totally different and a lot of research has gone into getting my new look right."
Also on Instagram she said:
Are you looking forward to the Season 2 and rebirth track?
See also: Mehek november teasers 2019
For more information, Click to read Mehek season 2 full story.