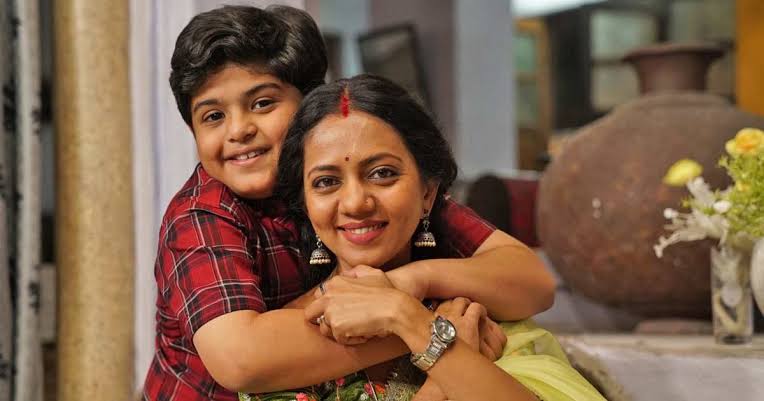 His Mistress Child 6 August 2023: The show starts with the ambulance rushing patients to the hospital. Reporter tells about the accident, as 50 seater bus fell in the valley. Krishna, the little boy looks on stunned and runs inside the hospital. He asks the guard to let him go inside to his mother and runs inside.
He couldn't find his mother there and asks where is my mother? The ward boy pushes him as he brings the patient on the stretcher. The boy falls down and shouts Maa. Yashoda is shown doing puja. She comes to her father in law and gives him tea. He blesses her. She checks his diabetes and asks him not to have tea. She calls Arvind and asks him to take Mahua and his tea. Arvind asks her not to tell loudly. She says ok. She helps the girls brush their teeth.
She gets a call about the bus' accident.She comes to Ashok and informs him that the bus fell in the valley. He says I will drop you. She tells that she has made food for everyone, says Astha has done her hw, and get drawing book for Nupur. She comes back. He says I will drop you. She says you have to drop the girls to school. He applies bindi to her forehead and asks her to go. She smiles, takes her purse and is going. Amma comes and gives her prasad. Yashoda tells her about bus accident and says she is going to help them.
She comes to the hospital and asks the workers to see that their organization can help the patients, and asks them to call Ramakant to withdraw the cash from bank. She says shift Shrivastav to another hospital. Krishna collides with her and stops to hear her. He says my Maa is missing and tells that they came here 3 days back for his Maa's treatment. He says he had gone to get free food, and when he returned, his mother was not there. She asks the guy Atul to help him. Krishna asks Yashoda to help him and says only you can help me meet my mother. Yashoda asks him to come, and tells that she is Yashoda and asks his name.
He says Krishna Mala. He says you have kept your mother's name. She goes to the administration office and comes to know that Mala was shifted to corridor due to the shortage of beds, and she is very ill, can die at anytime. She threatens the administration officer to shift her to ward else she will complain. He says ok. She comes out and tells that she will not let anything happen to his mother. Krishna hugs her. They come to the corridor and find her missing.
Krishna says where did she go? Yashoda says she might have gone out to search you. They go out and sees his mother falling down and fainting. She meets the doctor. The doctor tells that her condition is critical and they might need to do surgery. Yashoda asks them not to worry about money and asks to save her. The officer says who will sign, as the boy is small. Yashoda asks about her husband. The officer says she don't say. Yashoda says she will talk to her. Krishna asks her not to go. Yashoda says she will come back once his mother gains consciousness. She is on the way to go home and talks to Ashok on call. She asks if Bua ji was upset. Ashok says Amma will handle him, you are doing a good work. She asks him to go else judge will take his trial.
Arvind asks Mahua to come, before Babu ji comes. Babu ji scolds Arvind. Mahua takes his blessings. Arvind says he is dropping her to school.
Yashoda comes home and takes Babu ji's blessings. Babu ji says don't make food today, as stomach is filled with waiting time. Yashoda says she thought to make lauki kofte. He asks her to go and make it. Amma asks yashoda about the patients. Yashoda says condition is bad. Amma asks her to have halwa. Yashoda says she has to go again in the afternoon. Kamini comes there and asks for sugar. Amma asks Yashoda to give. Kamini asks yashoda to make tea also and says this is advantage of staying near Amma.
Yashoda comes back to hospital and meets Mala. Krishna tells Mala that Yashoda helped her get the bed and started her treatment. He sits down and thanks Yashoda. Yashoda says God will make everything fine. Krishna says there is no God. Mala asks him not to say like this. Krishna says Yashoda Madam is good than the God, she is getting you treated and also visible to us. Yashoda asks Mala about her husband. Mala is quiet. Krishna is upset. Yashoda asks Krishna to have something and gives him money to have food, and bring tea for her. Krishna goes. Mala tells Yashoda that she has brought up Krishna alone. Yashoda asks if your husband is no more. Mala nods no, and tells that destiny separated them. She says actually we were not married, and Krishna is our love child. Yashoda asks if love memory of both. Mala says yes and says he is in this city, I have to come here due to my illness. She says if anything happens to me, then Krishna will be alone.
She says he hates his father and refused to see his pic. Yashoda says why Krishna will see him. Mala says it is not his mistake, his family didn't agree. Yashoda says I run an organization and will get his info. Mala says don't do this. I have come for him, and sent letter to him.
Ashok is seen reading Mala's letter and gets shocked. Yashoda asks do you think that he will come and meet you. She says the guy who didn't come before, why will he come now. She asks her to promise that if he don't come, then keep Krishna in the orphanage, says I will be relieved that Krishna is near his father.
Ashok tells the other lawyer that Mala left a letter for him and left the city. He says she didn't think about me before leaving, my destiny was good that I found Yashoda who has handled my life beautifully. The other lawyer Manoj says you shall find out, why did she return? Ashok says I can't ruin my present due to my past, I have a loving life and two lovely kids. Manoj says Mala has written that she can't be saved. He says 10 years have passed, and she might want to meet you to apologize to you. He says if she was not in this condition then I wouldn't have asked you to meet her. Ashok says if Yashoda or anyone sees me then? He says half of the city knows me. Manoj says you are a lawyer and can go to hospital easily to wind up the past.
Ashok comes to meet Mala in the hospital and looks at her. Mala also looks at him. He sees Yashoda coming and talking to Nurse. He is about to turn and leave, when Yashoda sees him.
Yashoda seeing Ashok in the hospital and says you are here, if everything is fine. Ashok says Amma said that you came to the hospital, so I thought to pick you. Yashoda introduces Mala and Ashok to each other. Mala folds her hands to greet him. He says she seems to be unwell. Yashoda says someone whom she loved, betrayed her 10 years ago. Mala coughs. Ashok asks Yashoda to come. Yashoda says she will come with Abdul. He says he will wait for her. Yashoda says she will come in sometime. Mala looks at him as he goes.
Ashok is riding his bike and was about to meet with an accident, but somehow handles. Nupur and Aastha comes to Yashoda and complain to her about Sonu. Kamini taunts the girls and then beats Sonu. Amma says you shall teach good things to Sonu. Kamini cries.
Babu ji says you look bad when cry. Arvind says they are kids, will fight and then pray. Mahua says Sonu had pushed Nupur. Kamini scolds her. Ashok thinks if Mala told something to Yashoda. Kamini says I will not come again here. Aastha says I am saying truth. Yashoda says I know, you never lies.
Later in the night, Krishna checks Mala. Mala opens her eyes and asks if you didn't sleep. Krishna asks her not to worry and says Yashoda Madam promised that you will be fine, maa. Then we will go back to our house and play. He says you look beautiful when smiling. Mala asks if he smiled when alone. He says mad people smile when alone. She says when we are in much pain, we shall smile when alone. She asks him to try to smile when alone. He says I will smile with you only, and we will laugh aloud, once we get fine.
He asks her to sleep. Mala asks him to give red bag. She says I didn't tell you about your father and gives him locket from the bag, saying his father will identify him seeing it. Krishna says I don't want to meet him or don't want this locket. He goes to get water. Mala prays to God, not to let her son become an orphan.
Ashok thinks of Mala. Yashoda comes to him and asks him not to take tension about kids. Ashok says I saw you in tension and got tensed. Yashoda says its ok, they are our family. Ashok asks did you get call when you was in hospital. Yashoda says I was talking to Mala ji and asks him to sleep. He thinks Mala didn't tell anything to Yashoda. Yashoda comes there and rests her head on his chest, saying all her tiredness goes in a moment.
She asks how much you love me? He says why you are asking after so many years. She asks him to say. Ashok says I love you so much that I never loved someone like this. He says since you came in my life, this is the truth. Yashoda smiles. Ashok asks her, what did that lady tell you? He calls her and finds her asleep. He thinks he is scared that this storm will separate me from you.
Next day, Pandit ji asks Yashoda to get Chandan plate. Amma tells that today is the good day, and asks her to pray to get Krishna in her lap. Yashoda says it is not in my hands. She goes to Arvind and asks him to come ready with Mahua. She asks the kids about their father. Ashok thinks to go and meet Mala, as Yashoda is at home. Yashoda talks to Abdul and take update on Mala. Abdul tells that doctor wrote some tests for Mala. Krishna takes the call and asks her to come. Yashoda says she will come just she gets free. Mala is taken on the wheel chair. Krishna asks where are they taking her? Mala says for tests. Krishna asks her not to worry, and looks at her, as she is taken inside.
Ashok comes to the hospital and asks Nurse about Mala. Nurse says she is taken for tests and MRI. Mala's condition deteriorates as she is taken for MRI. She is rushed to the OT. Ashok comes home. Babu ji asks him to get ready for puja. Abdul informs Yashoda that Mala is rushed to emergency operation. Yashoda sits for puja with Ashok. Krishna tells Abdul that he wants to talk to Yashoda madam. Abdul messages Yashoda. Yashoda reads the message and is stuck in the puja. Krishna still insists to talk to Yashoda. Abdul asks him to understand.
Yashoda keeps the phone down, as she is busy in puja. Krishna takes Abdul's phone and runs to terrace. He locks the door and calls Yashoda. Yashoda is busy and doesn't pick the call. Mala is being operated in the OT. Yashoda sees her phone ringing. Ashok takes her phone and keeps on side. Krishna gets sad and says who will save my mother now. He comes back and gives mobile to Abdul. Doctor comes out of OT. Pandit ji says puja is completed. Ashok and Yashoda take blessings of Amma and Babu ji. Yashoda calls Abdul. Abdul says Mala ji couldn't survive and doctors asked to get her last rites done immediately. Yashoda asks him to do as doctors said and gets worried for Krishna. Krishna comes to Mala's dead body and asks her to talk to him, and cries hugging her.
Yashoda comes to her room. Ashok asks what happened? Yashoda says Mala is no more, and says don't know what will happen to Krishna. Ashok asks who is Krishna? Yashoda says Mala and her lover's son. Ashok is shocked.
Next Monday update his Mistress Child