The movie Acrimony was great, lived up to its name and definitely worth time and money spent to see it. It is a drama beautifully told; projected even more by the astute and passionate acting of the main characters who nailed their roles perfectly.
The theme
We know with the blurb and release poster to it that the movie would center on some kind of revenge of a wife to her husband. Well, yes it was… but you need to watch the movie to better grasp the theme. It film has such a way of making you empathetic for both the wife and husband that leaves you wondering who had been right and who had been wrong.
But based on the audience feedback from the cinema I saw the movie, it seemed like a gender thing. While most of the male seem to support the husband, the females felt more empathy to the wife, but this makes the movie even more wonderful.
And if you insist on be objective with criticizing the movie, there is a chance that you'd end up sitting between the divide for it quite hard to judge both parties. In all there were some real life lessons to take home with you.
The wife played by Taraji P. Henson.
Her fault in literature is called hubris – described as flaw in the protagonist that always led to their downfall. And the wife had it in large amount! I've never seen someone with so much rage; a rage that blinded her to reason and caused her to inflict pain on others as well as herself. The same way she loved, she hated. I don't think it's legal to have that much love for someone, not legal at all!
The husband played by Lyriq Bent
What can I say? He did love her, but in an unconventional, unrealistic way. His love to me was more selfish than selfless; it never measured up to that of his wife. And when he got the one chance to prove all that love professing he did, he failed. But of course, he had a story to tell.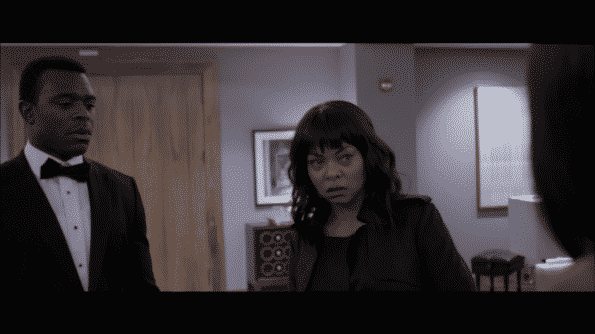 The new wife played by Crystle Stewart
She was the innocent one who had not been on the game from the start, and more deserving of the 10 million dollar cheque for her input to the final success of the man. You don't go stealing a man after all the hard work has been done! If the case had been reversed, she wouldn't have been able to withstand all that the first wife did. She had no rights to flaunt her fertility and diamond ring in her face, damn!
The ending
The ending to me was sloppy. For such a heightened emotional roller coaster the movie put me on, I expected a little more closure than what I got. Although I am not a sucker for tragic endings, but a little tragedy here would have sufficed for me. It would make pretty more sense if all party got shot, knifed, hammered or whatever at the end of it all. Isn't that how this love triangle thing plays up? Why should a side get to win to the detriment of the other? *rolls eyes*
The lessons
Don't make promises you can't fulfill, not even in the heat of a bargain. We don't know what tomorrow holds or what life would throw at us; it is better to play safe by not making any at all even if you mean it with the drop of your blood at that time.
Don't put up with a bad relationship, marriage or partner because you love them deeply, it often always backfires and leaves a deep scar in your heart, in your life and messes up your brain.
Don't let rage overtake you. Keep your emotions always in check if you don't want it be your ruin.
Not all sacrificial acts can be bought with money.
Don't give up on your dreams, keep striving to accomplish it but do not use other people's time and emotions selfishly to achieve it.
And in conclusion…
Go out and watch the movie because my perspective may differ from yours. Get a firsthand experience then come say your thoughts on it too.
Cheers.