Complicated Love is an Indian series currently showing on Glow TV.The story revolves around two married couples, Mauli-Kunal and Nandini-Rajdeep. Their lives, worlds and times are different. Mauli and Kunal represent the really happy couple in love, while Nandini and Rajdeep portray their suffering in a loveless marriage.  The relationship get more complicated when Nandini falls in love with Kunal. She doesn't wish to break her best friend Mauli's perfect family.
Even then, Nandini's emotions seem justified when she goes ahead to have a relationship with Kunal. Kunal acts as her savior when she faces tortures by Rajdeep. The trio's modern day relationship and equations invite more complexities. Different circumstances bring various twists in their lives.
The roles of Mauli, Nandini and Kunal played by Aditi Sharma, Drashti Dhami and Shakti Arora
Complicated Love GlowTv full story:
Mauli and Nandini are best friends who have grown up together. Nandini chooses Rajdeep over Mauli's friendship despite Mauli warning her of his bad character which leads to a fallout between the two and they part ways.
Present day situation; Mauli and Kunal, Nandini and Rajdeep. Mauli is a gynecologist, Kunal is a pediatrician. The two support each other through everything. While, Nandini is a victim of domestic violence. Rajdeep is an ambitious businessman and a dominating husband who doesn't leave any chance to abuse Nandini, both physically and mentally.
Kunal ends up running into Nandini at a medical conference. He discovers that Nandini is the same friend Mauli keeps reminiscing about. He talks to Mauli about it and they decide to schedule a meeting. Nandini and Mauli meet after seven years. Rajdeep beats Nandini and leaves her in the middle of the road. Kunal ends up finding her and takes her to the hospital. Mauli and Kunal convince Nandini to speak up against the abuse, so Nandini gets Rajdeep arrested on domestic violence charges.
As they spend time together, Kunal starts falling for Nandini. He reminds himself about Mauli but is unable to stop thinking about Nandini. Slowly, Nandini begins to feel the same for Kunal. After many instances of awkward staring and avoiding each other, Nandini decides to leave town because of her inability to control her feelings for Kunal. When Kunal gets to know about this, he stops her and confesses his own feelings for her.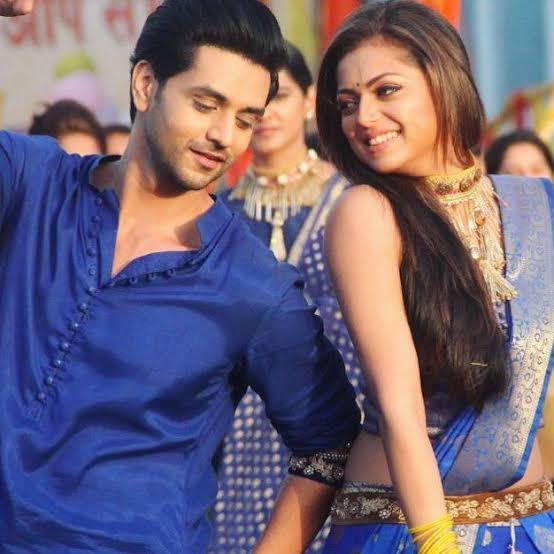 Nandini and Kunal start meeting secretly and soon after, consummate their relationship. Eventually, Mauli gets to know about Nandini and Kunal. She is shocked and heartbroken. Mauli decides to pick herself up and files for a divorce from Kunal but soon finds out that she is pregnant. Kunal accuses her of false pregnancy and divorces her in order to marry Nandini. Kunal and Nandini get married.
6 years later
Mauli lives with her daughter Mishti and her best friend Ishaan. Mishti considers Ishaan her father. Kunal returns from London with his and Nandini's daughter Pari. He is unaware about Mishti being his daughter. Mishti and Pari become best friends without knowing their real relationship.
Circumstances bring Kunal and Mauli face to face. Mauli learns that Nandini died due to cancer whereas Kunal learns about Mishti being his daughter. Ishaan proposes Mauli for marriage and they decide to get married. Meanwhile, Kunal meets with an accident and loses his memory. He only remembers his life with Mauli. While Mauli stays with Kunal till he regains his memory, Ishaan takes care of Mishti and Pari. Eventually, Kunal regains his memory. Mauli chooses Ishaan over Kunal and the two get married and they have a son named Ansh.
17 years later
Mishti and Pari have grown up. Mishti is a perfectionist who believes in love and commitment. Pari, on the other hand is commitment phobic and easy going. They run an event management company. Mauli, Kunal and Ishaan are dead. Mishti is about to get engaged to her boyfriend Veer. Meanwhile, Pari's childhood bestfriend Arnav is in love with her but she doesn't feel the same for him.
Pari meets Ruhaan and gets fascinated by him whereas Ruhaan sees Mishti and gets attracted to her. Ruhaan turns out to be Veer's close friend and thus begins living in Mishti and Pari's house as a paying guest. Mishti and Ruhaan share a conflicting relation whereas Pari and Ruhaan form a bond of easy going friendship. Mishti and Veer get engaged. Ruhaan tries to ignore his feelings for Mishti when he finds out that she is Veer's fiance.
Meanwhile, Mishti gets nervous sensing how different she feels when she is around Ruhaan and tries to push away her feelings. Pari, on the other hand, realises that she has fallen in love with Ruhaan. On learning this, Arnav is left heartbroken. Eventually, Mishti accepts her feelings for Ruhaan.
Mishti and Ruhaan confess their love to each other. Mishti breaks off her engagement with Veer telling him that she can't marry him as she doesn't love him. Soon, Veer finds out about Mishti and Ruhaan. He informs Pari about Mishti and Ruhaan's relationship.
Mishti too gets to know about Pari's feelings for Ruhaan through Radhika. Mishti decides to sacrifice her love for Pari, thus she denies having feelings for Ruhaan when Pari questions her. Mishti fakes getting back together with Veer. Pari proposes Ruhaan but he tells her that he loves someone else.
Ruhaan questions Mishti's sacrifice but she remains adamant. Mishti faints and it is revealed that she has been suffering from a disease. Pari and Radhika find out about Mishti and Ruhaan's love for each other. Pari donates her kidney to save Mishti.
3 months later
Ruhaan and Mishti get married and move into their own flat in the same building. Mishti, Ruhaan, Pari, Arnav, Radhika and Ansh celebrate together.
Complicated Love Full Cast.
Main
Mauli is a loving, independent, strong, determined and practical girl. She feels lucky to have a husband like Kunal. She is also a doctor and works in the same hospital as Kunal. She worries that her work commitments can upset Kunal some times. She is very much dedicated. She believes in hard work and aiming at the goals she has set for life. She is a huge moral support for Kunal. Her presence gives him strength. She doesn't accept any wrong happening with her or anyone else around her. Mauli knows to take a stand against injustice and tortures. Mauli supports Nandini on knowing about her sufferings. Mauli is clean-hearted and a caring friend.
Kunal is a charming, good-hearted, sensitive, sincere and loving guy. He is an ideal man. He is Mauli's husband. He is everything Mauli could wish her. He is a good friend for his wife. He is a doctor by profession. He believes in having equality and freedom of thinking in the relationship, along with love, trust and respect. He feels lonely when Mauli rushes for the medical emergencies, but understands her work schedules. He is a supportive husband. Kunal loves Mauli a lot. He is a gem at heart. He helps people around. He can't see Mauli upset. He is very romantic at heart. He keeps on surprising his wife. Mauli means a lot to him.
Nandini is a sweet, simple and caring person. She is married to Rajdeep Thakur. She is ready to do anything for him. She is often submissive when it comes to follow his instructions. She faces a tough time just to save her relationship. She doesn't want her marriage to break. Nandini bears all the tortures by Rajdeep to make her relationship work out. She obeys him unwillingly. Nandini isn't in search of true love, but happens to understand true selfless love when she meets Kunal. She takes up the life's challenges and fights for her love.
Rajdeep is a money-minded, dominating, harsh, disrespectful and selfish man. He treats his wife Nandini badly and shows his insensitivity towards her. He is a control freak. He doesn't respect Nandini, their love and relation. Rajdeep just cares for money. He is from a small guy. He haven't seen money before. He just wants more luxuries and richness in his life. Nandini is just a medium of success for him. He keeps dominating Nandini, leaving no personal life for her. Rajdeep defines a totally bad husband.
Recurring