The way to paradise telemundo is a telenovela that mirrors the danger of artificial beauty and greed for money. It follows Catalina Santana, a young woman in Pereira, Colombia, who is willing to risk everything in order to escape the poverty she lives in and fulfill her dreams. The series will replace close enemies on telemundo.
The way to paradise telemundo full story:
Catalina Santana is a young woman in Pereira, Colombia, who is willing to risk everything in order to escape the poverty she lives in and fulfill her dreams – even if this means putting her life and her integrity in jeopardy. On the other hand, her mother Hilda is a lovely hard working woman with no resources to provide for her children all the luxuries they need and so she expends boundless energy in her efforts to push both her children, Catalina and her brother Bayron to prosper. But In spite of their mother's efforts, Bayron and Catalina's situation is filled with poverty and need.
Catalina is beautiful, but is not as voluptuous as her friends who render sexual services as "pre-paid girls" to powerful men in the drug trafficking world. Yésica "La Diabla" Catalina's best friend, entered this world with her own business: recruiting, selecting, and leading groups of women for whom the drug traffickers pay in advance to receive sexual services, which she introduces to Catalina this culture, convincing her that this is the only way she has to get away from her poverty.
Once inside, Catalina falls into the manipulative hands of Lorena (Aylín Mújica), Yésica's Mexican equivalent, who together with Martinez, an important member of the Juarez Cartel, convinces inexperienced young women from Colombia to undergo breast surgery as a means of obtaining a better life in another country. What they don't know is that in reality he uses them as "mules", sending them to Mexico while smuggling heroin in their implants.
Catalina, dazzled by a world of riches and a life full of luxuries, decides not to continue her relationship with her boyfriend Albeiro, a young man from her town who has very few ambitions, but loves her with all his heart. She decides to search for someone who can pay for or finance her surgery of silicon breast implants since, according to her belief, this will provide her the fame and wealth she longs for.
In the end, Catalina begins to remember how hard her life has been since she became a pre-paid girl: having an illegal abortion after being raped by three men, facing struggles in order to get her breasts augmented and the loss of her breast implants due to medical complications, the death of her brother Bayron, finding out that her mother and Albeiro were having a romantic relationship behind her back which resulted in her mother becoming pregnant, and finally getting kicked out of her own house by her drug-dealer husband Marcial, after Yésica betrayed her and told Marcial that Catalina had lied to him. After all she is left feeling lost, forgotten, betrayed and alone.
All these events cause Catalina to lose the will to live, and she tries to commit suicide but does not find the courage to pull through, so she decides to seek revenge and kill Yessica for betraying her by inviting her to a cafe and calling the hired killers, as she gives them the details to distinguish Yésica among the other people. The killers do their job and kill Yésica, by shooting her three times in the back, later to be shown that the girl killed is in fact, Catalina, who had a change of mind;
instead of killing Yésica, she decided to plot her own assassination by disguising herself as Yésica. Before being shot, Catalina wrote in the book she was holding the line which gave the series its title, "It's a lie – without breasts there is no paradise."
The story continues…
The series begins when Doña Hilda Santana who is pregnant, receives the news of the death of her daughter Catalina "La Grande" (Carmen Villalobos), sending her into premature labor with her second daughter, Catalina "La Pequeña" (Carolina Gaitán). When Catalina (Carolina Gaitán) is born, her father Albeiro Marín (Fabián Ríos) and mother Hilda Santana fear she will share her late older sister's fate, as many of the young women in their neighborhood have historically become involved with prostitution and organized crime. In order to protect their daughter, Albeiro and Hilda paint a yellow boundary line outside of their home, forbidding Catalina from crossing it. Catalina then falls in love with a boy named Hernán Darío (Juan Pablo Urrego).
After witnessing an attack upon Hernán Darío by Yésica Beltrán's (Majida Issa) bodyguards, Catalina crosses the yellow line to defend Dario from them. Hilda and Albeiro intervene to defend their daughter and are apprehended by the bodyguards. Yésica, resentful of Hilda, Albeiro, and Catalina, then orders her men to plant jewelry in Hilda's house in order to incriminate them of a crime they didn't commit.
The police, by Yésica's orders, arrest Hernán Darío, Catalina, Dona Hilda, and Albeiro, incarcerating them in different prisons. Catalina is sent to a prison institution, where she is beaten by the fellow inmates and guards and nearly drowned. Hernán Darío is beaten and humiliated as well until Yésica and her daughter Daniela (Johanna Fadul) force him to work for them, threatening to hurt his family. Albeiro, along with fellow inmate David, plots to break out of prison in order to escape.
Journalist Daniel Cerón helps Catalina and her parents escape, but Hernán Darío, convinced that Catalina is still in prison and in danger, agrees to work for Yésica's daughter Daniela. Daniela, deeply infatuated with Hernán Darío and viciously jealous of his relationship with Catalina, continually attempts to seduce Hernán Darío while in her employ.
The way to paradise Season 2 
In season two, tells the story and the return of Catalina Santana (Carmen Villalobos), the eldest daughter of Dona Hilda Santana (Catherine Siachoque). Catalina was hiding for 20 years after allegedly being murdered, but actually worked as a DEA agent. During all the years that she was disappeared, she made her life next to Santiago Sanín (Roberto Manrique) a doctor with whom she had two children Mariana (Stephania Duque) and Sebastián (Johan Esteban Díaz). During her return Catalina is trapped in a world of feeling and guilt for her family, since her return would cause great tragedies and dislikes, especially in Albeiro (Fabián Ríos) who was previously her boyfriend, and for whom she will not know if she still feels something and her mother; who left her and cheated with Albeiro.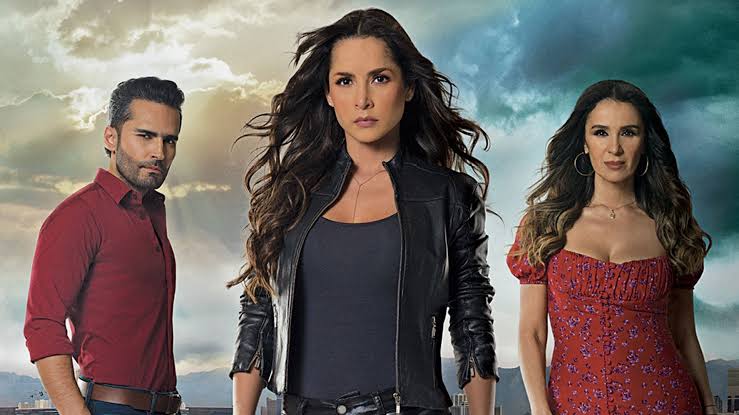 Catalina meets her other sister Catalina Marín Santana (Carolina Gaitán) and her boyfriend Hernán Dario (Juan Pablo Urrego), with whom she joins to end with La Diabla (Majida Issa) and her daughter Daniela (Johanna Fadul), who will do everything possible to destroy the Santana family.
The way to paradise season 3.
In season three, The time has come to choose the most beautiful girl in the region. The catwalk has become a battlefield. The support of the Marín family towards Catalina La Pequeña (Carolina Gaitán) and Yésica Beltrán (Majida Issa) towards her daughter is immense since she is willing to do anything to see her daughter Daniela (Johanna Fadul) crowned as queen of the region. Yésica, who attends the event in disguise of her sister, has come in contact with the juries and seeks to bribe them to tilt their vote in favor of Daniela. But Catalina La Pequeña one stands out not only for her beauty but for her intelligence. The result of this contest will define the course of their lives. The relationship of Catalina La Pequeña and Hernán Darío (Juan Pablo Urrego) is threatened by Mariana's obsession. She will give birth to a beautiful girl and continue to claim that she is the daughter of Hernán Darío. Catalina La Pequeña doubt of the paternity of Hernán Darío and will do everything in his power to decipher the identity of the true father. It will not be an easy battle and Mariana will do everything possible to snatch the love of her life to Catalina La Pequeña.
On the other hand, the fearsome curse of the witch Abigail materializes. Catalina La Grande (Carmen Villalobos) and her friends know that their daughters are in danger. Adriana, Vanessa's daughter died, as did Martina, Paola's daughter, and now Catalina La Grande will have to redouble her efforts to take care of Mariana, while Ximena will take care of the steps of her daughter, Valentina. In this battle against evil they will have many allies but there is no lack of enemies
The RETURN OF CATALINA GRANDE
The way to paradise season 4
Carmen Villalobos is back with a vengeance. "Catalina Santana," the character that started it all nine years ago and is now back to settle the score. Catalina's return will set the parallel worlds of her family and her enemies on a collision course, unleashing a war for revenge while reawakening past loves. The series also stars Majida Issa, Fabian Rios, Catherine Siachoque and Carolina Gaitan.
In this new season of "Sin Senos si hay Paraíso," the story takes us back 20 years to the events that left their mark on all of the series' protagonists, but especially Catalina la Grande, taken for dead after the attack she planned to end her own life. After gambling with death, Catalina comes back to life: She is admitted to the hospital in critical condition, but her heart won't give up the fight. While she is recovering, she meets the two men who will help her begin a new chapter in her life.
The first is Martín, a detective with the Antinarcotics Agency, who offers his support on the condition that she continue to fake her death so she can join the TEA's witness protection program. In exchange for a new life in the United States, Catalina must supply the TEA with names and routes used by the mafia. The second man is Santiago Sanín, the doctor who devotes himself to saving Catalina and ends up falling in love with her. Shortly after Catalina is transferred to the United States, Santiago visits her and the two decide to get married. They have two children, Sebastián and Mariana.
As the new season begins, we get a better understanding of the characters' lives during the years that Catalina la Grande struggled to remake her life abroad. In Colombia, Jota is the only one who knows she is still alive, but he promises to protect her secret and bring her news about her family. He becomes her link to information from back home.
In the meantime, La Diabla has convinced Marcial that she is carrying his child. She approaches Octavio, a corrupt politician, with a deal he can't refuse: If he will impregnate her, she will finance his political campaigns. La Diabla then betrays Marcial, turning him into the TEA and making off with his fortune while awaiting the birth of her daughter, Daniela.
As the years pass, Catalina La Grande learns about the war between La Diabla and Catalina's mother, ex-boyfriend and younger sister. As the only one with motives in both her past and present to battle Yésica, Catalina puts pressure on the TEA to support her. Even though she knows she is risking the new family she spent years to build, she travels to Colombia to capture La Diabla. This brings us to the point where last season ended, with Catalina leading a major operation to apprehend her old foe.
After the first week of the new season, which shows what happens to the characters after Catalina la Grande fakes her own death, the story continues as we learn what led her to return to Colombia after so many years abroad. In addition to affecting her new family, her decision stirs up old passions. Catalina's reencounter with Albeiro and her mother, Doña Hilda, creates tension for all three as the emotions of the past collide with the present and put relationships to the test.
The return of Catalina la Grande also brings her daughter, Mariana, face to face with Catalina La Pequeña and Daniela in a meeting that will change the three women's lives forever. And a beauty pageant becomes the battlefield where Catalina La Pequeña teaches Daniela that honesty, intelligence and real beauty will always prevail over corruption and good looks bought with money and plastic surgery.
The way to paradise telemundo casts