The Promise returns to televista. It is a story revolvin around lovers Yna Macaspac and Angelo Buenavista. Their love story started 20 years earlier between Amor de Jesús and Eduardo Buenavista. Unfortunately, Amor and Eduardo's love was destroyed because of greed, ambition, and lies.
Amor returns to the Philippines as Amor Powers and vows revenge on the Buenavista family which will hurt her biological daughter, Yna, in the process. Meanwhile, Madam Claudia, Angelo's mother, will do anything to destroy Yna and Angelo's relationship and make Yna's life a nightmare
The Promise season 1
The story begins with the romance between Amor de Jesús and Eduardo Buenavista. Eduardo's mother, Doña Benita opposes the relationship since Amor is a housemaid and because she wants  Eduardo to marry Claudia Zalameda for political reasons.
Doña Benita asked Eduardo's older brother, Diego who was also attracted to Amor, to separate them. Upon seeing Diego trying to rape Amor, Eduardo mistook it as them having a relationship, breaking his heart and prompts him to marry Claudia. The now-pregnant Amor is banished from the Buenavista hacienda and she returns to her mother in Manila, who is living at the Payatas dumpsite. She vows revenge on the Buenavista family when she learns that Eduardo has married Claudia.
After giving birth to her daughter, María Amor, Amor and her friend, Lourdes survive by working in clubs. Amor caught the eye of a rich American named James Powers who brings her to the United States. She leaves María Amor and her mother, Chayong behind at the dumpsite and sends money to them from time to time.
James Powers proves abusive towards Amor, forbidding her from returning home when a landslide hit the dumpsite. Amor, thinking that her mother and daughter had died, and in retaliation for all his abuses towards her, does not get her husband medical help when he suffered a stroke. James Powers dies and Amor inherits his fortune.
Eduardo and Claudia have two children: Angelo and Lia. Eduardo is the governor of the province of Punta Verde while Claudia has become the ever-elusive queen of illegal gambling in Punta Verde. Angelo is a rebel who dislikes his father while Lia is a sweet, devout Catholic teenager who cares for the feelings of her loved ones.
Amor's daughter survives the landslide and is adopted by Isko and Belen Macaspac.The couple found drawings Eduardo made for Amor, signed "Ynamorata" near the abandoned child, so they decided to call the little girl they found Ynamorata. Isko and Belen have their own children: Caloy, who hates Yna, and teenager Flerida (Hazel Ann Mendoza).
Doña Benita regrets forcing Eduardo to marry Claudia, as her daughter-in-law turned out to be cruel. On her deathbed, she tried to explain that she was the one who broke Eduardo's relationship with Amor, but died before being able to do so. To atone for her sins, Doña Benita's spirit haunts the dreams of the grown Yna.
Twenty years later, Yna and Eduardo accidentally meet, and Yna dreams of Doña Benita showing her that her past lies in the Buenavista family. Intrigued, she gets a job working as a housemaid in Eduardo's household. Yna and Angelo fall in love, much to Claudia's chagrin. She looks down on housemaids and servants, and actively makes Yna's life a living hell.
Amor Powers returns to the Philippines after making a name for herself in the business world in the United States. Amor had been planning her revenge on the Buenavistas, whom she blames for her past sufferings, as well as the assumed death of María Amor. The dilemma was that, after finding out that Yna's true father was Eduardo, Angelo and Yna were therefore thought to be half-siblings. It was later revealed that Angelo's biological father was not Eduardo, nor was it Simon Barcial (John Arcilla), Claudia's former, impoverished lover.
Angelo's biological father was later revealed to be Eduardo's brother, Diego (who was also revealed to be adopted), who sired Angelo with a poor woman named Thelma, who had later died.
It also turns out that Claudia had a daughter with Simon. Claudia's father switched the babies after Doña Benita demanded a male heir (the boy that replaced the girl was revealed to be Angelo). The daughter was Clarissa (Dianne dela Fuente) and she was raised by an old woman named Puríng (Anita Linda) as María Amor. Puring had Clarissa believe she was Maria Amor de Jesús, the daughter of Amor.
To exact revenge on Amor, Claudia kills María Amor/Clarissa, but was deeply crushed when she later learned the girl's true identity. Her heart filled with more anger towards Amor, as well as regret. Claudia, together with Coring (Minnie Aguilar) and her henchmen, planned to kill the entire Buenavista family at Yna and Angelo's wedding. Thus, confronting them while holding a gun. But everyone especially Angelo and Lia made her realize how important she is to them and how she should bring out the goodness in her heart that was once filled with evil, hatred, greed and revenge. She realizes everything after Lia and Angelo gave her a hug and reconciles with everyone at the wedding. People from the wedding especially Amor and Angelo also asked forgiveness from Claudia, which she immediately accepted.
While she was kneeling in front of everyone, she sees Clarissa's spirit at the altar and begs forgiveness. Claudia was forgiven by everyone but because of her past crimes, she was sentenced to lifelong imprisonment. And a little while later, Amor gave her Clarissa's ashes.
Five years later, each of the major characters are happy and reunited with their true loves: Yna becomes pregnant and marries Angelo, Claudia meets her granddaughter from her now-deceased daughter, Lia. Afterwards, she and Simon married each other inside prison. Meanwhile, Amor and Eduardo decided to live happily as a couple and married each other after 27 years of their unbreakable love for each other.
The promise season 2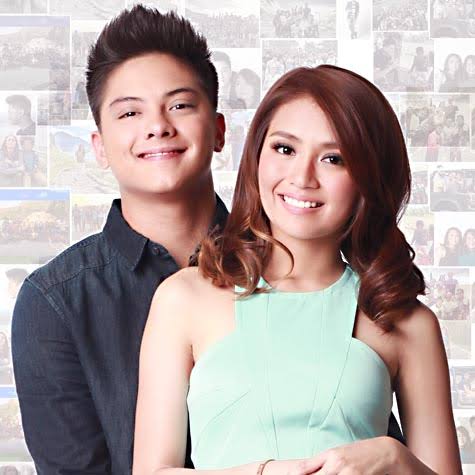 The second season begins with the Buenavista family's lives after the disposition of the Buenavista family two years prior. Angelo (Daniel Padilla) now works as a baker in the humble bakery owned by Lolo Greggy (Tirso Cruz III) — the man who saved Angelo during an accident. Meanwhile, Lia (Andrea Brillantes) fails to accept the events which causes her to become rude and snobbish.
After two years in jail, Eduardo (Ian Veneracion) is finally released and decides to rekindle his love with Amor (Jodi Sta. Maria), much to the detriment of Lia. Amor decides to let Eduardo court her which results in him proposing to her. Yna (Kathryn Bernardo) returns from California and now owns her own restaurant and reunites with Angelo — this time Yna as the boss and Angelo as the employee. Several circumstances almost reunite the two but are constantly postponed. Meanwhile, Belen (Amy Austria-Ventura) continues to blame Yna — for the death of Caloy (Joem Bascon).
Lia tries to fit in with the popular girls in her school but is constantly humiliated and rejected. David (Diego Loyzaga) is revealed to have cancer and is longing for Yna's presence — but Yna is longing for Angelo. Amor decides to connive with Yna and starts an agreement with her. David and Yna become a couple, leaving Angelo heartbroken. Angelo becomes drunk and goes to Joy (Sue Ramirez). Meanwhile, Joy admits her feelings to Angelo that she loves him but is rejected. Amor becomes desperate as David illness becomes worst and tries to find comfort in Eduardo.
Meanwhile in Sta. Ines, Claudia (Angelica Panganiban) is revealed to be alive and living under an alias — Greta. Simon (Alex Medina), Claudia's lover, saved her from the car accident which involved her, Caloy, and also Diego (Bernard Palanca).
Unfortunately, Claudia is suffering from amnesia. Meanwhile, Irma (Rubi Rubi), Amor's neighbor from Punta Verde, becomes one of Claudia's patients in the shelter in Sta. Ines and informs the latter that Maria Amor survived the accident and that Irma's daughter was crushed by rock together with Chayong (Sharmaine Suarez), Amor's stepmother.
After hearing this, Claudia regains her memories and plans to return to her family and plans to get revenge — on Amor and Yna. On the wedding of Amor and Eduardo, Claudia appears and makes everyone believe that she has amnesia. She starts a connivance with Mark (Dominic Roque) — Amor's ex-employee who wants revenge on her. Claudia then finds out that Maria Amor is Yna. She then kills David who later found out that Maria Amor is Yna and made it look like a suicide. Meanwhile, Amor blames Yna for David's apparent suicide.
Yna and Angelo elope and plan to get married. After seeing Yna's baby photos — Amor realizes that Yna is Maria Amor and stops the wedding between her and Angelo. Yna and Amor reunite and form a mother-daughter relationship. Angelo moves on from Yna and starts investigating Claudia's past — with Simon. Angelo and Simon then confront each other — Claudia then reveals that Simon is Angelo's biological father. Because of this revelation, Angelo continues his relationship with Yna.
Amor then discovers the missing camera footage from the hospital on the day of David's death. Amor sees Claudia in the footage. The security guard then points out Claudia and Mark as the culprits. Meanwhile, Amor and Belen then confront Claudia blaming her for the respective children's deaths — David and Caloy especially Eduardo who decide to revenge on his wife for his brother Diego death. The police then arrest Claudia. Mark then helps Claudia escape from the jail and plans their final attempt to kill Amor and Yna. Mark kidnaps Yna and Amor and brings them to his hideout. Claudia then plans to cement Amor and Yna. Meanwhile, Simon informs Angelo on how he helped Claudia from the car accident and that she is planning to kill Amor and Yna. Angelo rushes to find Amor and Yna and rescues them from Claudia.
Angelo convinces Claudia to surrender and she does. Mark then shoots Angelo causing Claudia to shoot him. Mark then attempts to kill Angelo but Claudia shields him which causes her to get shot. Angelo and Claudia then get rushed to the hospital.
Yna and Angelo then make a promise to be with each other until the end. He then survives and recovers from Mark's gunshot.
After getting shot by Mark, Claudia is now blind. In court, Claudia admits all of her crimes and including the murders of Diego, Caloy, David, and also Mark and spoken about her past for what she been through with her mother and told them the reason why she wanted to revenge and steal her father's fortune is for not helping her mother sickness. Claudia begs forgiveness for everyone she wronged and renews herself and accepts her life imprisonment sentence. Amor also then apologizes to Claudia for involving her in her revenge.
Lia visits Claudia together with Amboy (JK Labajo) who is now her boyfriend. Despite being blind, Claudia is happy that Lia visited her. Belen, Isko (Ronnie Lazaro), and Red (Angelou Alayon) are happy now that justice for Caloy has been served. Amor and Eduardo celebrate as a married couple and Eduardo gives Amor a necklace engraved "Ynamorata" — they are joined with Yna and Angelo who share a moment. The series concludes with Yna and Angelo — and also Amor and Eduardo embracing and eating lunch.
Main cast